Oyeleye
Thoughts about East-West's desperation on Africa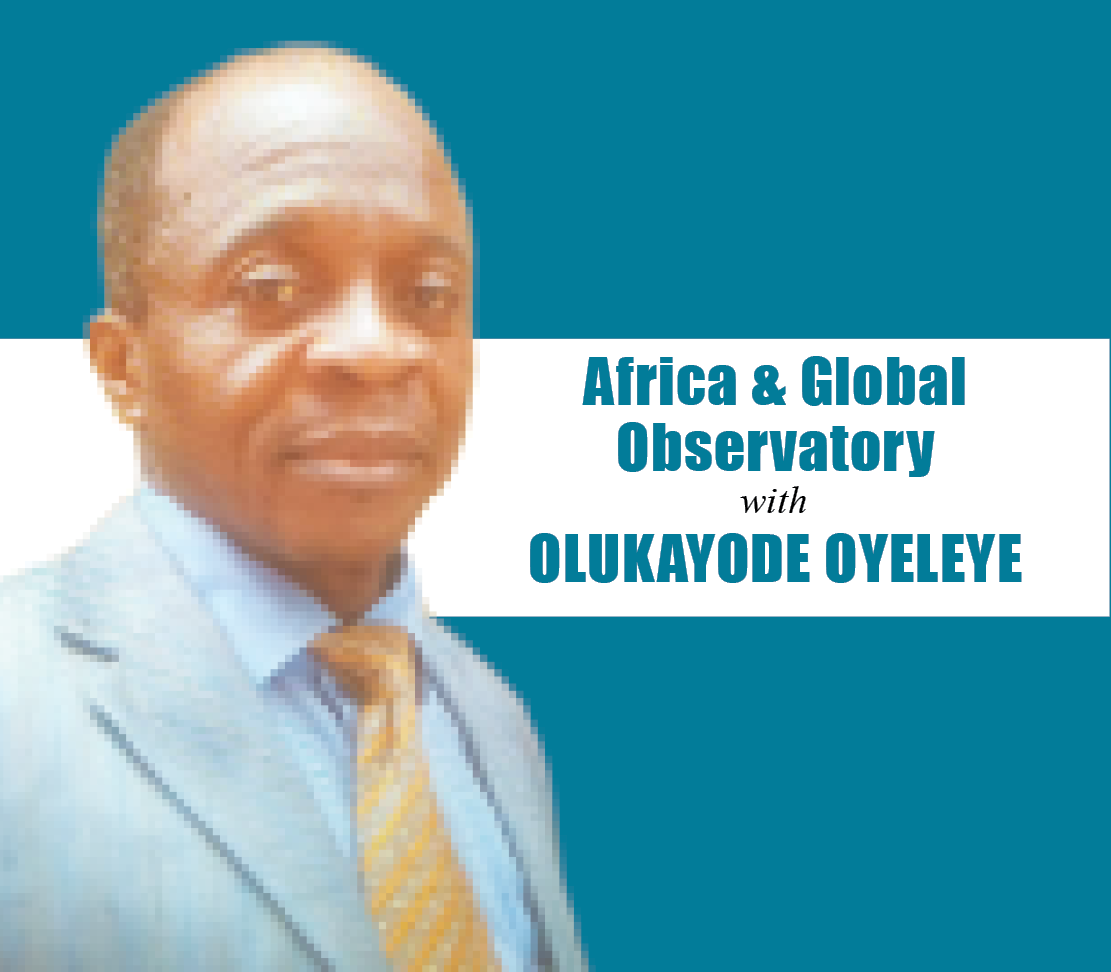 Dr. Olukayode Oyeleye, Business a.m.'s Editorial Advisor, who graduated in veterinary medicine from the University of Ibadan, Nigeria, before establishing himself in science and public policy journalism and communication, also has a postgraduate diploma in public administration, and is a former special adviser to two former Nigerian ministers of agriculture. He specialises in development and policy issues in the areas of food, trade and competition, security, governance, environment and innovation, politics and emerging economies.
August 2, 2022808 views0 comments
EVENTS UNFOLDING in recent times seem to project Africa as a beautiful bride with many suitors, particularly those making overtures for just a marriage of convenience. Why Africa began to receive increased attention from the East and West should be of more than passing interests. It is remarkable that these are abnormal times, times of desperation, distress and duress, which evoke suspicion on the unusual flurry of diplomatic shuttles into Africa. International diplomatic visits into Africa are not new, but what is strange in the recent visits is the desperation and narratives of those diplomats and what their visits suggest. Ordinarily, countries of the West seldom show intense concerns about Africa as long as it made no noticeable impact on them. In the past one year alone, however, countries from the East and the West have come visiting, with intensity not seen in the recent past. Africa has thus suddenly become a high profile diplomats' destination.
Experiences from trade, globalisation, security, industry and supply chain logistics, aviation and maritime economies have shown the relative lack of interest in Africa by those same countries now literally rushing after one another to visit the continent. The only thing of enduring interest to most of them is commodity trade involving importation of agricultural commodities or mineral resources from Africa. To a lesser extent, export of finished goods from the manufacturing sector does not seem to elicit as much outward activity such as high profile government officials visiting, which could be possibly due to cost-benefit considerations. The visits this time appear to have more of a tinge of ideology than of commercial interest, making them somehow similar to the Cold War era. In comparison, Africa tends not to possess as much charm and attractiveness as Asia. The United States of America has not pretended about its feeble interest in Africa, judging by its foreign policies.
But since last November, the official visits from high profile US officials have not only been embarked upon, but more seem to be in the pipeline. The U.S. Secretary of State Antony Blinken, in his first official visit to sub-Saharan Africa in November, travelled to Kenya, Nigeria and Senegal. Next month, however, Special Envoy for the Horn of Africa, Mike Hammer, is expected to visit Egypt and Ethiopia in Africa, as well as the UAE in the Middle East. He is expected to provide U.S. support toward forging a diplomatic resolution to issues related to the Grand Ethiopian Renaissance Dam (GERD) and consult with the African Union (AU) on the GERD talks. Hitherto, it was the feuding parties that approached the US government for an intervention in the GERD imbroglio. But now, the US government wants to come to Africa to help in GERD's dispute resolution. It may have placated Ethiopian Prime Minister, Abiy Ahmed, who has been strongly opposed to the US intervention in its Tigray misadventure as Special Envoy Hammer will be reviewing efforts to advance peace talks between the Ethiopian government and Tigrayan authorities. 
Africa has become a diplomatic battleground of some sorts. If the first official visit by Blinken to Africa was on commercial consideration, the second trip, which is the next one planned for South Africa, the DR Congo and Rwanda in August obviously has an added motive of countering Russian charm offensive, following the recent visit earlier this July to Africa by Russia's Foreign Minister Sergey Lavrov who visited Egypt, Ethiopia, Uganda and the Republic of Congo (Brazzaville), in attempts to counteract Western countries and strengthen Moscow's ties with the continent.  Following the invasion of Ukraine in February, Russia's calculation appeared to have missed the original expectation of overrunning Ukraine within weeks, prompting a Western alliance against Moscow. As it dawned on Russia, it began aggressive diplomatic efforts towards Africa in the quest for more non-Western friends, attempting to win over the continent. This time, the US seems to be leaving nothing to chance in Africa. For greater effect on its part, the US ambassador to the United Nations, Linda Thomas-Greenfield, has also been billed for an August trip to Ghana and Uganda just as the US aid chief, Samantha Power, has recently completed a trip to Kenya and Somalia during which she linked the rise in malnutrition to Russia's invasion of Ukraine
The level of desperation of France seems higher, observing from the level of diplomatic representation in the official visit to Africa in the past one week or two. In a three-nation tour of western Africa derisively described by critics as marking the return to "a new Françafrique" or signalling "Colonisation 2.0," the French President Emmanuel Macron went to Cameroon, Benin and Guinea-Bissau, seeking to reboot France's post-colonial relationship with the continent. The visit appeared like one less about business and economy but more about security and stability of the polity. Can Macron's discussion in Cameroon succeed in reducing the protracted ethnic violence and insurgency by anglophone separatists which began since 2017? Can it stop the attacks by Boko Haram jihadists in Northern Cameroon? These require definite answers, not kid glove treatment, especially considering the track records of France's interventions in previous crises in Africa.
Macron has been on a fence-mending mission with Africa for a while. He visited Rwanda in May 2021 and acknowledged French egregious role in the 1994 genocide. But France has that legendary reputation of taking the wrong side in African wars and its foreign relations with African countries are sometimes off-the-mark. For instance, the Franco-Libyan relations became a fiasco at some point in time. The interests France had in the Libyan conflict provided some enablement for Libyan rebels to overthrow and kill Qaddafi in 2011. Since then, France has been accused of supporting Khalifa Haftar's April 2019 attack on Tripoli, Libya's capital. The secret pact that the war lord had with France has been described as a "shameful act," as Haftar has been described as a 'war criminal.' On economy, the influence of France has been more to its own greater advantage over Africa's.  Françafrique has been described as the doctrine that dictates the terms of governance in former French colonies, by military force if necessary. The old and archaic colonial currency, known as the CFA franc used by 14 African countries, has only been reformed under Macron, with the amplified confusion of renaming it the Eco currency in 2027.  As part of the image laundering diplomacy, the French president has agreed to return some of the African artefacts looted under colonialism in French museums, and to declassify secret files on the assassination in 1987 of Burkina Faso's anti-colonial leader Thomas Sankara.
Earlier in January, Chinese Foreign Minister Wang Yi visited Eritrea, Kenya, and Comoros as part of a five-nation tour that also included Maldives and Sri Lanka. But its expertise and genuineness deserve further scrutiny based on its activities and perception of Africa. According to a recent survey into Chinese perceptions of the U.SRussia, Japan, Europe, Africa, and Singapore, sub-Saharan Africa is generally perceived as a hot, vast savannah with wild animals roaming; the continent is rich in "natural resources." They perceive black people as being associated with poverty and economic backwardness. Although Africans are perceived by Chinese as "friendly," they are also regarded as "lazy." Strong influences of certain stereotypes can also be observed with statements like: "African people are lazy." But are these necessarily true?
The US and Soviet Union struggled for influence over Africa during the Cold War years, but China sustained an ideological presence on the continent. That era may be on its way back again this time as China creates visible change on the continent while Europe, with its paternalistic behaviour and insistence on applying its own values, is struggling to make much impact. But, the EU needs to change tactics and treat Africa as an equal if it truly aims to counter China's influence on the continent. The EU should therefore stop seeing Africa as a problem but henceforth as a continent of opportunity. For instance, about 60 per cent of the world's uncultivated arable land is in Africa. It needs to be helped to develop and productively utilise this resource for global food security. The food production report in Italy this July stated that 30 percent of the crops produced will be lost to heat waves and drought. What this means is that the EU can in turn depend on Africa for food in a collaborative way to also reduce Africa's dependence on other countries for much of its food supplies.
As a net importer of food, a lot of what happens in Africa depends on what happens elsewhere. Since the outbreak of the Russia-Ukraine war, there have been reports of threat to Africa's food security, including rise in food prices. The 2018 arable land figure for Sudan was 19,823,160 hectares, Tanzania was 13,500,000 hectares, South Africa was 12,000,000 hectares, Nigeria was 34,000,000 hectares, Niger was 17,000,000 hectares, Ethiopia was 16,187,000 hectares and DRC was 11,800,000 hectares, totalling to an estimated 124,310,000 hectares. These are among the countries with largest arable lands within the continent. But the food crises since the commencement of the Russia-Ukraine war have been largely tied to grains produced in Ukraine – notably corn, wheat and barley – which have been unable to enter into the world food markets for reasons of blockade by Russia.
If we must eat wheat on a large scale in Africa, we can begin massive cultivation in Nigeria, South Africa, Ethiopia and – to a limited extent – Kenya as countries with cold periods of the year when wheat would do well on the field. It should therefore be a challenge to Africa, with far wider arable land, to produce far more of the wheat and end dependence on import. Ukraine's total land area is 603,548 km². Its total arable area in 2019 was 32,924,000 hectares. Despite the annual fluctuations in recent years, it reportedly increased through the 2000 to 2019 period, ending at 32,924,000 hectares in 2019. This was still less than the total arable land in Nigeria alone. Yet, in 2021, Ukraine reportedly produced about 80 Million metric tonnes of grain – including wheat, corn and barley – out of which it exported 47.2 million, accounting for 10 percent of global wheat exports in 2021.
But now, food politics and economics seem to have been conflated in the narratives of Russia's invasion of Ukraine. Desperate to shake off the impact of the Western diplomatic standoff and the likely responses from countries of Africa in support of the West, Russia began spirited attempts to dissuade some countries from further leaning towards the West. According to a column published in newspapers in the four countries included in his tour, Foreign Minister Lavrov praised Africa for resisting what he described as Western attempts to impose a unipolar world order. "We appreciate the considered African position as to the situation in and around Ukraine," he wrote, reasoning that African countries had come under "unprecedented" Western pressure to join the sanctions. While some African countries having tangled legacies of relations with the West and the former Soviet Union have largely avoided taking sides over the war in Ukraine, it may be a hard sell to persuade many others to either stay neutral or lean East or West under this circumstance. Economic and social pressures will obviously play prominent roles in determining the disposition of many African countries in response to any persuasion. Many import Russian grain and increasingly energy too, but they also buy Ukrainian grain and benefit from Western aid flows and trade ties. They will therefore have to be circumspect.
But this is a golden moment for Africa to assert itself, raise its diplomatic bar and negotiate harder. African countries should not continue to regard themselves as always vulnerable or disadvantaged. Rather than being hoodwinked by the narratives of grain shortage because of the blockade of wheat export from Ukraine, African countries should use this period to recalibrate their foreign policy priorities generally as they affect – or are affected by – the West, East, Middle East, Latin America and Oceania. In addition to making all-out efforts to boost food production within the continent, African leaders must talk tough to – and bargain hard with – all those foreign envoys posturing as fair weather friends who only seem to remember Africa when it suits their own selfish purpose. We should expect more visits from those countries and some more who would like to use Africa as a knife edge or pivot to balance their own foreign relations chess game.  The AU in particular needs to wake up to its responsibilities, raise the stakes for these foreign ministers and the countries they represent and bargain for more beneficial outcomes while taking positions. Africa should no longer be pushed around by those countries as done in the past. Those times should be regarded as long gone, never to come again into reckoning. African countries should live up to their bidding.