WORLD BUSINESS & ECONOMY
Three of UK's biggest banks lose $75bn market cap in a year
January 28, 20211.6K views0 comments
By Zainab Iwayemi
HSBC Holdings, Lloyds Banking Group and Barclays, the three largest banks in the United Kingdom, have seen an almost $75 billion drop in their market capitalisation year-on-year as the combined market value hit $184 billion recently, data compiled by BuyShares has shown.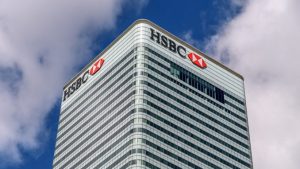 The plunge, which was mainly felt by the European banking system and saw many of the largest banks coping much worse with the crisis than their US peers, was attributed to the Coronavirus pandemic as major European banks all reported huge losses in 2020, causing their market cap to fall deep below 2019 levels.
The US financial giants, however, managed to boost their investment banking and trading revenues and better position themselves in times of economic uncertainty.
BuyShares data shows that HSBC, Europe's largest bank by assets, suffered significant losses amid the COVID-19 crisis as the group earnings report revealed that revenues for the nine months of 2020 amounted to $38.7 billion, which represents a 9 per cent drop in a year, as a result of the progressive impact of interest rate reductions across its global businesses. Similarly, its profit after tax, dropped by 62 percent to $5.2 billion between January and September 2020.
In December 2019, Yahoo Finance data had reported the market capitalization of the London-headquartered financial giant stood at $160.1 billion, this figure dropped to $114 billion within the next three months. The drastic drop persisted into the following months, with the market capitalization falling to $78.9 billion in September, indicating a 50 per cent plunge since the beginning of 2020. Statistics indicate that the value of HSBC's stocks combined stood at $113.8 billion as of January 2021, a $46.4 billion drop in a year.
In a similar account, Yahoo Finance data revealed that the second-largest bank in the United Kingdom, Lloyds Banking Group, witnessed the most significant drop in market capitalization due to the COVID-19 crisis. This led to a fall in the figure from $57.4 billion in December 2019 to $34.8 billion in January 2021, almost a 40 per cent plunge in a year.
In addition, the lingering effect of the COVID-19 caused Barclays to lose almost $5.5 billion in market capitalization.
The combined value of stocks of the UK's third-largest bank by assets stood at $40.8 billion in December 2019. The figure dropped by 13 per cent, landing at $35.3 billion in January 2021.