Comments
Tony Elumelu's '60 for 60': Championing Africapitalism, empowering 16,000 young Africans
March 27, 2023179 views0 comments
By Onome Amuge, Cynthia Ezekwe & Luther Animashaun
Tony Elumelu is the founder  and chairman of Heirs Holdings, a private investment firm with significant investments in various sectors across Africa, comprising  financial services, power, oil and gas, real estate, hospitality and healthcare.
The astute business tycoon, who is also the chairman of pan-African financial services group, the United Bank for Africa (UBA), is one whose roles as an entrepreneur, investor, banker, champion of Africapitalism, mentor, philanthropist, amongst others, has definitely left an indelible mark across the landscape of Africa's social and economic development.
Elumelu is not a stranger to remarkable success and honours, some of which include, an inclusion in TIME magazine's 100 most influential people of 2020 and the inaugural TIME100 Impact list in 2022; the title of Commander of the Order of the Federal Republic (CFR) in 2022, amongst other numerous recognitions.
The Tony Elumelu Foundation (TEF) is the leading philanthropy empowering a new generation of African entrepreneurs, catalysing economic growth, driving poverty eradication and job creation across all 54 African countries. The Foundation has since its establishment in 2010 disbursed over $100 million in seed capital to support small business growth across Africa. This arose from an initial commitment of $100 million to fund, mentor and train young Africans over ten years, that Elumelu and his family made when the Foundation took off more than ten years ago.
The Foundation's mission is rooted in the philosophy of Africapitalism, an economic philosophy developed by Elumelu, predicated on the belief that Africa's private sector can and must play a leading role in the continent's economic and social wealth creation. Africapitalism, according to the TEF founder, is based on the principles of entrepreneurship, long term investments, value-added growth, regional connectivity, multi-generational development, and shared purpose.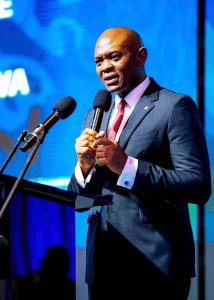 Elumelu also described Africapitalism as a call-to-action for the private sector to make decisions that will increase economic and social wealth, and promote development in the communities and nations in which they operate, rather than leave the business of development to governments, donor countries, and philanthropic organisations alone.
In his words: "Such a decision will ultimately help businesses become more profitable as the communities they serve become well-off consumers, healthy and better-educated employees, and even entrepreneurs who go on to become suppliers and service providers."
Over the years, Elumelu has chosen to walk the talk by empowering nearly 16,000 African entrepreneurs and also created a digital ecosystem of over one million Africans, as part of a 10-year $100 million commitment to fund, mentor and train young African entrepreneurs through his brainchild –  The Tony Elumelu Foundation.
To mark his 60th birthday last Wednesday, a symposium themed, "60 for 60", was held in honour of his achievements in catalysing Africa's development, especially on his empowerment of young entrepreneurs across various African countries.
The event saw the Sexogenarian  receive encomiums from young entrepreneurs from across the continent of Africa  who have benefited from the Foundation's mission of creating jobs, alleviating poverty, and economically empowering women and other young people.
Temitayo  Johnson Laleye, founder of TJ Signatures, a sustainability  fashion accessory brand in Nigeria, while speaking on the impact of the non profit organisation, said: "Before I encountered the Tony Elumelu Foundation, I was a confused 17 years old uni student, who had just started a business, I didn't really know why I was doing it, I just wanted to make extra cash while in school, and upon applying for the first time, I found it to be a really rigorous process, so I was not selected."
Laleye noted that applying and partaking in the programme helped him to streamline and find his  purpose in his business (TJ Signatures) which has recorded significant growth and is able to train over 2,000 young children and women in underserved communities.
"We have also been awarded the 25 under 25 awards, and we were the youngest recipient of the award because of our contribution to youth employment in Nigeria. Thanks to the training and the funding we received, we have expanded to countries outside Nigeria, to Ghana, to the United Kingdom, to the United States. We are selling and earning foreign exchange in Nigeria," Laleye added.
Monica Domingo, the CEO of Demetrius, a  beneficiary of the 2019 Tony Elumelu Foundation seed capital, said the foundation helped her business gain investor confidence and signed new contracts.
The Zambia based entrepreneur added that her  business is currently employing 21 young men and women, who are breadwinners, taking care of their families.
Sadiq Gbadamosi, the CEO of So Clean, a home laundry service in the Republic of Benin, said he started his business in 2019, with a capital he borrowed from his mother.
In his words; "At the time I started the So Clean Laundry Service, I washed with my hands, had no washing machines, and no workers. In 2019, I first applied for the TEF programme, and was not selected. In 2020, I applied again, but due to COVID, it was postponed. I tried again in 2021 when  I was selected. I would like to emphasise that I had double luck that year, because I was selected with my brother that year. I would like to thank you because through the funding, I was able to get more materials, and employ people. Thanks for the training we received during the period, we were able to set up our strategies, and today, I am happy to tell you that our sales have tripled, and all this wouldn't have been actualised without the Foundation, and without you , Mr. Tony  Elumelu, so I want to thank you for what you do for African youths; happy birthday sir, keep soaring higher."
Lynda Nunez, co-founder of Dial A Pad, a multifaceted platform that seeks to tackle sexual reproductive health issues in women and girls in Kenya, said prior to benefiting from  the Tony Elumelu Foundation, she and her sister who is also a co-founder, had no capital or business prototype, but only an  idea of wanting to stop absenteeism of school girls, due to period poverty.
In her words; "In 2018, we applied for the TEF programme,  and we got the seed capital of $5,000 with which we were able to come from an idea stage to a legally registered entity. We registered our limited liability company, we got our first prototype, we employed a mechanical engineer to make sure our designs were functional, and we could impact our girls and have the data to back it up.
Now we have impacted 35,000 school going girls that go to school every month without fail, due to this foundation that was just an idea, but the Tony Elumelu Foundation made it a reality. "
Nunez also stated that she got into the TEF women entrepreneurship  programme for Africa, where she got elected as the accelerator at the growth stage and her business got funding of about $40,000. This, she said, has made her able to impact about 105,000 going girls, who will go to school and break that cycle of poverty.
"Our message from Dial A Pad is, you have shown us what democratising wealth can do and wealth creation in Africa. You have gone before us, and we are going to trailblaze after you, and democratise access to quality education for every school going girl in Africa, and from the thousands of girls who sent me here with greetings, we want to say thank you so much,'' she added.
Ama Harris Tukus,  a 2021 TEF alumnus and the director of Rosetta Steps Education Foundation said the funding from TEF enabled her establishment to digitalise its educational programmes.
Tukus, whose  initiative provides learning programmes and education for people and children in underserved communities, said: "Our students come from homes where there is no electricity, no access to digital learning, so imagine how difficult it is for our  teachers to help them understand learning concepts, we were stuck, but with our funding from TEF, we were able to get a generator, television, projector, and bring to life all of those things that brought learning to our students," she said.
According to Tukus, since the TEF funding, the education centre has taught phonics to over 5,000 students from different communities, employed 25 teachers, and has been open for the past five years.
Delivering her concluding remarks, she said: "Thank you sir. Without you, this will not have been possible.  You have changed the narrative for us, for who an African entrepreneur is, and have proven that a single individual through his philanthropic efforts can effect change. Today is your birthday sir, some of us have come out of curiosity; we needed to see that person that would invest millions of his hard earned money on us  to say thank you, for believing in us.
"On behalf of all your TEF alumni,  as you celebrate your 60th birthday, we want to assure you that as we leave this hall to our various countries, homes, offices, and communities, we leave with a new commitment to think Africapitalism, live Africapitalism, and act Africapitalism, because only in that way will we be giving you a present that will last long beyond your lifetime.''