Travel
Transcorp Hilton Abuja wins big at Global Travel & Hospitality Awards
October 8, 20181K views0 comments
 Transcorp Hilton Abuja, has been honoured with the seal of excellence, SIGNUM VIRTUTIS, as the winner of the winner of the prestigious industry awar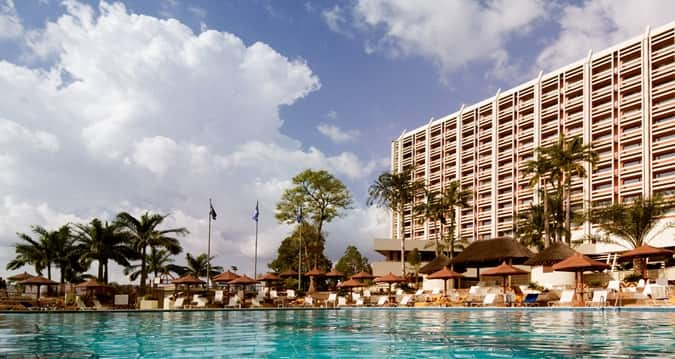 ds – Seven Stars Business Hotel-Africa and Best Luxury Hotel –  at this year's Seven Stars Luxury Hospitality and Lifestyle Awards gala ceremony, which held in Crete, Greece.
Valentine Ozigbo, the MD/CEO Transcorp Hotels Plc., owners of Transcorp Hilton Abuja, was also honoured with the Seven Stars Pantheon of Hospitality award, an industry first designed to award the outstanding achievements and careers of the individuals behind the most successful properties around the world.
On the same night, for the 4th year in a row, Africa's leading hospitality destination emerged winner of World Travel Awards in 5 categories, including Africa's Leading Business Hotel at the 2018 Africa & Indian Ocean Gala Ceremony which took place at Durban International Convention Center in Durban, South Africa. The hotel also went home with prizes for Nigeria's Leading Hotel, Nigeria's Leading Business Hotel, Nigeria's Leading MICE Hotel and Nigeria's Leading Hotel Suite.
The hotel, which is owned by Transcorp Hotels Plc, the hospitality subsidiary of Transnational Corporation of Nigeria Plc. emerged winner of both prestigious awards through a voting process open to the public as well as the travel trade.
"We're honoured to be recognized for our commitments to excellence in hospitality," said Ozigbo.
"The industry awards are a testament that our transformation initiatives are appreciated by the travelling public. They also come in recognition of Transcorp Hilton Abuja's leadership in redefining hospitality not only in Nigeria but also globally. These awards are dedicated to our team members who work tirelessly, to our guests for choosing us always and to our late hotel manager, Ahmed Abdelghafar who died in Egypt after a brief illness," he stated.
Commenting on the awards, Etienne Gailliez, general manager, Transcorp Hilton Abuja said, "It is a great honour to receive World Travel Awards and Seven Stars Luxury Hospitality and Lifestyle Awards at the same time.
"Every day our over 1000 Team Members work hard to create exceptional experiences for our guests; the awards are a fitting reward for the hard work and dedication of our Team Members."
The Seven Stars Luxury Hospitality and Lifestyle Awards select only the best candidates in order to identify and to separate the exceptional from the very best. Winning this extremely exclusive award is an extraordinary achievement and signifies that a property is in an elite class.
World Travel Awards was established in 1993 to acknowledge, reward and celebrate excellence across all sectors of the tourism industry. Today, the World Travel Awards brand is recognised globally as the ultimate hallmark of quality, with winners setting the benchmark to which all others aspire.