Equities
Markets
U.S. stocks rise on earnings, China data optimism
April 17, 2019718 views0 comments
U.S. stocks continued to march toward records as the latest batch of corporate earnings and data from China boosted optimism in the global economy. Bonds fell and the dollar edged lower.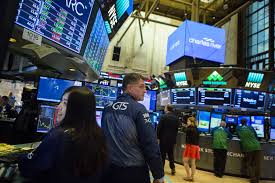 The S&P 500 pushed to a fresh six-month high, while the Nasdaq 100 topped its intraday record. Morgan Stanley and PepsiCo. Inc. rose after posting solid results, while CSX Corp. and Kansas City Southern lifted transportation stocks. Netflix Inc. advanced even after a weak subscriber forecast. IBM Corp. dragged the Dow Jones Industrial Average lower after sales slumped.
In corporate news, Qualcomm Inc. headed for the highest since 2014 after settling with Apple over royalties. Sprint Corp. slumped on reports its merger with T-Mobile US Inc. was said to be in doubt. Data overnight showing China's economic growth, industrial production and retail sales all topped estimates boosted equities around the world. The Stoxx Europe 600 Index erased a drop, while shares rose in Japan and Shanghai.
The yield on 10-year Treasuries climbed to a four-week high and the dollar stayed lower after the U.S. trade gap unexpectedly narrowed. European debt also dropped, while the euro strengthened even as Germany's economy ministry revised its growth forecast lower.
Options traders see balanced risks for the euro before August
As earnings continue to pour in, investors are growing more confident the anticipated drop in first-quarter results won't spoil the year. At the same time, central banks around the world remain accommodative, and the latest Chinese data appears to have calmed jitters that the world's second-largest economy was headed for a slowdown.
Elsewhere, oil climbed after data showed a surprise drop in crude inventories. The New Zealand dollar retreated after inflation slowed more than forecast, while the Australian dollar rose after the Chinese data.