Capital Markets
UK: FTSE 100 climbs as pound slides on election jitters
May 31, 20171.3K views0 comments
UK stocks advanced on Wednesday, boosted by a slump in the pound after a new polling estimate showed Theresa May's Conservative Party may lose its majority in the general election next week, MarketWatch reports.
The FTSE 100 index added 0.2% to 7,542.94, partly recovering from its 0.3% loss on Tuesday. The index was closed Monday for a bank holiday.
A fall for sterling was seen as driving the market action on Wednesday, with the pound falling to $1.2818 from $1.2860 late Tuesday in New York. The loss came after a YouGov estimate, commissioned by the Times newspaper, indicated that the Conservatives might lose 20 seats in the June 8 election. That means May's party would lose its current majority in parliament, which is has had since the election in 2015.
Labour, on the other hand, is expected to gain 28 seats. A few weeks ago, the Tories stood to increase their majority substantially. Investors had been pushing the pound above $1.30 on hopes a bigger Conservative majority would strengthen May's hands in the upcoming Brexit negotiations with Brussels.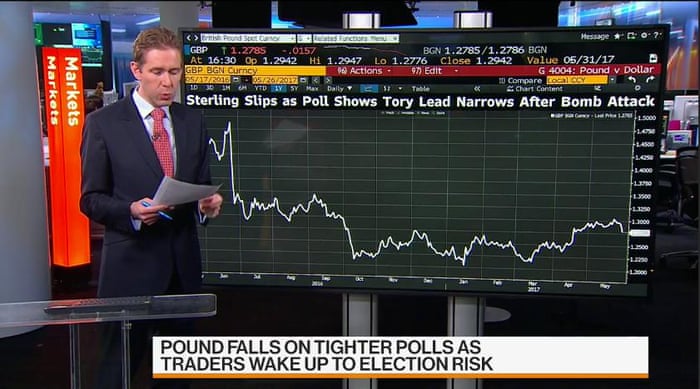 "This sterling weakness has offered a helpful translational boost for the FTSE's army of foreign earning stocks as the index brushes off weakness in commodities overnight (iron ore -4.2%; nickel at 11-month lows) as Chinese Manufacturing PMI was reported in-line with expectations," said analysts at Accendo Markets in a note.
Among the FTSE's big multinationals, Unilever climbed 0.9%, British American Tobacco gained 0.7% and Diageo climbed 0.7%.
British Airways-parent International Consolidated Airlines Group rose 0.9%, rebounding in part from a 1.4% loss on Tuesday that came after a far-reaching computer failure at BA left thousands of passengers stranded over the weekend.
Miners curbed the gains for the FTSE 100 after China's official manufacturing purchasing managers' index was unchanged in May at 51.2. China is a major user of natural resources, so any growth indications from the country tend to drive prices of metals.
Shares of Rio Tinto dropped 1.9%, Anglo American fell 1.8% and BHP Billiton lost 1.7%.
Also moving lower, shares of Tesco gave up 1.3% after the latest Kantar data on UK supermarkets showed the grocer's market share fell to 27.8% in the 12 weeks to May 21.
J Sainsbury's market share fell to 15.9%, but shares were up 0.1%.
---
Courtesy Financial news