Piles of debt almost equivalent to entire nations, like South Africa or Hungary
Daimler and BMW also in top 10 with debts of $151bn, $114bn respectively
Despite debts: Volkswagen has second-highest EBIT margin of all car manufacturers after Toyota
Charles Abuede
New data gathered by Kryptoszene and made available to Business A.M. show that German automaker, Volkswagen Group, one of the world's leading manufacturers of automobiles and commercial vehicles, has ranked tops in a list of the world's most heavily indebted firms, amassing a debt profile of $192 billion.
According to the data, the automotive group's heap of obligation is equivalent to that of whole countries, for example, South Africa or Hungary. The entirety of this debt is in spite of the way the Wolfsburg, Germany-based manufacturer is exceptionally beneficial also, having the second most noteworthy earnings before interest and tax (EBIT) edge of any car maker.
The data also show that two other German automotive groups, alongside Volkswagen, are among the ten organisations with the highest debt burden, and these are Daimler and BMW with debts of $151 billion and $114 billion respectively.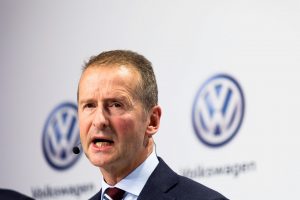 A further examination of the financial information from the 900 biggest organisations by market capitalisation reveals that US businesses ranked overall as the highest debt-burdened companies with a combined $3,908 billion; Germany based organisations ranked second with $762 billion; with Japanese and British companies following with $734 billion and $539 billion respectively, while French firms posted debt burden totalling $403 billion.
Top 10 companies with the largest growing debts in the world
Based on the ranking, Volkswagen tops the chart with over $192 billion, followed by United State's AT&T inc. with $176 billion. Mercedes owned Daimler, Toyota and Softbank are also on the log with $151 billion, $138 billion and $135 billion respectively. Verizon Communications, Ford and German BMW follow accordingly with $129 billion, $122 billion and $114 billion; while Comcast Corporation and Anheuser Busch are at the bottom with $104 billion and $96 billion respectively.
Most profitable automotive groups globally by EBIT margin
Standing out by far as the most innovative automobile group, Volkswagen does in different regards stand out, as is shown by an index ranking companies by innovations and world firsts in various areas of technology. In terms of profitability, Volkswagen also occupies a driving position in an industry comparison, with an EBIT margin of 7.3% in 2019. Only Toyota scored better with EBIT of 8.4%.
Although, Volkswagen's sales between 2015 and 2019 have averaged about 230 million euros (213.29m, 217.27m, 229.55m, 235.85m and 252.63m) for the five years in which the company's car division accounted for 72 per cent of the sales, while financial services, commercial vehicles and power engineering accounted for 16, 10 and 2 per cents, respectively for the five year period.
In spite of the foregoing, Volkswagen, which has been termed the most intensely obligated undertaking on the planet, leads the way in innovation and has a higher research budget than tech giants like Microsoft and Apple as well as other car manufacturers.