Interview
Webb Fontaine has Africa's largest R&D centers in trade & customs – MD
September 27, 20211.3K views0 comments
The digitalization of Africa is perceived as a forgone conclusion in certain quarters as there is absolutely no iota of doubt that a technology revolution is imminently in the offing what with the continent already embracing innovative solutions and transitioning into a smart region!
The last decade saw the emergence of some key players providing disruptive technology solutions across various industries to aid digitalization on the continent; but as is being projected, the next decade is expected to witness the unprecedented digital transformation of an entire region once considered as a 'Dark Continent.' Leading the way in providing disruptive solutions to Africa's technology sector is 'Webb Fontaine,' a leading technology company providing innovative solutions to trades across emerging markets.
In an interview with Business A.M., Ope Babalola, managing director of Webb Fontaine Nigeria, answered salient questions bordering on the company's strategic technology approach in Nigeria. Excerpts:
ABOUT WEBB FONTAINE AND what impacts it is making in trade specifically in Africa?
Ope Babalola: Webb Fontaine is a technology company that specializes in trade facilitation solutions. We have been operating in Nigeria since 2006, and providing services to the Nigerian government through the Nigerian Customs Service (NCS). Over this space of time, we have transitioned from the traditional paper-based operating system to a digital model.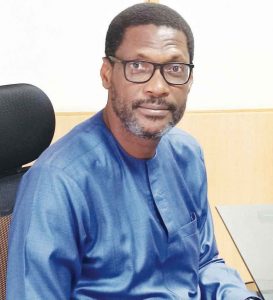 What are your competitive advantages?
Webb Fontaine has built the largest fully in-house research and development centers in the industry. These centers enable us to create powerful and optimized trade technology solutions powered by Artificial Intelligence (AI).
Trade facilitation is a key factor for international trade efficiency and the economic development of countries; and it has increasingly gained prominence in the global political space. In your view as a trade and marketing expert, how best should African governments go about it?
First and foremost, it is important that trade happens. With only 17 percent of trade happening within Africa compared to more than 50 percent – 60 percent within the EU, Asia and North America according to statistics, it implies that 83 percent of trade happens outside of Africa; and this is largely due to cost of manufacturing, transportation, etc.
How will digitalization of trade in Africa help realize the AfCFTA, and how will Webb Fontaine's solutions come into play?
In this era of digital revolution, the only way going forward in terms of collaboration and movements of persons, goods and services is technology! Continental free trade is in three parts namely: exchange of goods, exchange of services and exchange of personnel. I will focus on the trading and exchange of goods!
The most important thing in terms of the trading of goods in the African Continental Free Trade Area INTERVIEWis the determination of the rules of origin. This means that strict measures must be put in place to ensure that goods exported to a particular country retains their country of origin, even if exported to a third country. E.g., if certain goods are exported from a foreign country-to-country A, their origin remains traceable to the foreign country even if exported from country A to country B! This is one sure way that smuggling can be effectively checked, as the details of goods expected on arrival must tally with what arrives at the port. One way this can be done is through technology!
Webb Fontaine efforts to support the Nigerian Customs Service?
We have been very fortunate to have excellent partners in the Nigerian Customs Service and the Ministry of Finance which oversees the work of the Nigerian Customs Service. Based on our agreement, we provide the software, hardware, telecoms and trainings, as well as infrastructure in certain cases; for their operations. We harness the vast experience of the Nigerian Customs Service officers who are experts in what they do to develop a model that can think a thousand times faster and more efficiently than humans do!
Challenges encountered in the Trade and Customs sector in Nigeria, and how could it be surmounted?
Challenges are also opportunities! Even if we consider them as challenges in the business sense, our job is to provide technology solutions! Therefore, it would be appropriate to say that these challenges have become opportunities for us. Nigeria's borders with some neighbouring countries were closed even before the Covid-19 pandemic; and as a result, there have been a lot of smuggling. We are very much involved in finding solutions to support the Nigerian Customs Service at the borders.
Webb Fontaine has won prestigious awards in Nigeria including Most Enterprising Tech Company of the Year, e-Government Infrastructure Services Provider of the Year and Software Development Company of the Year. As the go-to technology solutions provider, what industry wide systems and solutions can you bring to further modernize and boost the NCS?
We are presently discussing several solutions with the NCS management. Some have already been approved and will soon be implemented, while some are still being tested to figure out how they would work. For instance, the Post Office collection will be implemented soon.
This means that every importation made through the Post Office will enrich their coffers, as they will automatically and electronically collect the taxes and payments. This will change the face of the Nigerian Postal Service (NPS) and how it is perceived. One big advantage for us is that we do not rest on our laurels because we strongly believe that as a company, we must continually strive hard to improve our services.
With Webb Fontaine's expertise in trade and customs, how has your application and use of disruptive technology impacted on trade facilitation in Africa?
In some countries, it is quite difficult to think of trade and customs administration without thinking Webb Fontaine! If it is not the case right now, it will be in a few years. As a company, we have been able to show what can be done in terms of solutions to the challenges that clients are grappling with. For instance, within Nigeria, the Covid-19 lockdown last year affected most businesses and government agencies, but the Nigerian Customs Service was spared because we are fully automated! As a result, they made record revenues in 2020. Partly as a result of the success made by the Nigerian Customs Service last year, other government agencies want to engage Webb Fontaine, and be on that platform because they have seen the success made by the Nigerian Customs Service; and now want the same technology solutions. It would be our pleasure to serve them.
As the main driving force behind the growth of Webb Fontaine, and one of the company's most senior business executives, what giant strides has the organization recorded in Nigeria and Africa commercially speaking, in the last 10 years?
Not many people knew Webb Fontaine 10 years ago; and if we want to talk about our achievements, then we must not fail to mention our dedicated staff. From our development teams worldwide to the developers in different parts of the world, who support our work; and even our developers here in Nigeria, every staff puts in his/her bit.
Without the input from our team of dedicated and committed staff, we wouldn't be able to provide the solutions we do. Another thing that has helped us is our relationships with clients e.g., the NCS, the Ministry of Finance, the Central Bank of Nigeria, etc., as well as other regulatory bodies. Working with them has kept us on our toes; and we continue to work together to succeed in what we do! That's the reason for our success in the last 10 years.
With Webb Fontaine's operations currently centered on emerging markets in Africa, the Middle East, Central America and South Asia, are there plans in place for expansion into more technologically advanced regions?
The technology we are using in Nigeria and other parts such as the UAE, Bahrain, Panama is the most modern technology in the world. Technology leapfrogs several stages of development, and takes certain things to the peak! This is what Webb Fontaine has done in trade facilitation and customs administration. We look at underserved countries that need our services, and provide them the same solution to bring everybody up to the same standard as the best standard in the world.