Oyeleye
West African single currency: Between old and new 'Eco'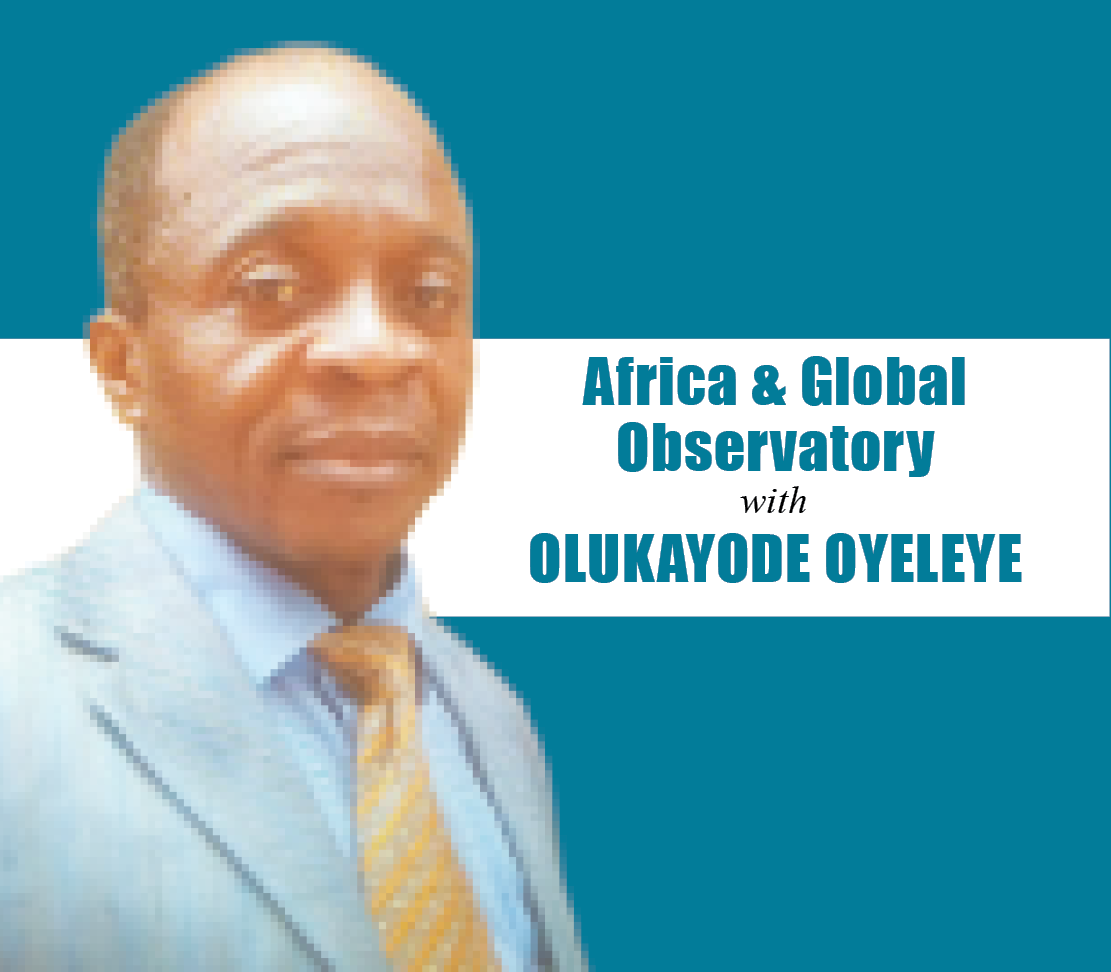 Dr. Oyeleye, a consultant, journalist and policy analyst, can be reached via:
oyeson2@yahoo.co.uk
Twitter: @OlukayodeOyele1
January 13, 2020646 views0 comments
MARRIAGES HURRIEDLY CONTRACTED are prone to some existential dangers, complications and dilemmas: to walk away from marriages of convenience if the realities aren't bearable for parties involved or to endure such realities in perpetual hope that things will one day change for normal. But, the reality – it might be strongly disputed by some – is that strange bedfellows may find themselves in a quandary, in which case it is neither easy to quit nor to stay. To save the marriage or parties involved, therefore, it is important to do thorough background check, ask questions, decide on compatibility parameters and sort out potentially explosive individual differences, in which case certain trade-offs might have to be done so as to come to a common ground. Then marriage foundation could be said to have been laid.
Where systematic steps are not taken at all or are poorly articulated and embarked upon, such a marriage may be heading for the rocks or any other solid place sooner or later. Similar to this is the unfolding of the single currency arrangement for the West African sub-region currently under consideration. The West African single currency initiative has been in the works for decades. The common currency, called the ECO then, was to have been launched in 2000 but postponed over and over again, with the newest implementation date as this month, January 2020. The countries that first adopted the "Eco" were Benin, Burkina Faso, Cape Verde, Cote d'Ivoire, Gambia, Liberia, Mali, Niger, Nigeria, Senegal, Sierra Leone and Togo during a meeting in Abuja.
The new currency, with its name derived from ECOWAS, the West African regional body, is to be called the "Eco" when it comes into operation. The birth of the Eco thus marks a new phase in West Africa's regional cooperation and economic diplomacy. Like any other such arrangement, for instance the European Union Euro, its implementation will have implications for the countries involved. Among such implications are national sovereignty, security, socio-economic, support and sense of patriotism. Participating countries will have to give up something in order to belong to the "Eco zone." Nigeria, Liberia, Ghana and three other countries will have to swap their currencies for the Eco while Burkina Faso, Cote d'Ivoire, Guinea, Guinea Bissau and Senegal will have to abandon the CFA Franc too.
There will be a number of problems to tackle, to begin with, which may linger for a long time afterwards. Most of the ECOWAS countries are small countries, for which sizes will be real disadvantages when economic integration becomes operational. Nigeria alone has a population of about 200 million people in a region of an estimated 385 million people. The challenge of working together as independent state will therefore be prominent. There had been a smaller regional economic bloc, the West African Monetary Union (WAEMU or UEMOA) but individual member countries are too small economically. Transparency will be an initial challenge as countries will tend to outdo each other, one way or another. Currency parity issues will raise significant questions as the rates in the various countries are not the same. Devaluation of the currency may become inevitable putting its viability to the test. Inflation may become more complicated, although not necessarily a deterrent. The challenge of good governance within the framework of the Eco zone will become evident as the countries no longer have to take their problems to France – or so it is assumed –but will have to solve them within the sub-region.
A very big area of concern on the Eco currency implementation is the question of the economic future of the participating countries. Key issues of currency convertibility and adjustments of monetary and fiscal policies will require a lot of painstaking, time-consuming and elaborate groundwork. Another is about the relevance of France and the suspicion about France's surreptitious backdoor control of the Eco zone. With the Eco, the participating countries are left with the question of what roles will France play? For Nigeria, in particular, it remains to be seen if not too much is being given away in the pursuit of regional integration and economic cooperation. This is happening when the African Continental Free Trade Area (AfCFTA) agreement gets underway, with all the various concessions expected of member countries.
It is scary to imagine an economic bloc and a monetary union in which poverty and low levels of economy are defining factors. The future of the Eco could thus be in jeopardy if, in political and diplomatic terms, the countries previously under the influence of France turn out to dominate the new Eco structure. France has hitherto created two zones for a single CFA Franc. One has been under the WAEMU framework in West Africa while the other under the Central Africa framework with the latter more economically fragile and dynamic than the former. This brings up the issue of parity once again in which case adjustment will have to be made. It has to be emphasised that the creation of regional currency alone will not bring about any remarkable improvement in any country. It has to be backed up by necessary reforms, including legal system, immigration reforms, industrial development, labour, trade, corruption, stability in governance and a number of other key areas of interventions.
More worrisome, however, was the finding published in 2018 by the Brookings Institution, stating that "current projections suggest that most—but not all—of the African countries of the Francophonie will not have the economic growth needed to achieve SDG1 by 2030." SDG1 is the goal of eradicating extreme poverty. Countries that will still be grappling with the basic issue of poverty will have a hard time growing their economies. It needs to be stressed also that growth alone will not be enough to end poverty in Francophone Africa.  According to the Brookings Institution, "out of the 14 African countries currently considered off-track to achieve Sustainable Development Goal (SGD) 1, eight are members of the Francophonie. By 2030, one in three people living in extreme poverty—167 million people—will inhabit an African Francophonie member state. With this benefit of hindsight, this is both worrisome and significant in the sense that the style of political and economic engagement of Francophone African countries by France has not been a success story. Should France, therefore, by any means, come to dominate the new Eco? That is an unsettling scenario that is worth our attention.
The French-backed CFA franc, established in 1945 and initially pegged to the French franc, has been linked to the euro for two decades since France's accession to the Euro zone in 2000. Since France has abandoned its own currency and adopted the Euro, the CFA has automatically become tied to the Euro and WAEMU has become a part of the European Central Bank (ECB). How then is the new Eco going to play out? Will it still be tied to the ECB and will France continue to be the mediator between the ECB and the new Eco zone? Although an assurance has been given that a requirement that the Eco's member states keep half their foreign reserves in France will be rescinded, the question is: When? Moreover, a recent comment by the Ivorian President, Alassane Ouattara, that the Eco "currency will remain pegged to the euro, guaranteeing its stability," seems suspect. Such a statement strengthens the suspicion that the new Eco may not make any noticeable difference and may still go the way of CFA – under the influence of France.
Some experts insist that a rebrand of the old Franc CFA will not do the job. This supposition arises as a result of concerns genuinely expressed from the active role that France is playing in collaboration with Cote d'Ivoire in the unfolding developments. A big question that needs elaborate and unequivocal answers is whether the new Eco is a makeover, a superimposition or a modified form of the old arrangement. Coming out clear are the political intrigues, veneered as economic integration, by France and a backdoor approach towards keeping a handle on the future economies of West African states. These necessitate the questions about whether the West African Monetary Institute (WAMI), set up in Accra, Ghana, in January 2001 and which began operations in March 2001, as well as the thought about the launching of a single currency for the West African Monetary Zone (WAMZ/Zone) are still relevant within the present Eco context. Or, could it be safely assumed that WAMI and WAMZ have all been gobbled up by the France-inspired Eco? There is a need to clear the confusion in nomenclature and set things straight.
In a recent publication, DW, a German news medium, echoed the misgivings of Martial Ze Belinga, a Cameroonian economist, that "in a way, we now have two Ecos: one that the 15 African countries voted for and whose name was already decided in 2003. And today there is a new Eco which France and the West African Economic and Monetary Union (WAEMU) countries have chosen — independently of the others. This seems astonishing. One could at least have waited for them to give their approval." Belinga was of the opinion that it does not make sense to promote West African monetary integration without involving countries like Ghana or Nigeria. "A country that accounts for over half of the population in the region cannot be left out," he said. He warned that "ECOWAS must therefore react very quickly. Otherwise its own project, the currency unit, will get into difficulties and it will lose credibility as an organization."
It is worth emphasising that those countries, including Nigeria, that may go headlong with France's Eco may be unwittingly playing into France's long term economic script at their own detriment. By the time the day dawns, the original Eco may be struggling to find relevance or may give way altogether to the France-motivated Eco, in which case France would have succeeded in sustaining and expanding its political and economic influence in West Africa.