Frontpage
We've recovered N29.541bn from liquidated banks' debtors so far – NDIC
October 18, 2019764 views0 comments
By Tola Akinmutimi 
The Nigeria Deposit Insurance Corporation (NDIC) on Friday said it had recovered about N29.541 billion from debtors of liquidated Deposit Money Banks and from debtors of failed MFBs and Primary Mortgage Banks since 1994.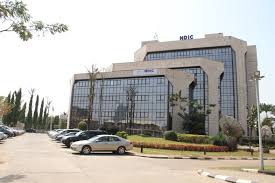 It also disclosed that during the period, it realized N21.502 billion from the disposal of physical assets of closed DMBs even as N404.74 billion and N78.17 million were also realised from MFBs and PMBs' disposed assets.
Giving these hints at a media briefing to commemorate the 30th Anniversary of the corporation in Abuja, Ibrahim Umaru the managing director, said that in furtherance of its statutory roles the corporation had been working in collaboration with the CBN and other relevant institutions to ensure the stability of the nation's financial system.
Represented by Sunday Oluyemi, the director, corporate communication and public affairs department, at the forum, the managing director, explained the corporation had paid  N116.258 billion as liquidation dividends to depositors, creditors and shareholders of the closed DMBs, MFBs and PMBs.
He explained further: "It is important to stress that through sustained and diligent liquidation activities, NDIC has realized assets to pay in full, deposits of customers of 17 of the DMBs (in liquidation).
"In effect, all the depositors of the 17 defunct banks who came forward to file their claims have been paid all their monies (both insured and uninsured) erstwhile trapped in those banks", Umaru.
He reassured stakeholders in the nation's banking system  in particular and the economy in general of the corporation's readiness "not only to sustain the high standard recorded, but to raise the bar in line with our core values of honesty, respect and fairness, discipline, professionalism, team work and passion."