By Godwin Nnanna, Boston
After decades of the economy being the pointer to how Americans vote, science may well be the new definer this year.
Very few pivotal moments helped shape America's place as the world's preeminent super power likethe 1969 moon landing. Weeks after his inauguration as president,John F. Kennedyannounced an ambitious national plan – to put a man in the moon and return him safety to the earth before the end of that decade. That dream came to fruition on July 20, 1969 when Neil Armstrong became the first human to plant his foot on the moon. As his boot crunched down into the gray lunar dirt, Armstrong famously declared"that's one small step for man, one giant leap for mankind."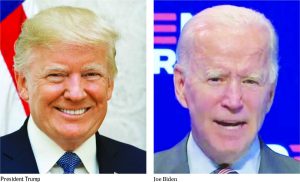 America celebrated and the world cheered as the crew returned safely to earth.  Apollo, the program that birthed that audacious feat of human exploration, involved the labor of about 400,000 scientists and technicians and cost $24 billion.  This investment would serve as an accelerant for many of the technologies that today shape modern life; technologies in communications, computation, robotics and electronics. 51 years after the moon landing, it is the new understanding of science it ushered and the technological transformation it unleashed that most profoundly defines its legacy.
As Ethan Siegel, an astrophysicist argues, America became America by investing in "doing science the right way." Siegel insists that the only way to keep America great is to keep science front and center. "Science is how we became great in the first place. It's only by doing more and better science, and by listening to the robust scientific conclusions, that we'll have the greatest version of America possible," he insists.
Science on the ballot
Siegel and many like him, believes that in the 2020 US presidential election, science is on the ballot.  Critics of the Trump administration say he has grossly diminished the place of science in public policy. Douglas Brinkley, a presidential historian who spoke at the Democratic convention last month, described Trump as"the most anti-science and anti-environment president"the US has ever had. Brinkley insists that Trump's actions have eroded one of the United States' most enviable assets: the government's deep scientific expertise, built over decades.
"Even though we expected the Trump administration to be destructive to federal science, we had no idea that the size of the wrecking ball would be this big," writes the Union of Concerned Scientists in a scathing criticism of Trump. The group formed by a group of MIT scientists in 1969, fears that if Donald Trump is re-elected, hewill"push anti-science actions through the federal government's bureaucratic process at an even greater rate."
In a clear jibe at Trump, former first lady Michelle Obama said of Joe Biden, "he will tell the truth, and trust science." Obama's speech at the 2020 democratic convention was one of the high points of the virtual convention. Last week, 81 Nobel laureates signed a letter endorsing Biden, citing his "willingness to listen to experts" and his "deep appreciation for using science to find solutions."
The disgust of many in the science community for Trump started even before he was elected. Trump once tweeted: "the concept of global warming was created by and for China in order to make US manufacturing non-competitive."  He has called climate change "an expensive hoax" and tweeted that "the badly flawed Paris Climate Agreement protects the polluters, hurts Americans, and costs a fortune." Trump once joked in a winter tweet: "It is freezing in New York – where the hell is global warming." Shortly after assuming office, Trump nixed Obama's administrations measurestargeting carbon emissions from power plants and withdrew the U.S. from the Paris Agreement on climate change.
Biden casts himself as the science guy, calling Trump this week "climate arsonist" as he comments on the raging wildfire in California.  He casts Trump as a leader averse to scientific evidence and driven by political impulses. Trump blames the wildfire on poor forest management. "If you give a climate arsonist four more years in the White House, why would anyone be surprised if we have more of America ablaze", Biden said.
Biden insists he will spend $2 trillion over a four-year period to significantly escalate the use of clean energy in the transportation, electricity and building sectors, part of a suite of sweeping proposals designed to create economic opportunities and strengthen infrastructure while also tackling climate change.Biden insists that he "will not only recommit the United States to the Paris Agreement on climate change – he will go much further than that," by leading an effort to get every major country to ramp up the ambition of their domestic climate targets.
Biden's plan calls for "a 100% clean energy economy and net-zero emissions no later than 2050." He supports the Green New Deal, a controversial and ambitious 10-year plan championed by a group of progressives in congress, to get the US to 100% clean and renewable energy. Trump describes the plan as "totally disastrous and job-killing" but proponents of the deal, say a shift to renewable energy powered by a carbon tax would create millions of new jobs. Biden says his decarbonization plan will push for "millions of solar panels – including utility-scale, rooftop, and community solar systems – and tens of thousands of wind turbines."
According data from the US Labor Department, about 10 million Americans (roughly 6 percent of the entire US workforce) were employed in is energy sector pre-Covid19.  Nearly half of these jobs (about 4.3 million) made up the traditional supply-oriented categories: fuels, including petroleum, natural gas, coal and woody biomass (1.1 million); electric power generation (900,000); and transmission, distribution and storage (2.3 million). The motor-vehicle-related industries employed 2.5 million, and energy efficiency employed 2.4 million. For these workers, fear of the Green New Deal is deep-seated, and Republicans have effectively harvested their fear to strong political advantage in oil producing states like North Dakota, Texas and Oklahoma.
Democrats vs Republicans
While critics term him an anti-science president, supporters are quick to point to US latest space endeavor – the Space Force – as evidence that Trump is a big supporter of science. As the US marked the 50thanniversary of the moon landing last year, Trump signed into law The Space Force as a new branch of the US military.  "Trump is the only president to truly build on JFK's space legacy," said Aaron Onwukwe, a Baltimore-based Nigerian American who plans to vote for Trump in November.
Democrats want to make this year's election a referendum on Trump's handling of the virus.  Time magazine in August edition, called it "the plague election" and opined that "the end of Trump's turbulent term will be written by the virus."  As the election nears, Biden maintains a significant but diminished lead in the polls.   58% of voters in a poll released early September, says Trump has done a bad job of managing the pandemic. 56% said he failed to stop the virus early enough. To the contrary, many Republicans continue to praise the Trump's coronavirus response. "He was right on it from day one prohibiting travel from certain countries. I think it was the right thing to do," says Joni Ernst, a senator from Iowa, a major swing state."He exhibited tremendous leadership in this whole process, looking to people who the experts and acting accordingly," added David Perdue, a senator from Georgia, a state that voted Trump in 2016 that Biden is striving to flip in November.
Even critics of Trump, acknowledge that a lot has been done to mitigate the pandemic. "We went from describing a new virus and posting the genetic sequence of a new virus to having a vaccine delivered into a human in 62 days. That's absolutely amazing. Never, ever before had something like that happened," said epidemiologist Carlos del Rio of Emory University.
School reopening
As schools debate how best to resume the new school year, President Trump has strongly advocated a return to in-person learning insisting that "the overwhelming majority of public school teachers are young and likely at lower risk for serious illness, hospitalization, or death. The administration argues that "cancelling in-person classes and allowing only virtual learning disproportionally harms the education of lower income children," but national teachers unions have pushed back strongly preferring in most cases a continuation of online learning which has been the dominant approach since March. The teachers unions overwhelming support Biden. One of them, the National Education Association, America's largest teachers union and largest labor union, with some 3 million members, endorsed Biden in March long before coronavirus became the catastrophe that it now is in country."Everyone wants our schools to reopen. The question is how to make it safe, how to make it stick," Biden said in a video he recorded with his wife, Jill, a former teacher. "Forcing educators and students back into a classroom in areas where the infection rate is going up or remaining very high is just plain dangerous."
The politics of science
This has been a year of science in America. While many Americans agree that science should not be polarizing, the reality is different in most parts of the US. While much of the world has moved on, the debate about mask wearing rages in the US. In the last few months, nothing has incited a nationwide feud like mask wearing.  At the heart of the debate are concerns about civil liberties, personal freedom, and perceivedflip-flop of experts and hypocrisy of politicians on the issue.
It was only in mid-July, six months into the pandemic that Trump wore mask for the first time in public. He has vehemently refused to encourage a nationwide mandate, saying he wants people to have "a certain freedom." On the other side, is what has come to be described as salongate.  House Speaker Nancy Pelosi was caught on camera walking into a San Francisco salon for a hairwashwithout mask. She used the salon despite a Covid-19 shutdown, and in complete disregard to the pandemic protocol. Instead of acknowledging her error,
Pelosi blamed the salon for making her look bad. "This salon owes me an apology," Pelosi said, claiming she was the victim of a "setup." Today, Republicans and Trump supporters point to that as evidence that for Democrats the national mask wearing campaign is more politics than science.
Similiarly, Anthony Fauci, member of the White House Coronavirus Taskforce, was criticized in July when he was caught on camera with his mask down sitting between his wife and a friend during a baseball game with no spacing between them. His mask-free spectating drew the ireofpeople who view him as eager to impose rules on others."Actions speak louder than months of incorrect words," tweeted Tim Young, a tv host in an apparent jibe.
Protests and other gatherings
While most Democrats are quick to label protests and rallies by Trump and his supporters as "super spreaders", they are praise protests by Black Lives Matter and other anti-racism groups. Trump supporters see this as double-standard.  For instance, the state of Michigan has been in the crosshairs of some of the most raucous protests. When Trump supporters gathered in the Michigan state capital to protest the state lockdown orders early May, the governor, Gretchen Whitmer, condemned the protesters calling them "incredibly reckless."
Weeks later when a different protest engulfed the state following the murder of George Floyd, the unarmed black man murdered by a white police officer, Whitmer, who is a national co-chair of the Biden campaign, was seen in the street violating her own social distancing orders by marching shoulder-to-shoulder with protesters.  The governor's website prior to that had instructed those engaging in protest to stand six feet apart.Last month, Whitmer joined the governors of Wisconsin and Nevada, all democrats, to declare racism a public health crisis.
Whose science?
With less than 50 days to the US presidential elections, some observers say the famous American election rallying cry "it's the economy, stupid" may not hold this year.  Both campaigns have an army of scientists supporting their positions. University of Calabar trained Texas-based pediatrician, Stella Immanuel, and her colleagues in American Frontline Doctors side with Trump in his claim that hydro-chloroquine can cure coronavirus and insists that masks does not do much to stop transmission. Immanuel claimed in a viral video by the group "I know people want to talk about masks. Hello, you don't need masks."Harvey Risch, aprofessor at the Yale School of Public Health shares Immanuel's position on hydro-chloroquine.  Risch wrote an article in Newsweek magazine in July titled "The key to defeating Covid-19 already exists. We need to start using it" arguing "when this inexpensive oral medication is given very early in the course of illness, before the virus has had time to multiply beyond control, it has shown to be highly effective." Trump's new Covid-19 adviser is Scott Atlas, a medical doctor and professor at Stanford University. He has once advocated a strategy known as "herd immunity" which basically states that allowing healthy people to get infected will help them develop immunity. 100 of his colleagues in Stanford describe his strategy as a "misrepresentation of science".Whose science will American voters embrace? Only their votes on November 3 can tell.