By Onome Amuge
Natural rubber, a raw material renowned for its durability and elasticity, is used in the production of basic products in the transportation, industrial and medical sectors for the manufacture of vehicle tyres and tubes, brake pads, windshield wipers, medical equipment, sport equipment, shoe soles, boots, hoses, protective clothes, protective gears, among others. Of these major end-use markets for rubber, market reports indicate transportation as the largest single sector, with tyres and tyre products accounting for over 50 percent of natural rubber consumption, making rubber one of the most popular and versatile natural resources of modern times.
Data gathered from Statista, a market and consumer data research firm, showed that the global market value of rubber totalled around $39.7 billion in 2020 and is expected to reach $68.4 billion by the end of 2026, growing at a CAGR of 8.0 percent, buoyed by a spike in demand for natural rubber derivatives particularly in China, where consumption appetite surpassed five million metric tonnes of an estimated 13.7 global output.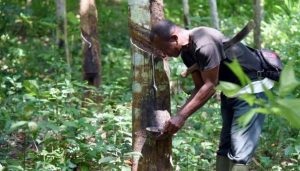 A 2020 global production data by the Food and Agriculture Organisation of the United Nations (FAO) ranked Thailand as the leading producer of natural rubber worldwide with an output of 4.37 million metric tonnes in the year under review. This was followed by Indonesia, which produced three million metric tonnes, while Malaysia was ranked third with an estimated one million  tonnes.
According to a report by Ivory Coast's Association of Natural Rubber Professionals (APROMAC), the West African country was ranked the fourth largest rubber producer in the world in 2020, up three spots from its previous seventh spot to maintain its position as Africa's largest producer with an estimated output of 900,000 tonnes in 2020.
Meanwhile, Nigeria is ranked the 12th largest producer of natural rubber in the world and second in Africa with an estimated output of 200,000 tonnes. Major rubber producing states include Edo, Ondo, Cross River, Delta, Ogun, Abia, Akwa Ibom, Rivers, Bayelsa, and Ebonyi.
Despite possessing a vast arable land, favourable weather conditions for rubber production with the potential to spur industrialisation and create thousands of jobs along its value chain, Nigeria produces an estimated 1.1 percent of the world rubber output share. Industry analysts observed that the country has failed to take advantage of the multi-billion-dollar opportunity in the rubber industry considering the federal government's economic diversification campaign in the non-oil sector.
The International Rubber Study Group (IRSG) noted that rubber used to be Nigeria's fourth most valuable agricultural export commodity after cocoa, groundnuts and palm kernels in the 1960s to the early 1970s but suffered a significant decline due to the emergence of the petroleum industry as a major source of revenue to the national economy. IRSG further explained that the production decline led to the closure of major tyre production facilities in the country, limiting local consumption of natural rubber to footwear and other less valuable sectors.
In a chat with Business A.M., Iyare Harrison, a rubber farmer based in Edo State, Nigeria's largest rubber producing state, said the farmers lack modern infrastructure to boost production while funding has also proved challenging.
Harrison further lamented that the government has not really engaged with stakeholders in the rubber sector compared to efforts targeted on food crops like rice and maize. This, he said, has impacted development of the rubber sector with the country experiencing low output and little efforts towards value addition to service the widening local and global markets.
Commenting on the declining rate of rubber production in the country, Peter Igbinosun, president, Natural Rubber Producers, Processors and Marketers Association of Nigeria (NARPPMAN), said the rubber sector has been neglected by the authorities, affecting production of the 10,102 registered members of the association.
Igbinosun explained that the association had applied for funds to resuscitate the dying natural rubber subsector but was continually ignored. He added that rubber is not among the prioritised crops in the CBN-facilitated Anchor Borrowers' Programme (ABP).
"They said because rubber has a very long gestation period, therefore they have no funds to appropriate except for rice and other immediate economic crops that yield early enough," he noted.
According to him, the government's non-commitment to rubber is detrimental to the nation's economic diversification plan as rubber is one of the country's most reliable agro-commodities capable of generating significant revenue for local businesses and creating employment opportunities for thousands of the Nigerian populace.
"The health institutions depend on byproducts of rubber; our shoes, surgical gloves, mattresses, car tyres, name them, are all rubber. Yet they want to collectively kill the subsector. They should know that, 'No Rubber, No Nation'," he said.
Gbenga Ogundele, chairman of NARPPMAN, Kwara State chapter, pointed out that one of the issues that led to a production slide was aged rubber trees arising from insufficient replanting by local farmers.
Ogundele added that inadequate funding of the research institute for rubber and poor development of high yielding planting materials are affecting output and resulting in lack of interest to rubber farmers.
"We need grants and loans without interest to be able to drive rubber plantations and get new plantations across Nigeria," he said.
Ogundele also remarked that farmers lack mechanised tools and farming implements to boost production.
Towards a better rubber industry
The development of the rubber sector, according to Igbinosun, is largely dependent on financial support and grants as the value chain, aside from creating revenue for the country, has the capacity to employ over 300,000 persons directly and indirectly. He therefore called on the government to directly engage smallholder farmers and create a financially enabling environment for them to retain interest in the rubber industry.
He urged state and local governments in major producing states to facilitate land acquisition processes to enhance expansion of rubber plantations. He also recommended development of agricultural insurance framework to mitigate losses especially during natural disasters.
The NARPPMAN president said the association has successfully set its footprint across 18 states and 114 local government areas across the country with the aim of encouraging more farmers to partake in the cultivation of rubber and also secure markets for rubber output and other economic benefits for the farmers.
On his part, Iyare Harrison remarked that youths are the future growers of the industry, creating the need for youth-inclusive programmes to encourage their participation in rubber production. He added that the government needs to facilitate Public Private Partnerships (PPPs) to enhance financial and institutional support in order to boost productivity and efficiency of the farmers.
Gbenga Ogundele emphasised the need for training and retraining of farmers and stakeholders on technical methods including nursery production, plantation establishment, pest control measures, maintenance, exploitation and marketing. He added that the industry needs partnerships on information dissemination through the likes of information ministries to keep farmers abreast of latest happenings in the industry.
Ogundele also raised optimism that the recently introduced out-growers' scheme would encourage smallholder farmers to acquire small plantations and plant more rubber trees in the hope that yield would rebound once again to bolster Nigeria's rubber output.