By Charles Abuede
Says deployment of vaccines, investment key to sustaining recovery
A new World Bank forecast for the global economy says growth in world output will be by 4 per cent in 2021, on the back of widespread deployment of the first covid-19 vaccine throughout the year.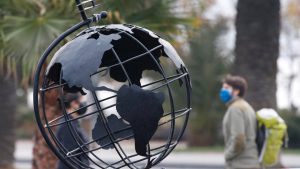 It noted that recovery in the year will likely be subdued except policymakers decide to tame the pandemic while implementing reforms to enhance investment.
The global economy contracted by 4.3 per cent in 2020 due to the pandemic, which has seen millions of individuals plunging into poverty, heavy tolls of deaths and illness, and depressed `economic activities for a long period. However, the multilateral financial institution revealed in its latest forecast that top future policy priorities are controlling the spread of COVID-19 and guaranteeing rapid and widespread vaccine deployment.
According to the World Bank report on advanced economies, the U.S GDP is estimated to grow by 3.5 per cent in 2021 after it contracted by 3.6 per cent in 2020. In the euro area, the output is anticipated to grow 3.6 per cent this year, following a 7.4 per cent decline in 2020.
Also, activity in Japan, which shrank by 5.3 per cent in the year just ended, is forecast to grow by 2.5 per cent in 2021 and China's economy is expected to expand by 7.9 per cent this year, following a 2 per cent growth last year.
Furthermore, aggregate GDP in emerging markets and developing economies, including China, is expected to grow by 5 per cent in 2021, after a contraction of 2.6 per cent in 2020, noted the report. Emerging markets and developing economies, excluding China, are forecast to expand 3.4 per cent in 2021 after a contraction of 5 per cent in 2020, while among the low-income economies, activity is projected to increase by 3.3 per cent in 2021, after a contraction of 0.9 per cent in 2020.
To support economic recovery, according to the World Bank, authorities also need to facilitate a re-investment cycle aimed at sustainable growth that is less dependent on government debt. The outlook also stated that in the near term, the stance is still highly uncertain with the possibility of divergent growth outcomes.
However, the 2021 global expansion could be limited by the continuous rise in infection numbers and the delayed rollout of vaccines, which could pose a downside risk to recovery. In the interim, an upside scenario with successful pandemic management and a more rapid vaccination process, global growth could accelerate to nearly 5 per cent.
The international financial institution also highlighted that policymakers need to continue to sustain the recovery by slowly shifting from income support to growth-enhancing policies. In the longer run, in emerging markets and developing economies, while policies to improve health and education services, digital infrastructure, climate resilience, and business and governance practices will help mitigate the economic damage caused by the pandemic, reduce poverty and advance shared prosperity, central banks in some developing and emerging markets have employed asset purchase programmes which are in response to the pandemic-induced financial market pressures, the report noted.