Metal
World's oldest metal exchange set to rethink its strategy
July 19, 20171.1K views0 comments
The London Metal Exchange is likely to adopt measures including a cut in fees and a charge for over-the-counter trades to try to quell a rebellion over costs and reverse a decline in its market share, according to two people familiar with the plans.
The changes mark a shift toward a more conciliatory tone since Matthew Chamberlain took over as chief executive officer in April after years of confrontation with customers over rising fees and efforts to promote electronic trading.
The proposals include a cut to fees on so-called short-dated carries — which users trade to roll expiring contracts forward in the near term — and a charge on dealers issuing OTC contracts that settle against LME prices, according to the people, who asked not to be identified as the information is private.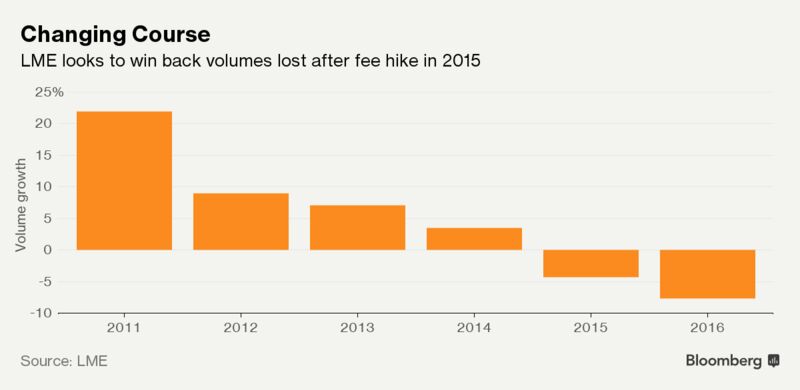 Chamberlain discussed the plans with the exchange's user committee after two months of consulting with clients, with the board set to make a decision at an Aug. 2 meeting, the people said. The bourse is discussing various options with interested parties and plans an announcement in the early autumn, a spokeswoman for the LME said by email.
Other key measures and proposals include:
Changes to technology to create live implied prices for monthly contracts that aren't currently actively traded electronically.
A recommendation that members prepare for shifts in the way margined accounts are managed because of potential future demands from regulators.
Exploration of the development of an OTC dealer-to-client trading platform, either in-house or through a partnership.
An investigation into changing to a volume-weighted average method for calculating closing prices.
The LME has sought to repair a fractious relationship with users after accusations of being heavy-handed. Chamberlain, who took over as head of the bourse after an interim stint following the retirement of Garry Jones, recognized that increasing trading fees on short-dated carries in 2015 had hurt trading volumes.
The bourse is still struggling to reverse the decline. In a discussion paper in April, it said the higher fees had affected trading behavior and "it could be appropriate to consider a modification to the fee schedule, whereby fees on certain carries are reduced."
The bourse had also said it resulted in losing share to the OTC market. According to the LME, exchange fees are three times that paid by brokers for over the counter trades with clients. The proposed charge on using LME prices for such contracts seeks to reduce the gap, said the people familiar.
The planned changes represent a conservative response to a controversy over moving from the LME's benchmark three-month forward contracts, a relic of the 1800s when ships needed that time to haul copper from Chile to the U.K., to a more standardized contract. The bourse is likely to start calculating implied monthly prices, the people said, but won't immediately take action to drive a change in trading behavior.
Chamberlain joined the LME in 2012 after a $2.2 billion takeover by Hong Kong Exchanges & Clearing Ltd.
---
Courtesy Bloomberg