Technology
A youth conference "The Future" with celeb speakers hosted by Mr Ehigie Moses Ikeakhe
March 25, 2018518 views0 comments
By Olatundun J. Oladayo
This afternoon in a Youth Empowerment Conference sponsored by Frost water, Pulse.ng and Yaw NAIJA was notable and momentous as vital information and pivotal innovative ideas were shared among the youth present at the event centre.
The event tagged "The Future" was hosted by Mr Moses Ehigie Ikeakhe where many renowned Nigerians of high calibre with sundry professions were invited as speakers. The notable speakers were Ramsey Nouah, Amb. Seun O. Williams, Ossy Cole, Timilehin Bello, Lucy Lee, Linda Oneukwa, Richard Nnadi among others.
The event took place at Villa Toscana, Victoria Island Ext Lagos, Nigeria where 70 lucky youths were given free entry to partake of the vantage event.
The host, Mr Moses Ikeakhe sparkled the day by welcoming the speakers as well the attendees to the beneficial event before getting down to the utmost discussion. He started by defining what the future is. He said, "Future is the period that will come after the present, or thing that will happen later". He stated the value of future, as great future is the evidence of an effective struggle. He urged the youth to make judiciary use of their present to command a great future. He said, "Great future is for everybody but you have to make a move towards it". He also said, "Future is like a mirage for an idle person; the closer you get, the faster it fades away".
Ambassador Seun O. Williams (Chairperson ECOWAS Youth Council) took over the mantle. He said, "Future holds just two things; regret or pleasure, whichever way depends on the bearer". He urged the youth to be focused on whatsoever they found passion in doing and to do exploit out of it. He said "Somehow, the future always seems like something that is going to happen rather than happening. Future is always just an idea, a proposal or a scenario". He said "All my life, I have wanted to stop time. I see almost no value in the future but when I roamed with optimistic people, I was shown there is more to live for".
Ossy Cole (CEO Achievas Enterprise) progressed in the discussion. He said, "Thinking about the future is an integral component of human cognition; one that has been claimed to distinguish us from other species". He urged the youth to associate themselves only with positive-minded, creative people and people who are ready to put them on the right path. He also admonished the youth to always engage in activities that will buttress and makes their future bright.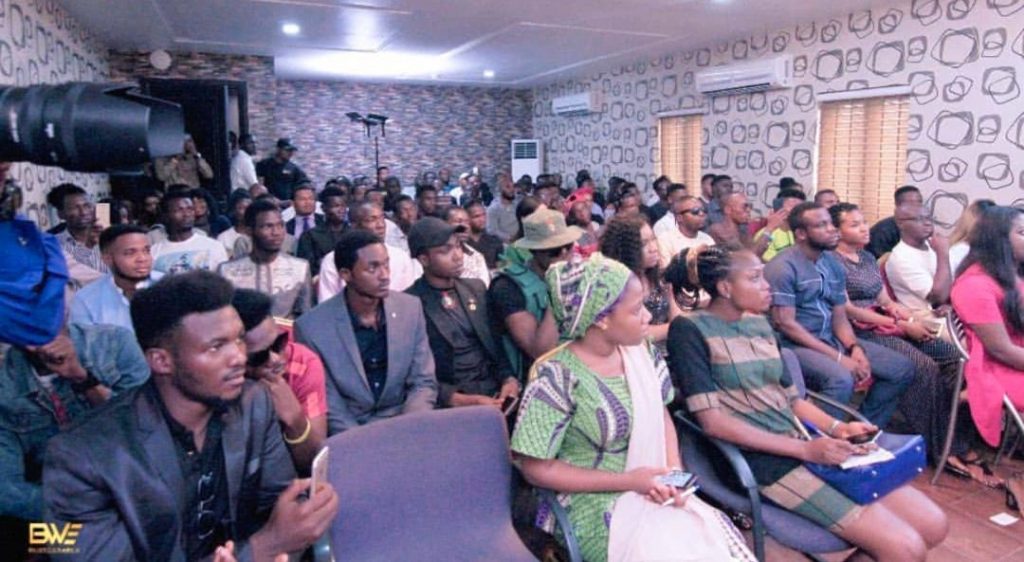 Linda Onuekwa (Enterprise Benedetto LTD) also addressed the congregation. She said, "Until you have 90% if not 100% assurance that your future is settled, you must keep striving". She also said, "Poverty is the main cause and effect of environmental degradation, so what is needed are strategies that offer real options, that secure and enhance incomes". She advised the youth to liberate themselves and to break out of the negative trends of the past".
Richard Nnadi (Director CERN Project Nig. Ltd) said: "Future, although it is unforeseen but can be targeted". He advised the youths not to allow fear to botch or thwart their plan or mindset and to always be prayerful as these are the instruments to command bright future". He said, "Nobody knows what tomorrow holds, but it can be predicted by what you are doing presently". He then advised the youth to lay a good foundation, construct themselves on this foundation and await the glorious future it brings forth.
After all the discussion, the host, Mr Moses Ehigie Ikeakhe rounded off the conference by expressing his heartfelt gratitude to the congregation at large and most especially the speakers for honouring his invitation despite their busy schedules.
He then reassured the youth "great future" if they take heed to the advises given to them by the speakers. He finally advised the youth not to be a pessimist but rather an optimist.