cryptocurrency
Bitcoin falls as much as 11%, most since July as PBOC declares initial coin offerings illegal
September 5, 20171.3K views0 comments
Bitcoin tumbled the most since July after China's central bank said initial coin offerings are illegal and asked all related fundraising activity to be halted immediately, issuing the strongest regulatory challenge so far to the burgeoning market for digital token sales.
The People's Bank of China said on its website Monday that it had completed investigations into ICOs, and will strictly punish offerings in the future while penalizing legal violations in ones already completed. The regulator said that those who have already raised money must provide refunds, though it didn't specify how the money would be paid back to investors.
It also said digital token financing and trading platforms are prohibited from doing conversions of coins with fiat currencies. Digital tokens can't be used as currency on the market and banks are forbidden from offering services to initial coin offerings.
"This is somewhat in step with, maybe not to the same extent, what we're starting to see in other jurisdictions — the short story is we all know regulations are coming," said Jehan Chu, managing partner at Kenetic Capital Ltd. in Hong Kong, which invests in and advises on token sales. "China, due to its size and as one of the most speculative IPO markets, needed to take a firmer action."
Bitcoin tumbled as much as 11.4 percent, the most since July, to $4,326.75. The ethereum cryptocurrency was down more than 16 percent Monday, according to data from Coindesk.
ICOs are digital token sales that have seen unchecked growth over the past year, raising $1.6 billion. They have been deemed a threat to China's financial market stability as authorities struggle to tame financing channels that sprawl beyond the traditional banking system. Widely seen as a way to sidestep venture capital funds and investment banks, they have also increasingly captured the attention of central banks that see in the fledgling trend a threat to their reign.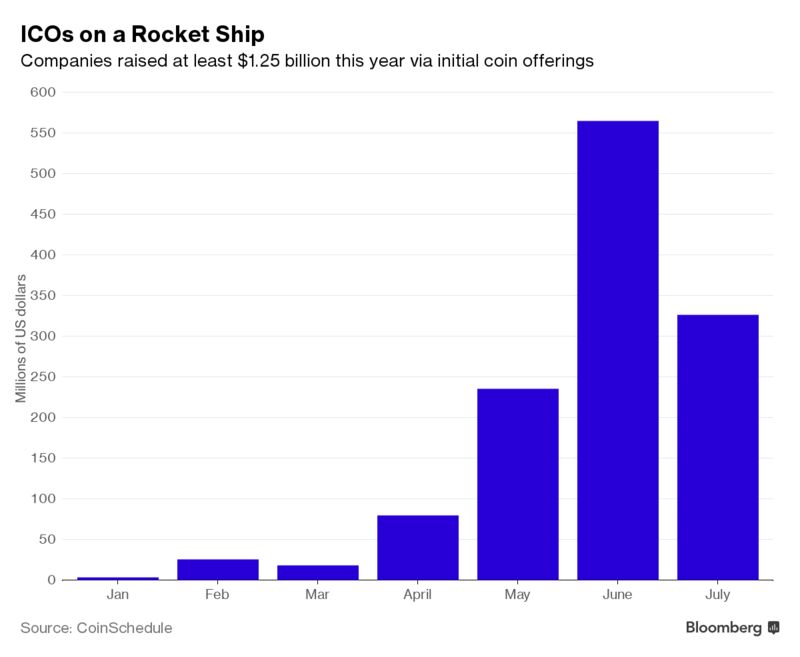 The central bank's Monday directive made no mention of cryptocurrencies such as ether or bitcoin.
There were 43 ICO platforms in China as of July 18, according to a report by the National Committee of Experts on the Internet Financial Security Technology. Sixty-five ICO projects had been completed, the committee said, raising 2.6 billion yuan ($398 million).
"This is a positive move given the rapid proliferation of low quality and possibly fraudulent coin sales promising the moon," said Emad Mostaque, London-based co-chief investment officer at Capricorn Fund Managers Ltd. "There is tremendous value in the model but we need to see more separation of high quality, ethical offerings versus those seeking to circumvent securities law for a quick buck."
A cross between crowdfunding and an initial public offering, ICOs involve the sale of virtual coins mostly based on the ethereum blockchain, similar to the technology that underpins bitcoin. But unlike a traditional IPO in which buyers get shares, getting behind a startup's ICO nets virtual tokens — like mini-cryptocurrencies — unique to the issuing company or its network. That means they grow in value only if the startup's business or network proves viable, attracting more people and boosting liquidity.
That's a big if, and the profusion of untested concepts has spurred talk of a bubble. The U.S. Securities and Exchange Commission signaled greater scrutiny of the sector when it warned that ICOs may be considered securities, though it stopped short of suggesting a broader clampdown. The regulator reaffirmed its focus on protecting investors, however, and said issuers must register the deals with the government unless they have a valid excuse.
The vast amount of money amassed in a short span of time has also attracted cyber criminals, with an estimated 10 percent of money intended for ICOs looted away by scams such as phishing this year, according to Chainalysis, a New York-based firm that analyzes transactions and provides anti-money laundering software.
Chu of Kenetic Capital said he believes China will likely eventually allow token sales, but only on approved platforms, and may even vet projects individually.
"I think they will allow the sale of tokens in a format which they deem safe and more measured," he said.
---
Report courtesy Bloomberg