Markets
Equities market remains bullish, posts 6.07% growth W-o-W
June 9, 20171.3K views0 comments
The Nigerian equities market maintained its upward trend as the Nigerian Stock Exchange (NSE) All-Share Index (ASI) and market capitalisation appreciated by 6.07 per cent  to close the week at 33,276.68 and ₦11.504 trillion respectively.
The All Share Index closed at 33,276.68 as against the previous close of 31,371.63 last Friday while Market Capitalization closed at ₦11.504 trillion.
In the week under review, a total turnover of 3.100
Billion shares

 

worth ₦29.180 billion were traded in 33,677 deals
in

 

contrast

 

to

 

a

 

total

 

of 2.319

 

billions shares

 

valued

 

at ₦23.813 billion that changed hands last week in 22,310 deals.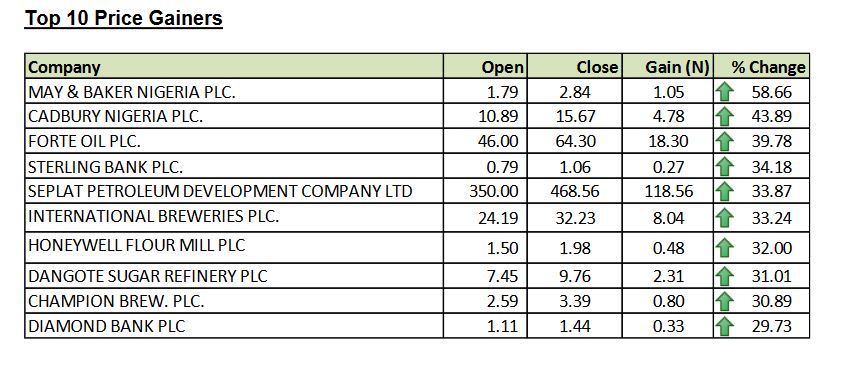 According to a statement by the Exchange, "The Financial

 

Services Industry

 

(measured

 

by

 

volume)

 

led

 

the

 

activity

 

chart

 

with 2.577 billion

 

shares valued at ₦16.52 billion traded in 9,831
deals; thus contributing 83.15% and 56.63% to the total equity turnover

 

volume

 

and

 

value

 

respectively."
The Conglomerates Industry followed with 173.54
million shares worth ₦985.46million in 1,620 deals.
The third place was occupied

 

by Consumer Goods Industry with a turnover of 161.35 million shares worth ₦3.54 billion in 5,275 deals.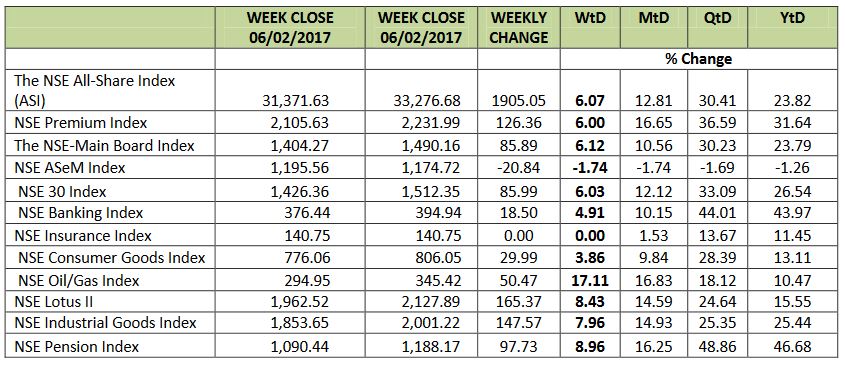 Trading in the Top Three Equities namely–FBN Holding Plc, Diamond Bank Plc, and ACCESS Bank Plc (measured by volume) accounted for 1.084 billion shares worth ₦6.522 billion in 7,095 deals, contributing 34.98% and 22.35% to the total equity turnover volume and value respectively.
Total number of shares traded increased by 29.81% from 529million to 687 million, while the total value of stocks traded increased by 25.40% from ₦4.84 billion to ₦6.07 billion in 6,785 deals.
On the last day of trading, the Financial Services sector led the activity chart with 582.299 million shares exchanged for ₦3.62 billion. Consumer Goods came next with 39.96 million shares traded for ₦0.49 billion, Conglomerates, Oil And Gas, Industrial Goods sectors followed in that order on the activity chart.