Finance
Euro rebounds to six-month high on Merkel while dollar steadies
May 22, 20171.5K views0 comments
The euro climbed to a six-month high, rebounding from an early decline, after Chancellor Angela Merkel said the common currency was "too weak." The dollar stabilized in a narrow range following the biggest weekly slump since July.
Europe's common currency rose as much as 0.3 percent to $1.1236, its strongest level since Nov. 9, after dipping to $1.1162 earlier. The euro is weak because of the European Central Bank's accommodative policy, and that has made German exports cheaper, Merkel told school students in Berlin. The Bloomberg Dollar Spot Index was little changed as of 11:50 a.m. in London, after sliding 1.6 percent last week.
The pound was the worst Group-of-10 performer after the U.K. threatened to quit Brexit talks unless the European Union drops its demands for a divorce payment as high as 100 billion euros ($112 billion). Sterling weakened against all its major peers also as polls predicted a narrower-than-expected win for Prime Minister Theresa May in June elections.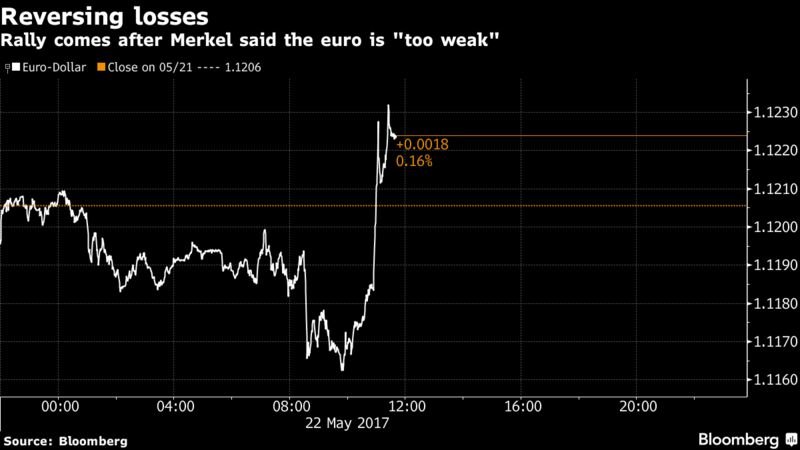 "The path of least resistance for the euro is higher," Vasileios Gkionakis, strategist at UniCredit SpA, said in emailed comments. "Economic dynamics are solid, euro-area political risk premia are priced out and the U.S. administration is a headwind for the dollar."
Still, the greenback may gain this week, with market focus moving away from the U.S. political turmoil that sent it lower last week as President Donald Trump visits the Middle East, according to Bank of America-Merrill Lynch.
"The dollar was oversold last week," Athanasios Vamvakidis, head of Group-of-10 currency strategy at the U.S. bank said in emailed comments. "Trump's trip could lead to some positive headlines, taking attention away from the many negative headlines related to the FBI and Russia last week. We could see some dollar upside this week, but unlikely to be a new trend."
"Merkel comments are unlikely to lead to any sustainable" market movement, Manuel Oliveri, strategist at Credit Agricole SA, said in emailed comments. "It's nothing new and she is stressing the obvious"
ING Groep NV expects the greenback to remain on the defensive amid concern the political crisis in Washington is unlikely to blow over soon, strategists including Chris Turner wrote in a client note. The market is also awaiting the minutes from the Federal Reserve's May 3 meeting, due on Wednesday
Sterling slipped as much as 0.5 percent to $1.2966 with early London trading seeing demand from corporate clients for the pair, a Europe-based trader who asked not to be named because the person isn't authorized to speak publicly said

On charts, the first support for cable is at 1.2927, May 19 low
EU ministers meet in Brussels to discuss Brexit negotiating position

Implied volatilities in JPY crosses have almost erased last week's advance as dust settles on Trump-Russia turbulence
CAD and NOK remain supported as oil climbs on output bets at OPEC's meeting in Vienna this week