Europe
Europe spends billions to convince Africans to stay home, and it's not working
August 18, 20171.2K views0 comments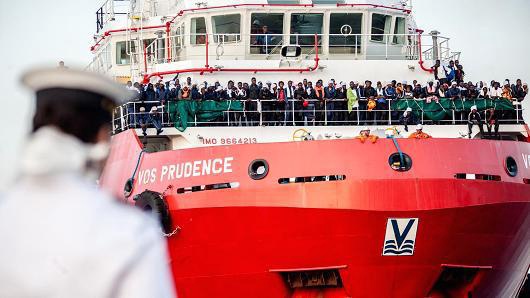 Standing in front of a packed classroom at a school in Iruekpen, a remote farming village in southern Nigeria, Precious Owens warns teenage students about the dangers of migrating to Europe.
Recruiters trick people into thinking they can get a good job overseas, she explains. "They will come and tell you they have a salon abroad," she says. But this is often a lie. Instead, migrants en route to Libya frequently wind up imprisoned by smugglers for months, before being shipped across the Mediterranean on rickety boats, she says. The journey is perilous—as are their lives abroad, where many end up as prostitutes or in other forms of forced labor.
Owens works for a nongovernmental organization that helps educate children and families in Nigeria's Edo state about the risks of illegal migration, among other things. Yet the program isn't just a local effort to help the people in this impoverished region; it's funded by the European Union.
Over the past three years, the influx of nearly 2 million migrants and refugees—many from Syria, Afghanistan and Iraq—sparked a furious backlash across Europe. And last year, the number of people coming from Africa to Italy rose sharply. Many came from Nigeria, where plummeting oil prices have left people desperate to find work abroad.
In response, the EU is spending billions of euros to try to reduce the number of people who decide to make the journey across land and sea. The money, analysts say, signals an important shift. "Migration and refugee issues have gone to the top of the EU foreign policy agenda," says Jeff Crisp, a research associate at the University of Oxford's Refugee Studies Centre.
But as the EU spends more money to try to reduce migration—through job-creation programs or agricultural development, among other measures—some analysts question whether these initiatives actually deter people from leaving home and whether they may unintentionally help repressive governments—such as Eritrea, Libya and Sudan. Policymakers "are not really interested in the complexity of the root causes of migration," says Heaven Crawley, a professor of International Migration at Coventry University's Centre for Trust, Peace and Social Relations.
Today, the most common route for African migrants to Europe is through Libya, where human trafficking has flourished. That country is virtually lawless, giving smugglers plenty of opportunities to exploit migrants for-profit. Many are traded and sold as sex slaves once they get there. Though fewer people have crossed the Mediterranean Sea at the same point this year, a higher proportion die doing it, according to the International Organization for Migration, as smugglers pack migrants onto increasingly flimsy boats without life jackets. Others die of thirst in the desert.
Proponents of the EU programs hope that providing better jobs in Africa and educating people on the continent about the dangers of the journey can help save lives. In 2015, the EU launched the European Union Emergency Trust Fund for Africa (EUTF), which plans to pump nearly $3.52 billion into projects aimed at managing migration in more than 25 countries along major routes across Africa. As of July, 116 programs worth nearly $2.35 billion had been approved under the fund. (Individual governments in Europe are paying for similar programs as well. )
Yet critics worry some programs—particularly ones that cover security costs—could wind up benefiting governments with poor human rights records. Rights groups have denounced the Eritrean government for its "totalitarian tendencies," including religious persecution; the U.N. has reported migrants face torture and arbitrary detention in Libya's justice system, and the International Criminal Court has put out a warrant for the arrest of Sudan's president on charges of genocide and war crimes. "Unless this [money] is accompanied by intense efforts on security reform and making sure the forces are properly trained and monitored, you are opening up yourself into accusations of being complicit in human rights abuses," says Richard Downie, acting Africa director of the Center for Strategic and International Studies in Washington, D.C.
The EU is monitoring the EUTF initiatives in Africa, a European Union spokesperson says in an email to Newsweek. But the European Commission's head of international development, Neven Mimica, has that better oversight is needed. "You never see any real systematic evaluation of whether they've had the intended outcome," says Crisp, the Oxford researcher. "Governments are reluctant to undertake the evaluation of migration projects because they don't want to see the results."
He and other migration analysts argue that when development brings better access to education, jobs, and money, people are more likely to migrate, not less, because they have the means to leave.
Not everyone agrees. Laura Hammond, head of an EU-funded unit at SOAS University of London that is researching migration in the Horn of Africa, says better jobs will probably keep migrants from moving. "I suspect that if people have a choice between a livable wage in their own country and a dangerous trip, many will choose to stay," she says.
But there will always be people who need to leave, out of economic desperation or religious or political persecution, Hammond adds. Those are the people who risk getting overlooked when policymakers fixate on ways to get people to stay out of Europe, she says: "The obsession…over the last few years…[has been] how to reduce the numbers of people on the move." What donors should be asking, she tells Newsweek, is "how can we try to ensure that people have the choice."
In Iruekpen, good choices are hard to find. Most students' families can't afford to pay 500 naira—about $1.50—for basic school fees every three months, says Kester Ehikhor, a teacher at the school. When there's an option to send a family member overseas to work, they are desperate for the income it could bring. "Everyone is aware that people are dying on the Mediterranean," says Ehikhor. "But they still take the risk."
---
Courtesy CNBC