Africa
Kenya holds key rate after GDP growth slows, inflation persists
July 18, 20171.3K views0 comments
Kenya's central bank left its key rate unchanged for a fifth straight meeting as East Africa's largest economy expanded at the slowest pace in three years and price growth remains above the target band.
The Monetary Policy Committee retained the benchmark rate at 10 percent, Governor Patrick Njoroge said Monday. The decision was in line with five of six economists' estimates in a Bloomberg survey.
"Overall inflation is expected to continue to decline over the next few months, supported by lower food and fuel prices," Njoroge said in a statement emailed from the capital, Nairobi. The Central Bank of Kenya, which cut its key rate by 150 basis points last year, targets inflation at 2.5 percent to 7.5 percent.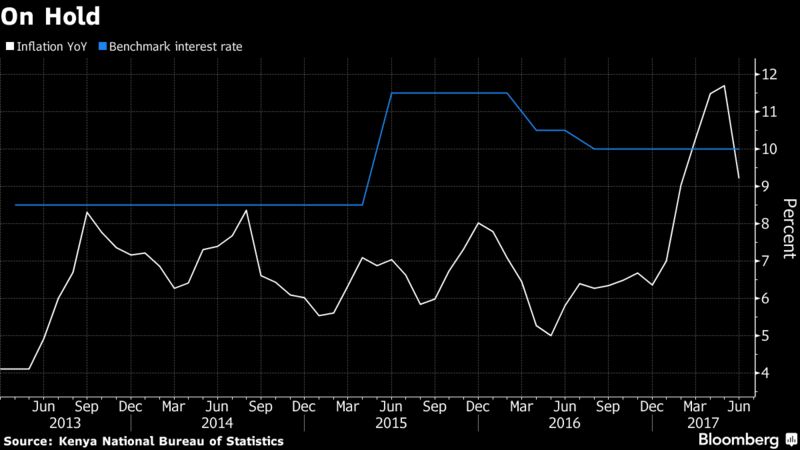 The inflation rate dropped to 9.2 percent in June, the first decline in six months as food-price growth slowed for the first time in more than a year. The economy expanded 4.7 percent in the quarter through March, the slowest rate since 2014, crimped by agriculture's first contraction in eight years. The world's biggest shipper of black tea is experiencing the driest weather in three decades.
Investor Concern
The country is gearing up for elections on Aug. 8 in which President Uhuru Kenyatta is seeking a second term in a race against former Prime Minister Raila Odinga, who has warned of possible violence if the election is seen as rigged. Kenyan elections heighten investor concerns because of unrest that engulfed the nation in three of the past five votes.
While Kenya's shilling is little changed against the dollar this year at 103.90, it's close to an all-time low of 106.75 reached in October 2011. Foreign-currency reserves declined to $7.9 billion last week from a record $8.3 billion on April 27.
Pressure may build on the shilling because of the vote, said Faith Atiti, a senior economist at Commercial Bank of Africa.
"There have to be measures to manage the volatility other than draining reserves selling dollars," Atiti said by phone from Nairobi.
Slowing credit growth and a "rapid pace of disinflation" in June points to slackening economic output and weaker underlying consumer demand, suggesting the economy may be facing serious headwinds, Razia Khan, head of Africa macro research at Standard Chartered Plc in London said.
Growth in banks' lending to businesses and individuals slumped to 2.1 percent in the year through to May, Njoroge said. While the market expects a rate cut in November, banks may still be reluctant to lend if a law capping borrowing costs at 400 basis points above the benchmark, is still in place, Khan said. Standard Chartered forecast growth in East Africa's largest economy will slow to 4.5 percent in 2017, from 5.8 percent last year, because of drought, lack of credit and uncertainties around elections.
"Government should take steps to mitigate the impact of the banking law," Khan said by phone from London. "Robust growth is further delayed, it's clouding the outlook."