Frontpage
Nigeria's import bill to rise as Maersk Line introduces extra bunker charges on oil price spike
Goddey Odin is  Businessamlive content writer.
You can contact him on goddey.odin@businessamlive.com with stories and commentary.
May 25, 20181.5K views0 comments
Maersk Line, the world's largest container shipping group has joined rival Mediterranean Shipping Co (MSC) in raising freight costs in response to rising oil prices, which surged to their highest levels in four years, the implication of which is rising cost of imported goods globally.
The means Nigeria, which depends on imports for most of its consumables and machinery, will see its import bill rise astronomically.
The Danish business conglomerate says it will hike freight rates by 20 percent starting from next month, adding that the standard surcharges it uses to deal with higher oil prices are no longer able to cover the increases.
The company in a note to customers claimed that bunker prices, as the marine fuel is known, have risen more than 20 percent since the start of the year, and that in Europe prices have hit $440 per metric ton, the highest since 2014, which it said has forced it to introduce an "emergency bunker surcharge".
Antonio Dominguez, managing director for Maersk Line East Coast South America, said: "If you look at the emergency bunker surcharge, we are not planning to make money out of this, only cover costs."
Earlier this week MSC said it was introducing a similar measure, telling customers the situation was an "emergency and no longer sustainable".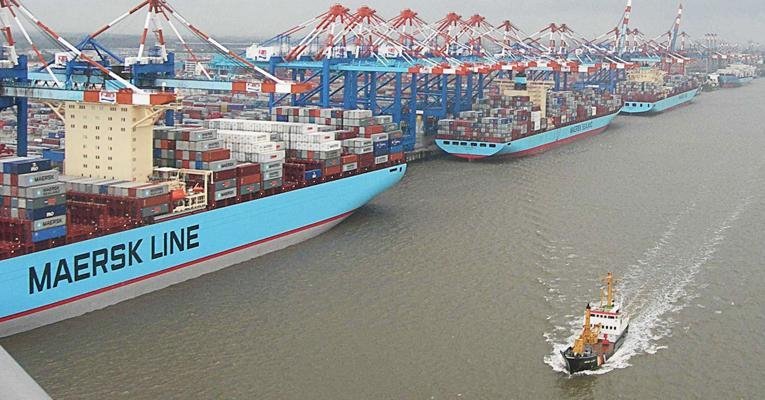 Explaining the prices rises, MSC added: "Fuel prices are up more than 30 percent this year and almost 70 percent since last June. [Ship fuel] prices in Europe exceeded $442 per metric ton last week. Crude oil is hovering around $80 a barrel — the highest since 2014."
Warning its customers of higher charges, Maersk said the increase in ship fuel prices was "significantly higher than expected", hitting $440 per ton.
Almost 90 percent of the world's good trade travels by sea, and the higher fuel costs are ultimately likely to be passed on to consumers, with other shipping lines the following suit.
The oil price has risen almost 50pc so far this year following increased tensions in the Middle East and the collapse of the Iran nuclear sanctions deal.
About 90pc of the world's goods trade travels by sea, much of it in standard shipping containers Credit: Bloomberg
Earlier this month Maersk said it would stop working with Iran as a consequence of the US introducing sanctions on the country, ending its nascent business there.
The news came less than two weeks after Maersk shocked the market by announcing a first-quarter loss of $123m, with fuel prices cited as a major factor.
Revealing the downbeat results, chief executive Soren Skou said the company's performance had been "unsatisfactory" and said he would make "short-term initiatives to improve profitability".
In Nigeria, the impact of freight cost would be a double whammy as the global shipping giant had warned Nigerian government regulatory authorities, especially the Nigerian Shippers' Council that, it would slam additional shipping charges to importers, should the policy on implementation of holding bays be upheld.
Maersk Line in Nigeria, reacting to the Nigerian Ports Authority (NPA) order mandating all shipping companies to make use of their holding bays, said using the holding bay would add to the cost of doing business for the shipping company, which it said would be transferred to the customers.