Frontpage
No end in sight for skills shortage as Nigeria's policy environment for education poor with score of 23.7%
Steve Omanufeme is  Businessamlive Managing Editor.
You can contact him on steveo@businessamlive.com with stories and commentary.
September 22, 20171.7K views0 comments
A new worldwide educating for the future index created by the Economist Intelligence Unit (EIU) and commissioned by the Yidan Prize Foundation, indicates that the policy environment for education in Nigeria is poor at a score of 23.7%, which accounts for the country's overall low rank of 32 in a survey of 35 global economies.
The index, which gauged the relationship between broader societal trends and future-skills education, indicates that Nigeria needs improvement in all three domains evaluated, including policy environment, teaching environment, and social economic environment, with policy environment having the worse score and placing 34th position of the 35 sampled economies.
Nigeria's teaching environment was scored 37.4 percent and occupying the 30th position, while the social economic environment was rated 27 percent and standing in the 31st position.
The poor performance in the three areas handed Nigeria an overall standing of 32 (31.2%)of the 35 economies sampled, ahead of Egypt at 33 (28%) and behind South Africa at 23 (54.3%).
Of 35 economies surveyed, New Zealand, Canada, Finland, Switzerland and Singapore ranked in the top 5 in the index with scores of 88.9, 86.7, 85.5, 81.5 and 80.1 percent respectively.
According to the EIU, the index was developed to assess the effectiveness of education systems in preparing students for the demands of work and life in a rapidly changing landscape.
The EIU noted that the 35 economies covered in the index represent 88 percent of global GDP and 77 percent of global population
"It is the first comprehensive global index to evaluate inputs to education systems rather than outputs such as test scores, and concentrates on the 15-24 age band in 35 economies," it said, adding that the index results relied on broader societal attitudes, including those toward cultural diversity, the treatment of women and freedom of information.
"Education systems cannot be expected to address next-generation global challenges if their socio political backdrops are insular, repressive and hostile to new ideas. In general, economies with liberal economic and social traditions perform better in the index," it stressed.
The EIU noted that the rapid development of digital technology and the globalised nature of economic systems are creating an entirely new set of educational challenges for the world to adapt to, saying that workers of the future will need to master a suite of adaptable interpersonal, problem-solving and critical-thinking skills, and navigate an increasingly digital and automated world.
The index specifically noted that too many governments are not doing enough to prepare millions of young people for seismic changes in work and life, that millions of young people are not being taught effective and relevant skills, leaving them unprepared for the complex challenges of the 21st century.
It said crucial areas such as project-based learning and global citizenship are being widely ignored. It is not enough to simply teach traditional subjects well, stressing that education systems need to adopt new approaches that help students learn skills such as critical thinking, collaboration, and awareness of global concerns like climate change.
"Only 17 out of the 35 economies indexed offer any kind of assessment framework to test global citizenship skills, and only 15 evaluate project-based learning to some degree," it said.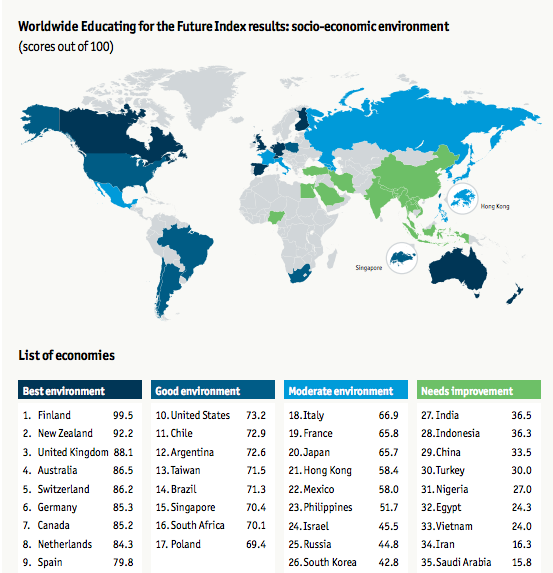 The index recommended that:
Policy needs to be complemented by a pool of talented teachers well-equipped to guide students in gaining future skills. An effective system must be built on resourceful and highly capable teachers, who are willing and able to tackle the challenges of preparing students for an ever-evolving and complex future. Teacher training is also a particular bright spot: nearly half of the economies surveyed demand teachers hold bachelor's degrees in teaching, and all require at least a university education;
Classroom walls must be broken down. Education must not stop when students step out of the classroom. Teachers and parents need to equip them with the skills and attitudes to apply academic concepts to the outside world. They must see learning as an organic process, not one confined to traditional teaching environments;
Pay for teachers and adequate funding for education are important, but money is not a panacea. There is a link between monetary inputs to education systems and success in the index; and
A holistic and future-ready education system is inextricably linked with societal openness and tolerance.
"Our research suggests that governments could stand to devote more resources to cultivating teaching, in particular, raising the salaries, profile, and prestige of the profession.
"Though simply boosting budgets is not an all-encompassing solution, it can show to what extent education is a priority for policymakers with limited resources. Some lower-income economies, for example, spend a far higher share of their GDP on education than rich ones," it concluded.