Frontpage
Power minister data show only 65.7% of electricity generated in Nigeria gets distributed
September 21, 20171.8K views0 comments
Although the Nigerian power sector has witnessed increased generation in recent times, the actual power distributed to homes and businesses is only 65.7 percent of total generation, according to data provided by Babatunde Fashola, minister of power, works, and housing.
Fashola who delivered a speech at the National Council on Power, Thursday in Jos, said there have been increased results in generation, transmission, and distribution lately but the results were not enough.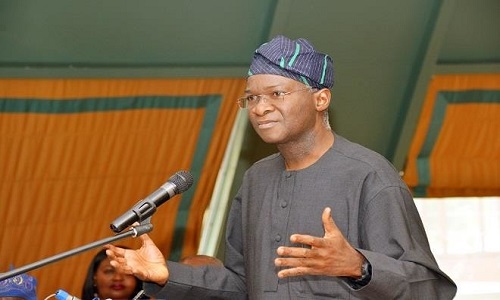 He said generation peaked at 7001 mega watts as at September 12, 2017, and that while transmission wheeled 6,700mw, the distribution could only feed 4,600mw to end-users, representing only 65.7 percent of power generated.
"While we are beginning to see results of increased generation up to 7001MW on 12th September 2017, Transmission up to 6,700 MW and Distribution 4,600, it is not yet enough," he said.
He, however, attributed gains in the generation to the N701 billion payment assurance guarantee, which has driven up power generation as consistent with Section 76(2)(b) of the law which seeks to ensure that producers of power recover their investment and some profit.
Power analyst who spoke to businessalive said the main challenge in the power sector besides generation remains the country's transmission and distributive networks, which have received few investments since the privatization of the sector about four years ago.
The minister, however, said that the issuance of mini-Grid Regulations by NERC in August of 2017 to allow people provide their own power from 1KW-1 MW and ease the pressure on grid distributed power and improve access to power, would enhance distributive power in near-term.
"Let me set the context by once again reminding all of us that the power sector has been privatized and is largely in the hands of the private sector. Therefore, the work that needs to be done is largely the responsibility of the private sector," he noted, adding that the role of governmental institutions at federal and state levels is to implement enabling laws in the sector, enunciate policies and take actions that help the private sector play its part effectively.
"Our roles in this regard are well set out in the Electric Power Sector Reform Act 2005 pursuant to which the privatization of the power sector took place. That law, which I urge everybody to read, clearly sets out my role as minister, which is to administer the law in section 100," he stressed.
On ministries, departments and agency (MDA) debts, he said out of the estimated debts of about N90 billion claimed by the DisCos, only about N27 billion has been verified as debts owed by the federal government.
"There are invoices, which show that other parts of the debt are attributable to service points at States and local governments," he said.
He specifically urged states and local governments to insist that their buildings are metered so that they can budget for and pay for energy they use. It will turn out to be cheaper than diesel-generated power, as well as help, reduce loss of income by DisCos.