Frontpage
Steady global growth masks worsening emerging market performance
July 8, 20171.3K views0 comments
The global economy enjoyed further steady growth in June, according to the latest PMI data, finishing off a solid second quarter. Both new orders inflows and hiring grew at marginally faster rates while business optimism about the outlook also improved, suggesting the upturn has further to run. Cost pressures meanwhile showed signs of continuing to ease.
However, the surveys also showed the divergence between the developed and emerging markets widening, amid slower growth in the latter.
Steady global growth
The headline JPMorgan PMI, compiled by IHS Markit, edged down from 53.8 in May to 53.7 in June, but still completed a solid second quarter. At 53.7, the second quarter average was unchanged on that seen in the first quarter, which had in turn been the best performance for two years. The surveys have therefore been signalling global GDP growth of approximately 2.5% per annum over the course of the first half of 2017.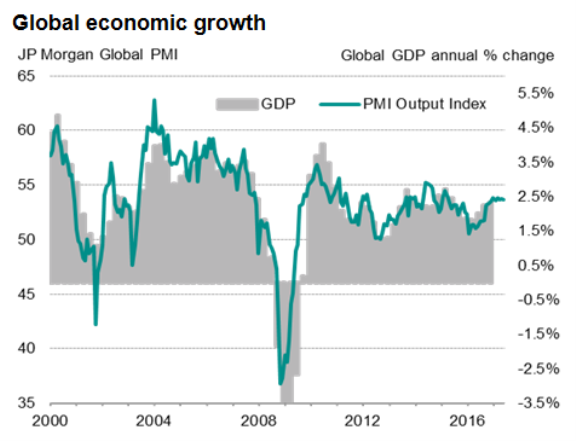 The survey's sub-indices suggest this pace of growth is likely to be at least maintained as we move into the third quarter. Inflows of new business showed one of the largest gains seen for almost three years, and employment growth picked up slightly to a two-year high, suggesting firms are braced for further expansion to meet rising demand.
Companies' expectations of their own output levels in a year's time meanwhile inched higher to signal the second-most positive outlook for just over two years.
Although average prices charged for goods and services rose at a slightly increased rate, companies' costs grew at the slowest pace for eight months, suggesting some pressure will come off selling prices in coming months.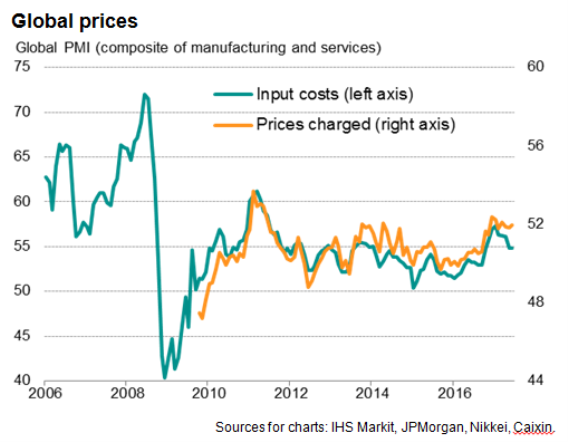 ---
Article courtesy seekingalpha.com