Energy
Mining
World's biggest miner speeds hunt for copper in 'last frontier'
July 25, 20171.2K views0 comments
BHP Billiton Ltd., the world's biggest miner, has opened an office and is seeking to add staff in Ecuador as it advances a search for copper in a nation that's becoming the sector's exploration hot-spot.
Melbourne-based BHP's local unit, Cerro Quebrado, will spend about $82 million on exploration, having established a base in the capital, Quito, and advertised for workers including a senior geologist. The value of Ecuador's mining sector could rise to $7.9 billion by 2021 from $1.1 billion this year as major players arrive, according to Fitch Group's BMI Research.
BHP joins Australian competitors including billionaire Gina Rinehart's Hancock Prospecting Pty, Fortescue Metals Group Ltd. and Newcrest Mining Ltd. in establishing offices or adding exploration licenses in the nation, according to Rodrigo Izurieta, president of Ecuador's Mining Chamber. The miners are attracted by expectations that the country holds major, undiscovered copper and gold deposits, and assurances that newly installed President Lenin Moreno will continue efforts to woo investment, he said.
"There is no doubt that the interest is increasing, so much so that we can talk about a new phase of mining in Ecuador," Izurieta said by phone from Quito. "Ecuador is one of the world's last mining frontiers, but it is under-explored and under-developed. There is a great window of opportunity."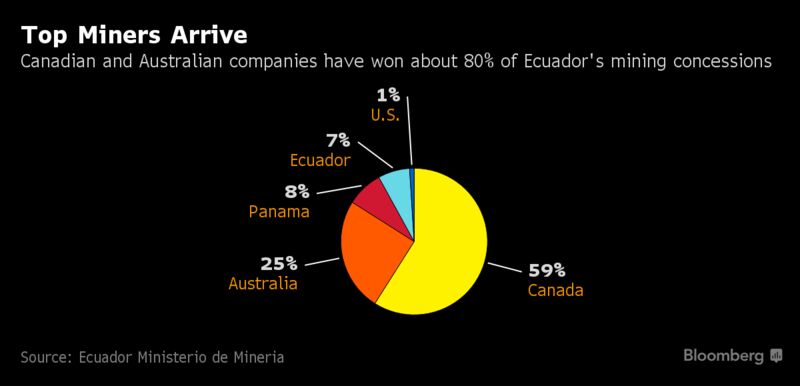 Miners are seeking new copper deposits as output wanes at existing projects and with demand for the metal forecast to surge from renewable energy, electric vehicles and urbanisation in emerging markets. There's a lack of developed projects and deteriorating ore quality at ageing mines, Oscar Landerretche, chairman of the world's biggest copper producer Codelco, said this month in an interview.
"Establishment of an in-country presence is under way including office space and local recruitment in Quito," BHP said in a statement on its work in Ecuador. The producer has added five exploration concessions in the country, according to a filing last week.
BHP advanced 0.7 percent to A$24.56 in Sydney. Shares in London added 2.9 percent to 1,325.50 pence by 10:21 a.m. local time.
Ecuador had awarded 233 new exploration concessions at the end of June and companies have committed to spend about $474 million through 2021 on exploration, according to the mining ministry. About 80 percent of the concessions — which have an average size of about 4,000 hectares (9,884 acres) — have been awarded to Canadian and Australian companies, the ministry said in a March presentation.
"BHP will invest more than $82 million on initial exploration in five areas located in the province of Imbabura around Sabaleta and Santa Teresa," Ecuador's Mining Minister Javier Cordova said in a message.
Hancock Prospecting confirmed in an email it has rented office space in Ecuador, and Newcrest, Australia's largest gold prouder, said in an email it has set up an exploration office. Fortescue, an iron ore miner that's looking to diversify, has also added an office and been granted 32 exploration areas, Chief Executive Officer Nev Power said in a statement. "Formal engagement with local communities is underway," Power said.
Global exploration spending is rebounding on firmer metals prices and as miners look to add growth options, according to Melbourne-based MinEx Consulting Pty. Spending could hit $18 billion by 2025 after it touched an 11-year low of about $10 billion last year, the firm said in March.
Ecuador attracted only about half a percent of global exploration spending in 2016 — less than neighbouring Colombia and Peru, according to S&P Global Market Intelligence. The country has revised tax laws and upgraded infrastructure in an effort to attract miners, BMI said in an April report.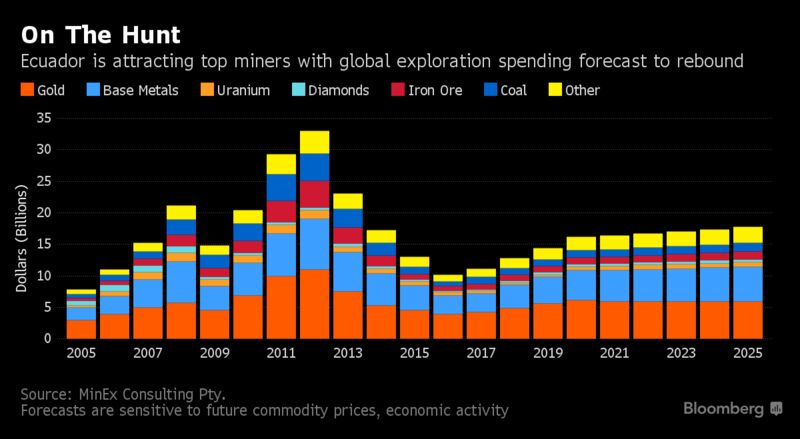 Previous attempts to find and develop mines in Ecuador have experienced difficulties. Ecuacorriente SA's Mirador project in the country's south, planned as Ecuador's first large-scale copper mine, has been the subject of protests and delays. The site is forecast to begin production in 2019, according to the mining ministry, which had previously expected output as early as 2016.
Canada's Kinross Gold Corp. exited a project in 2014 following a dispute with the government on taxes and after taking a $720 million impairment charge. Vancouver-based Lundin Gold Inc., which acquired the asset from Kinross, is carrying out construction work and expects to produce its first ore in the final quarter of 2019, according to a June presentation.
Other producers are also confident in the sector's development. Chile's Codelco has reviewed about 20 prospects and is focusing on two specific projects, the producer's exploration manager Roberto Freraut said in a written response to questions.
Another developer, Brisbane-based SolGold Plc, is advancing the Cascabel project in northern Ecuador. BHP recently outbid the company to add exploration ground in a region close to that operation, Chief Executive Officer Nicholas Mather said by phone. SolGold has advanced more than eight-fold in London trading in the past year as it has detailed the scale of the asset.
SolGold, which has about 14 other project areas in the nation, added the Cascabel prospect in 2012 and has seen the arrival of competitors accelerate. "There are a lot more activity and interest, including from BHP," in Ecuador, Mather said by phone. Competition for geologists, exploration rigs and laboratory space for sample testing "is all going to intensify," he said.
---
Courtesy Bloomberg