Africa
Afreximbank announces global facility to bolster intra-African trade
July 4, 20171.2K views0 comments
In a bid to build robust domestic and continental supply chains and facilitate seamless flow of goods and services across Africa's borders, Afrexim is introducing a programe to support companies with proven intra-African trade experience and operations, with value chains spanning across countries, African Business Communities (ABC) reports.
According to Benedict Oramah, Afreximbank's President  the unique group of African companies, which have been branded Intra-African Trade Champions or Intra-Champs, would receive interventions from Afreximbank that would include financing, enabling of market access and technical assistance initiatives.
Speaking during the first Roundtable of the Intra-Champs, on the sidelines of the Bank's 24th Annual General meeting, Oramah said that intra-African trade held the key to sustainable growth and that its promotion would "improve Africa's dynamic comparative advantage in the export of light manufactures, act as absorbents to global shocks, create jobs, facilitate transfer of technology and promote regional peace and security".
In her address, Kanayo Awani, Managing Director of Afreximbank's Intra-African Trade Initiative, highlighted the impact of multinational corporations in developed and developing economies and outlined facts about the performance of African multinational corporations, saying that those fortified the belief that the strategy for Africa's transformation should be anchored by the continent's "regional champions".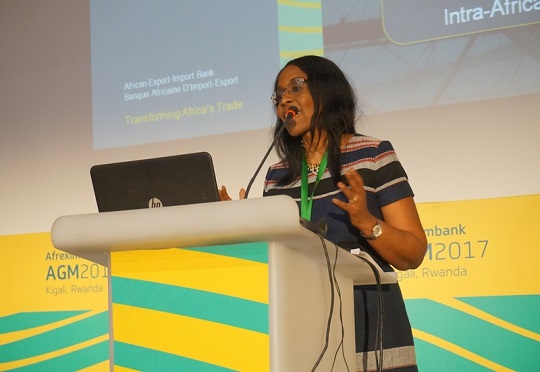 She noted that African multinational corporations, such as the Dangote Group, Export Trading Group, El Sewedy and MTN, had been increasingly investing across borders and contributing to growth in intra-regional investment flows. Such flows averaged about 24 per cent of total foreign direct investment flows in Africa and were creating an important source of capital formation for some African economies.
Awani said that the Global Facility for Intra-Champs that had been developed by the Afreximbank would identify the main players in intra-African trade and support their operations.
The specific tools to be used by the Bank included omnibus lines of credit to finance trade and project-related transactions and investment needs; twinning services to facilitate contract awards by African governments to Intra-Champs; contract awards by Intra-Champs to small and medium-scale enterprises and feeder groups; and partnerships among "actors" in intra-African trade, she explained.
---
Related stories:
---
According to the report by ABC, the African export-import Bank would also provide trade information and advisory services to the Intra-Champs as well as develop partnerships to drive innovation, added Ms. Awani.
In his contribution, former Nigerian President Olusegun Obasanjo, who was a special guest at the roundtable, spoke of the need for African countries to encourage the emergence of strong companies that could compete effectively on the global scene.
He noted that, as President of Nigeria, he implemented policies to encourage the emergence of such companies, some of which had gone on to become multinational in their operations.
The roundtable was organised to introduce the Intra-Champs concept, understand the needs of the companies and provide a platform for networking and development of business opportunities among them. Participants included some of Africa's most prominent and high-profile business leaders and entrepreneurs.
The Afreximbank AGM Activities, included two days of seminars, a meeting of the Afreximbank Advisory Group on Trade Finance and Export Development in Africa, an investment forum hosted by the Rwandese Government, a trade exhibition, the formal AGM and a conversation session with President Paul Kagame of Rwanda. More than 100 speakers, including ministers, central bank governors, academics, African and global trade development experts, and business leaders, participated.
---
Follow Businessamlive on Facebook and twitter to get updates on the go and share using the icons below.