By Zainab Iwayemi
African Alliance Insurance Plc, the foremost indigenous Nigerian insurance brokerage firm has revealed that it paid out a total of N967 million in claims to customers within the first 40 days of the 2021 business year.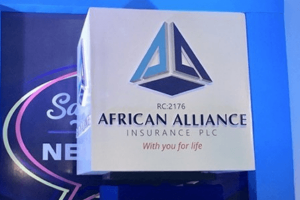 Joyce Ojemudia, managing director of the insurer, disclosed this while making a keynotepresentation at the 2021 edition of the Nigerian Council of Registered Insurance Brokers (NCRIB) members' evening held in Lagos.
Ojemudia, while giving a breakdown of the claims fund paid out within a short while, stated that no fewer than 467 individuals and groups have benefited from the claim payment since the start of the year, an indication that the year holds better result than last year.
"Within the first 40 days of the 2021 business year, African Alliance Insurance paid a total sum of N967 million. Breaking it down, we paid N148.2 million to 155 individuals who operate life insurance policy and also N307.5 million to 141 group life claimants. Also, we paid N124.1 million to 168 takaful claimants, and not also forgetting the N387.3 million to other claimants. You will recall that in the last quarter of the 2020 business year, we paid over 2.3 billion claims in line with our continued drive for customer satisfaction. As of today, our GPI has increased by 105 percent compared with the same period in 2019".
She asserted that the firm is working towards shoring up its capital base to meet with the regulator's recapitalization threshold of N8 billion. In her analysis, she pointed out that a significant percentage of the company's assets was sold and reinvested into the firm to strengthen its shareholders' fund.
"On the 22nd of December 2020, we completed the sale of 49 percent shareholding in our PFA, one of our major assets with an estimated proceed standing in the region of N16.6 billion. We are pleased to inform you that the entirety of this amount was invested back into the business and we now have a healthier shareholders fund of N4 billion with an asset base of N52 billion.
"Our business investors, as well as targeted significant shareholders, are on the verge of injecting additional fund into the company through private placement which will further improve the capital base and is expected to be concluded before the end of the second quarter 2021 business year," the managing director revealed.
Ojemudia further noted that African Alliance has, over time, proven its resilience, and she assured that the insurance provider would continue to strive towards improving customers' satisfaction through insurance technology.
"We were recently certified by the international standard organization with an award that says that we are proactive when it comes to customer service and satisfaction. We were awarded ISO 22301. This is a testimonial of our highly effective, competitive advantage with respect to the organizational reputation, credibility, process, and resilience of our activity. This is also an assurance of our business continuity," she said.
She further stressed that in 2021 and beyond, African Alliance will continue to excite its customers with shareholder-focused innovation, constant claim payment, whilst using technology to scale up.