Finance
Frontpage
AMCON moves to recover N7.6bn loan from Enugu school
February 4, 2021766 views0 comments
But deploys unprofessional molestation of school's staff
The nation's toxic bank, Asset Management Corporation of Nigeria (AMCON), moved into the premises of Providence High School, Independence Layout, Enugu, to implement a court order, which asked it to secure possession of landed assets of the school.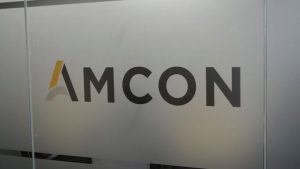 The school, a private female boarding school located at the Agricultural Bank bus stop on Independence Layout area of Enugu, is being harried to repay a N7.6 billion loan facility from an undisclosed bank, taken by its late founder, Ferdinand Anaghara in 1997. Unfortunately, Anaghara died in 2007 during a medical treatment trip abroad, ten years later without paying the said loan.
Elizabeth Onwuagha, current proprietress of Providence High School, explained that she was not briefed by the initial owner of the premises, Anaghara, who is now late.
"I inherited the premises with two uncompleted buildings in 1997 under a special arrangement with the late Ferdinand Anaghara. In 2007, the late Anaghara promised to release the original documents of the school's properties to me, when he returned from a medical treatment abroad. But unfortunately, he died on the trip. In 2016, nine years after Anaghara's death, and 20 years after I acquired the properties, AMCON came up with a claim that the building was used as a collateral for a bank loan by the late Anaghara," she explained.
Last week, AMCON attempted to stage a physical takeover of the school, with 344 students and teachers inside. The toxic bank said it was acting on a court order asking it to take over possession of the landed asset of the school, which was used as a collateral for the entire N7.6 billion facility.
Drama ensued when the girls' school's security personnel and AMCON officials that came with a court bailiff to enforce the court order, engaged in fights leading to molestation of the school's personnel and some journalists who were at the school premises.
But AMCON denied it ever carried out any unprofessional conduct.
Jude Nwauzo, AMCON's public relations officer, told journalists at a media conference in Enugu that the reports that the organisation molested people at the school was not balanced.
According to him, the story of the school was unfortunate because AMCON never enforces any court orders on educational institution.
"We do not shut down schools. This is not our first experience with educational institutions. We don't do that with schools. Schools are very strategic. They are key to the economy; they are key to our development. It is very sensitive to enforce possession of schools, which is why though we took over Providence High School, but they are still running their normal academic activities," Nwauzo said.
He said what AMCON normally does is that, when a court of competent jurisdiction gives it order to take possession of any property, it (AMCON) shows presence but doesn't do so itself. Rather it sends court bailiffs to do the possession order; and put a notice board indicating that such property has been taken over by AMCON; and leave the school to continue to run.
"We do so because we understand the implications and the reality of what education system represents for Nigeria," he said.
He also said that AMCON does not also enforce possession on religious institutions and hospitals the way it would do with a company or an industry. "If Providence High School was to be a company producing biscuits, we would have removed the principal, and take over the management. But it is a school. So, we left it to continue with its academic activity," he explained.
Nwauzo said AMCON actually got an order of the court to enforce on the property based on certain documents that were presented to the court regarding the school. "I am sure the school is not in denial that they do not know that something like that was coming. Before AMCON goes to court, it had exhausted all avenues of peaceful resolution," he said further, insisting that both AMCON and the school's management were engaged in discussions, to the extent the school made agreements, but failed. "We went to court to get interpretation. AMCON's intention initially was not to lock up the school, but to show sign of possession and walk away. "It wasn't AMCON staff that came; it was a court bailiff," the spokesperson said.
However, Nwauzo would not completely deny that his agency deployed unprofessional molestation of the school's security man, teachers and journalists. "Some people could be overzealous in carrying out certain delegated duties," he conceded.
He asked the Providence High School management not to engage in media war as the stories cannot change the judge's decision; but rather take the line of resolution by either going back to court or to AMCON or the bodies that own AMCON – the CBN, federal ministry of finance.