By Zainab Iwayemi
Apple records highest decline at 6.8%
Despite the global pandemic fuelling economic crisis, leading American technology companies have seen a minor change in their cash reserves. Data accessed by Business A.M. shows that five tech giants, Apple, Microsoft, Alphabet, Amazon and Facebook control $588.48 billion in cash reserves from their latest financial results as of October 2020.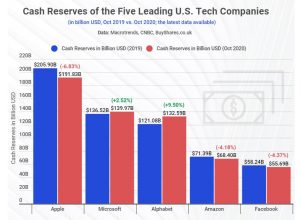 The data indicates that the year 2020 result represents a drop of 0.78 per cent compared to the 2019 cumulative cash reserves of $593.13 billion for the selected companies. While Apple tops the list in cash reserve with $191.83 billion, a 6.8 per cent drop from the previous year's of $205.90, Facebook appears with the least cash at hand for 2020 at $55.69 billion, a drop of 4.37 per cent from $58.24 billion recorded the previous year. Similarly, Alphabet recorded the highest increase in cash reserves by 9.50 per cent to $132.59 billion in 2020.
What does this mean?
The ability to retain a significant cash reserve enables companies to remain resilient during economic crises like the one occasioned by the coronavirus pandemic; it also means that the tech sector was better insulated from the crisis than other sectors. Despite recording a minor drop in cumulative cash reserve, the five tech companies appear not to be running out of cash anytime soon. Even though companies like Alphabet waded through the crisis, increasing the cash reserve by a staggering 9.5 per cert. The cash at hand helped these companies to not be dependent on external funding during the crisis.
Importantly, the companies use the cash for traditional means like capital investment and to return money to shareholders through buybacks and dividends in addition to offering a cushion through phases of economic turmoil. During the pandemic, Apple, for instance, revealed plans to continue carrying out stock buyback, this could be the reason it recorded the highest drop in cash on hand for the period covered.
As a metric to determine the long-term growth and valuation of companies, cash reserve is based on how much money companies have after accounting for expenditures. It also helps companies figure out how much to spend on investments and paying off debt.
In essence, the high cash at hand helps these companies consolidate their market positions through mergers and acquisitions. Therefore, the excess cash can reduce the competition as it offers more pricing power to the acquiring company in the long run.
What people are saying
With leading tech giants sitting on piles of cash and showing little signs of spending, this has raised eyebrows as they have come under scrutiny from shareholders that are calling for spending. Meanwhile, investors oppose companies hoarding cash; instead, they prefer the money either be returned to shareholders or invested in something that may produce a return later. Recently, Apple has been focusing on lowering its liquidity in response to criticisms from investors that the company was hoarding cash.
Most likely, the cash reserve balance for the tech companies will likely reduce in the future as some of the firms are gearing up to repay maturing debt and increase shareholders' returns with access to global cash.