Africa
Bank of Ghana holds key rate at 2015 low as inflation rose in August from lowest in 4 years
September 26, 20171.4K views0 comments
Ghana's central bank kept its key lending rate at the lowest since 2015 after inflation accelerated for the first time in four months.
The Bank of Ghana left the rate at 21 percent, Governor Ernest Addison told reporters Monday in the capital, Accra. Two of seven economists in a Bloomberg survey predicted the hold, while the rest forecast cuts ranging from 50 to 100 basis points.
The central bank of West Africa's biggest economy after Nigeria's had reduced the key rate for three straight meetings until July as consumer prices rose at the slowest pace in four years in that month. The government has vowed to boost growth from last year, when the economy expanded at its slowest rate in more than a quarter of a century.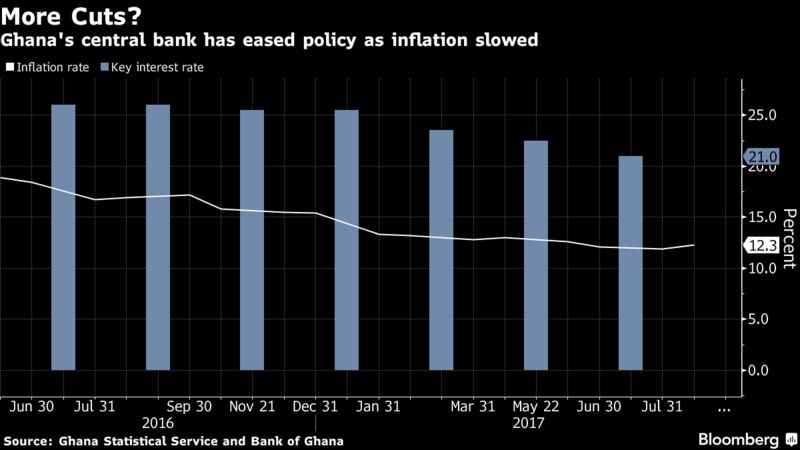 "Headline and core inflation picked up in August, although inflation expectations declined," Addison said. "The committee noted that the uptick in core inflation, an indication of emerging pressures, would require further monitoring."
 Consumer-price growth slowed to 11.9 percent in July from a record 19.2 percent in March 2016. It accelerated to 12.3 percent in August. Inflation will trend towards a "medium-term target" of 6 percent to 10 percent in early 2018, "barring any unanticipated shocks," Addison said.
There are signs of improvement in the economy of Ghana, the world's biggest cocoa producer after Ivory Coast, with gross domestic product expanding 6.6 percent in the first quarter, the most in almost three years, as new oil fields start pumping crude.
A ruling by the Hamburg-based International Tribunal for the Law of the Sea on Saturday will keep Tullow Oil Plc's offshore fields under Ghana's jurisdiction following the end of a boundary dispute with Ivory Coast. The ruling is a relief for Ghana, which is relying on oil revenue to boost economic growth and ease its budget deficit.
Since falling to a record low to the dollar on March 2, the cedi has strengthened 7.3 percent to become Africa's best-performing currency after Mozambique's metical. It gained 0.5 percent to 4.405 by 11:32 a.m.