By Samson Echenim
A host of major airlines said weekend, that their planes were no longer flying over the Strait of Hormuz, after Iranian forces shot down a U.S. drone in the area.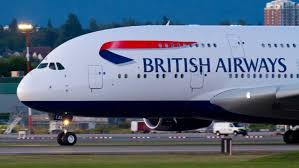 Lufthansa, Germany's largest airline, said the re-routing began on Thursday with a decision to have the planes steer clear of the strait, located between Oman and Iran.
The restricted zone was expanded on Friday to parts of Iranian airspace.
Australian airline Qantas and Dutch airline KLM also adjusted their flight paths on Friday, saying that their carriers were avoiding the Strait of Hormuz and nearby Gulf of Oman.
British Airways also said it was taking measures to avoid Iranian airspace.
U.S. carrier, United, said it suspended service between the New York City area and Mumbai, India out of precaution as the route passed over Iran, according to U.S. media.
The slew of announcements came after the U.S. Federal Aviation Administration banned flights for U.S.-registered aircraft over some Iranian-controlled airspace, citing heightened military activities and increased political tensions.
Meanwhile, hawkish rhetoric between Washington and Tehran continued to escalate over the downing of the unmanned U.S. reconnaissance drone, which Iran says entered its airspace.
The U.S. military says the drone was shot down in international waters while over the Strait of Hormuz, a strategically important waterway for global oil shipments.
"We hope that our enemies do not make such mistakes again,'' said Iranian Foreign Ministry spokesman Abbas Mousavi in an interview with state broadcaster IRIB.
"We have informed the UN and lodged a protest against this clear and provocative violation of the United States.'' he added
To back the government's claim, Iran's chief diplomat, Mohammad Javad Zarif tweeted what he said were the coordinates of the drone at the time it was targeted.
The Islamic Revolutionary Guard Corps held a news conference on Friday during which it displayed parts of the wreckage, which it says was recovered in Iranian waters.
According to the New York Times, U.S. President Donald Trump reportedly approved military strikes against Iran in retaliation for the downing of the drone, but pulled back from launching them late Thursday.