People & Places
Coronation Capital chairman, Aig-Imoukhuede, gets honorary doctorate from OOU
February 5, 20181.3K views0 comments
Aigboje Aig-Imoukhuede, the investment banker and chairman of Coronation Capital Limited, has been awarded an honorary doctorate degree by the Olabisi Onabanjo University. He was conferred with the degree at Ago-Iwoye, Ogun State recently, according to a statement issued by Reputation Plus, a reputation management company.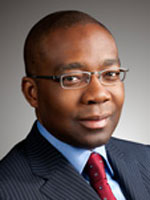 The university conferred the award on him, according to Mbang Femi-Oyewo, a professor and a former deputy vice-chancellor of the university, "as a symbol of the university's recognition of Aigboje Aig-Imoukhuede's contributions to nation building and sustainable development, as well as our association with his vast achievements in the different facets of human endeavours, the University has found him worthy of its Doctor of Science (D.Sc.) Honoris Causa," she said.
Well regarded in corporate Nigeria, especially in the financial services sector, as an astute banker with great eye for detail and diligence, Coronation Capital, which he founded in 2014 after he retired from Access Bank plc as group managing director and chief executive, is an Africa-focused private equity and proprietary investment firm.
He was trained as a lawyer before his foray into banking and is regarded as one of those who changed the face of banking in Nigeria.
Aig-Imoukhuede led the 2002 acquisition of Access Bank as group managing director and chief executive officer, and oversaw the transformation of the bank, leading it to a top-5 position in Nigeria, with assets of $ 12 billion and 350 branches, employing 20,000 staff in nine countries.
His financial industry acumen, even while serving as chief executive of Access Bank, saw him chair the Presidential and National banking industry committees. He founded the FMDQ OTC Exchange, which today specializes in fixed income securities and derivatives.
Aig-Imoukhuede's passion and commitment to the development of financial markets has seen him take prominent roles within Nigeria's financial and capital markets. Notable amongst these was his election as President of the National Council of the Nigerian Stock Exchange in 2012; Co-Chairmanship of the UK-Nigeria Capital Market Task Force, and Chairmanship of Board of Trustees of the Financial Market Dealers Association, and Wapic Insurance.
A director of TCX Investment Management Company Netherland, Aig-Imoukhuede is an entrepreneurial philanthropist, whose social engagements include; Chairman of Friends Africa, a partner organization of the Global Fund, Co-Chairman of the Board of GBC Health, and founding member of the Private Sector Health Alliance of Nigeria.