Report
Eurozone growth hits near seven-year high of 58.1% in December
January 4, 20181.1K views0 comments
Europe's companies have posted their strongest growth since 2011.
The eurozone composite PMI, which measures activity across the region, jumped to 58.1 in December, up from November's 57.5.
The service sector PMI rose to 56.6, up from 56.2 a month earlier.
Companies reported that new orders strengthened last month, with manufacturers seeing the steepest increase in new business since 2000. This encouraged them to keep hiring more staff.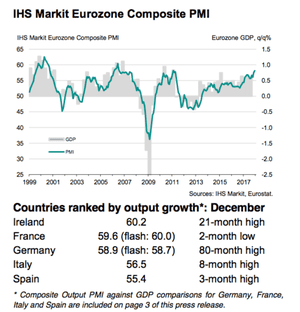 Chris Williamson, the chief business economist at IHS Markit, according to theguardian's report, says the eurozone gathered momentum at the end of last year:
"A stellar end to 2017 for the eurozone rounded off the best year for over a decade, continuing to confound widely-held fears that rising political uncertainty would curb economic growth. At 56.4, the average PMI reading for 2017 was the highest annual trend since 2006. Manufacturing is enjoying its best growth spell since data were first collected over two decades ago while the service sector closed off its best year since 2007.
---
---
"The survey data are consistent with the quarterly rate of GDP growth accelerating to an impressive 0.8% in Q4, with no sign of momentum being lost as we move into 2018.
New work is flowing to companies at a rate not seen for a decade and backlogs of uncompleted work are rising sharply. Hiring is consequently at a 17-year high as firms look to boost capacity to meet rising workloads. Optimism about the outlook also turned higher in December.