Frontpage
Excess crude account depleted by N6.48trn in seven years
September 9, 2019705 views0 comments
Between January 2012 and December 2018, the federal government withdrew a whopping sum of N6.48 trillion from the excess crude account (ECA), statistics obtained from the ministry of finance have revealed.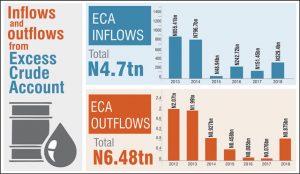 The ECA, which was created by former president Olusegun Obasanjo in 2004 for the purpose of saving oil revenue in excess of the budgeted benchmark, had a balance of $20bn in January 2009.
But persistent demand by states to fund various programmes and the inability of the Federal Government to generate adequate revenue to fund its operation had put pressure on it to draw down the account.
An analysis of the account showed that while N6.48tn was the total outflows from the ECA in seven years, the government was able to transfer N4.73tn into the account in six years.
A further analysis of the withdrawal showed that in 2012, the account recorded total outflow of N2.07tn. Out of this amount, the sum of N1.39tn was used to augment revenue distribution among the three tiers of government.
Similarly, the sum of N483bn was used for fuel subsidy payment while N190.58bn was transferred to special intervention fund.
For the 2013 fiscal period, the sum of N1.99tn was taken out of the account by the Federal Government.
Out of this N1.99tn, about N1.08tn was withdrawn to augment revenue shortfall to the three tiers of government, while N505bn and N405.63bn were used for fuel subsidy payment and special intervention fund, respectively.
For 2014, the account was drawn down by N927.33bn. From this amount, N400.23bn went for fuel subsidy; N303.56bn for revenue augmentation and N223.54bn went into special intervention fund.
In the 2015 fiscal period, the Federal Government gave approval for the withdrawal of N458.14bn from the ECA. From this amount, N359.39bn went into petroleum subsidy payment; N98.19bn was used for revenue augmentation to the three tiers of government.