Companies
Four Ecobank customers emerge millionaires in Super Rewards Campaign  
February 22, 2023238 views0 comments
By Rosemary Iwuala
Ecobank Nigeria Limited, a subsidiary of Ecobank Transnational Incorporated (ETI), has rewarded four customers the sum of N1 million each as winners of its  Super Rewards deposit promo.
The four winners of the latest edition of the campaign promo tagged ''Season 3.1",include
 John Sokeipiriala, Ahmed Said, Onashile Obafemi, and David/Ifeoma Edokwe, a couple who own a joint account.
As part of the promo, the Pan-African  has also  rewarded 100 customers with cash prizes of N50,000 monthly since November 2022 during the three-month campaign which ran between November 2022 to January 2023.
According to Ecobank Nigeria, the Super Rewards Campaign is a customer-focused initiative designed to reward customers' loyalty and consistent use of the bank's electronic payment platforms.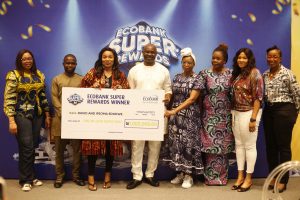 Speaking at the cheque presentation in Lagos, Korede Adeniyi, head of consumer banking at Ecobank Nigeria, explained that the bank introduced the scheme to reward customers' loyalty. He added that it was also to promote the use of its electronic payment channels that offers convenient banking.
Adeniyi further noted that the third edition of the reward initiative which started about two years ago and the feedback from their customers has been quite impressive, adding that  it was created not just to encourage people to save,but also transact on their digital channels.
"Today, you and I know that with the cash scarcity, the digital banking channels have become very helpful. So today, we're rewarding four customers who won N4 million. We have also rewarded 100 customers with cash prizes of N50,000 monthly during the period of the campaign," she said.
Commenting on the dynamics of the scheme, Daberechi Effiong, head of Asset Products at Ecobank Nigeria, said the conditions to qualify for the scheme were made simple and easy to ensure both new and existing customers of the bank participate and get rewarded.
Effiong explained that new customers were expected to open an account with at least a minimum of N5,000 and maintain the deposit for a 30-day period.
This, she noted, also applies to existing customers, who only need to fund their active account with a minimum of N5,000 or reactivate their dormant account with a minimum of N5,000 and maintain the deposit for a 30-day period.
The presentation was witnessed by officials from the Federal Competition and Consumer Protection Commission (FCCPC) and the National Lottery Regulatory Commission (NLRC), who applauded the transparency of the exercise.