Equities
Fund that helped make Turkey stocks among world best is thinning
August 2, 20171.3K views0 comments
A state fund that helped fuel one of the world's best stock rallies this year has almost been depleted, reports Bloomberg.
The Istanbul bourse has benefited from rising profit expectations after the government delved into the Credit Guarantee Fund, which backstops bank loans to non-financial companies, driving a revival in borrowing. Earnings forecasts for members of Turkey's benchmark stock index increased 21 percent this year, five times the growth rate for South African and Russian stocks.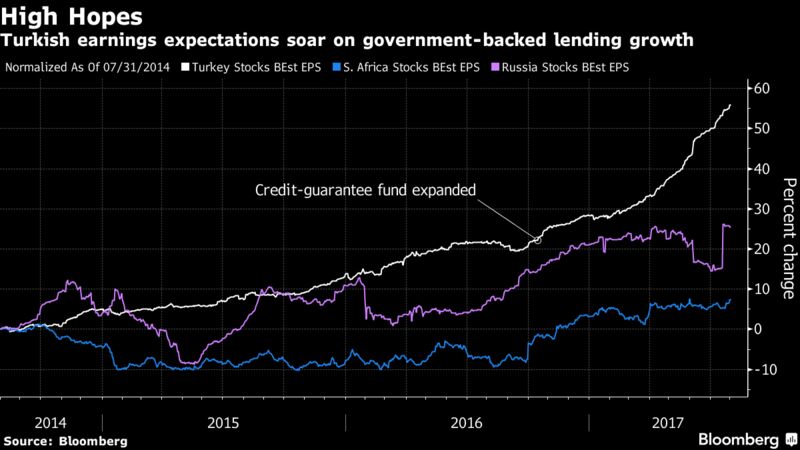 With officials dispensing more than 80 percent of the 250 billion lira ($71 billion) fund since November, some investors question how Turkey's Borsa Istanbul 100 Index will maintain a rally that boosted the gauge 37 percent this year, the best in the world after Ukraine and Nigeria. Cemil Ertem, one of President Recep Tayyip Erdogan's economic advisers, said in a Milliyet newspaper column Tuesday that the facility will "deepen and continue," but no announcement has been made about raising the fund's ceiling.
"We're positive on Turkey, but the question here is: does the government have any more cards up its sleeves to keep this rally going into 2018?" said Anastasia Levashova, a London-based fund manager who helps oversee more than $250 million of emerging equities at Blackfriars Asset Management Ltd.
Given that the fund is running out, "we'd look for an interest-rate cut to provide the next leg in this rally," she said.
But that's unlikely for now. Turkey's central bank raised interest rates in January for the first time in three years in an effort to support the lira and tame inflation. It said on Tuesday it won't loosen monetary conditions until there's a noticeable improvement in inflation.
The fund's impact on the stocks coincided with increased appetite for riskier assets as the U.S. Federal Reserve adopts a less hawkish tone. Turkey's economy grew in the first quarter at a faster pace than anticipated and relative political stability returned after last year's failed coup attempt, which also boosted the stocks' appeal.