Global market
Global shares mixed as China recovers from Wall Street drag
March 1, 20181.2K views0 comments
Global shares were mixed Thursday as sentiment was being dragged down by a slide on Wall Street, but Chinese benchmarks rose on optimism for growth.
France's CAC 40 dipped 0.2 percent in early trading to 5,311.47, while Germany's DAX slipped 0.5 percent to 12,379.95. Britain's FTSE 100 was down 0.2 percent at 7,216.16. U.S. shares were set to drift higher with Dow futures adding 0.1 percent at 25,066. S&P 500 futures were up 0.2 percent at 2,719.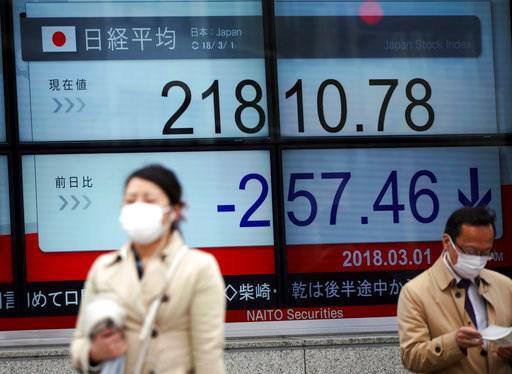 Japan's benchmark Nikkei 225 lost 1.6 percent to finish at 21,724.47. Australia's S&P/ASX 200 shed 0.7 percent to 5,973.30. Hong Kong's Hang Seng edged up 0.6 percent to 31,035.98, while the Shanghai Composite edged up 0.4 percent to 3,273.76. South Korean markets were closed for Independence Movement Day, a national holiday.
China's Communist Party affirmed promises to give market forces the "decisive role" in allocating resources. The party's ambitious agenda includes nurturing more sustainable growth driven by domestic consumption instead of trade and investment and doubling incomes from 2010 levels by 2020. Last year's economic growth ticked up to 6.9 percent, among the world's strongest.
"Federal Reserve Chairman Powell erred to the hawkish side and had speculation running rampant that the Feds will trigger quicker pace of interest rate increases as the economy accelerates," said Stephen Innes, head of trading at Oanda, referring to remarks earlier in the week that have markets anticipating higher interest rates in the U.S.
Benchmark U.S. crude added 15 cents to $61.79 per barrel. Brent crude, the international standard, rose 22 cents to $64.95 per barrel.
---
Report courtesy AP