Analyst Insight
In Nigeria bust, 33-Cent/Hour job doesn't guarantee getting pay
May 11, 20171.3K views0 comments
On days when Dayo Fabajo's bosses can't afford to pay the 1,250 naira ($4) wage she earns for a 12-hour shift packing biscuits, they send her home early.
Sometimes on her way out, she walks past pockets of stragglers lingering at the factory gates, a glaring reminder she's easily replaceable.
"Nobody complains," Fabajo, 25, said after her entire shift was canceled one day in April. She gestured at an abandoned factory across the pothole-ridden road that until recently manufactured kitchen utensils. "It's easy for managers to recruit workers. People here are looking for jobs."
Fabajo's predicament shows how the wheels of commerce have ground to a halt in Africa's biggest economy. Three years ago, Lagos, a megacity of more than 20 million, was buzzing with new startups and jobless rates were the lowest in years. Emerging from a decade of 8 percent average growth, more than twice as fast as South Africa, Nigeria was powering the continent.
Fast forward to 2017 and President Muhammad Buhari is confronting the first recession since the 1990s and surging unemployment, the result of damaging economic policies his government is now trying to unwind. Just as his credibility gets shaken by frequent protests over working conditions and bombings of oil pipelines by militants, Buhari's poor health is impairing his ability to steer the nation through another bout of oil weakness.
"No doubt, the shine's come off Nigeria," said Kevin Daly, a London-based money manager at Aberdeen Asset Management Plc, which exited all its naira bond holdings in 2015. "It comes down to external shocks and self-inflicted wounds. Investors reassessed their views and most decided to get out."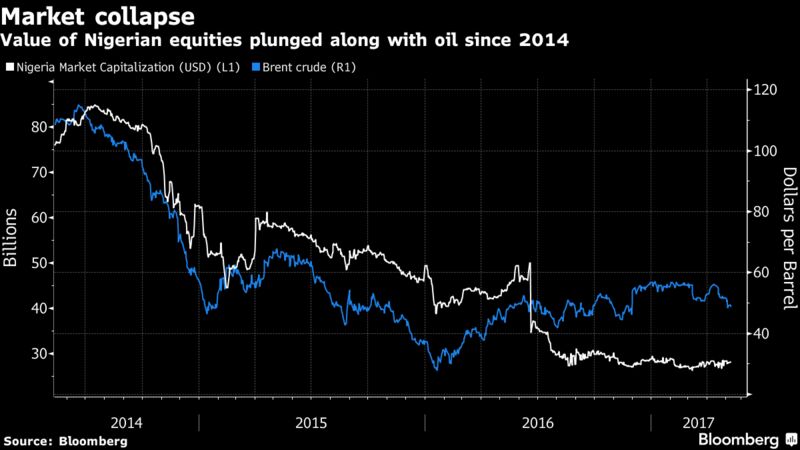 The market capitalization of Nigeria's stock exchange slumped by $30 billion, more than half, in the past two years. Foreign money managers now own less than 10 percent of local debt, down from almost a third in 2013, according to estimates of Standard Chartered Bank.
Firing Staff
Just as Buhari traveled to London this week for his second medical trip in as many months, Nigeria's oil union is picketing outside Exxon Mobil Corp.'s headquarters in Lagos to demand it rehire 83 people whose jobs were cut. The Nigerian unit of MTN Group Ltd., Africa's biggest mobile phone operator, is also asking employees to take part in a voluntary redundancy scheme, while employers like First Bank of Nigeria Ltd., the largest lender, have fired staff.
While the crisis started with the collapse of oil, Nigeria's main export, it was currency policy that tipped the situation over the edge.
Unlike crude exporters including Russia and Kazakhstan that stopped managing their exchange rates after the crash, Nigeria keeps the naira on a leash. Even though it's been allowed to fall 37 percent in the past two years to around 315 per dollar, black market dealers charge 390, a 19 percent difference.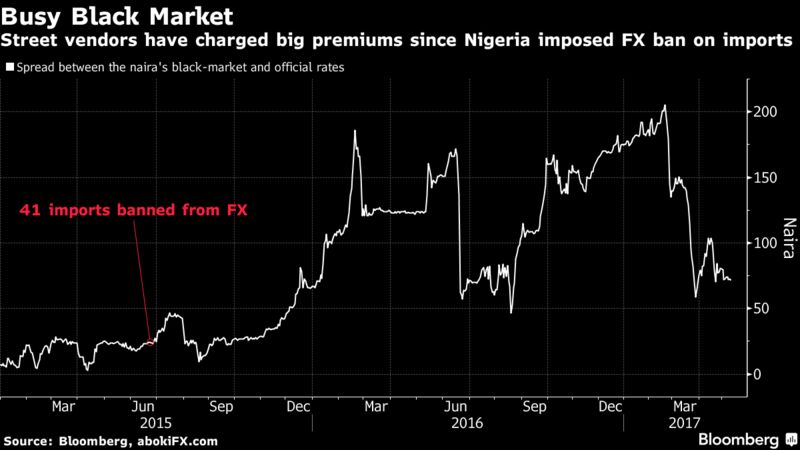 Buhari, a 74-year-old former army general who came to power in 2015 pledging to shore up the economy, says he wants to shield poorer citizens from the risk too much currency weakness will spur inflation. Driven by a similar desire to protect local manufacturers, one of his first acts as president was to stop providing dollars to importers of 41 items as varied as margarine, steel pipes and tooth picks.
Both policies backfired.
Many businesses couldn't find local alternatives for the blacklisted inputs because they either don't exist or the quality is poor. Forced to scrounge for dollars illegally from street vendors who at one point this year charged a 65 percent premium, managers cut production and fired thousands of workers. Even Dangote Cement Plc, Africa's largest producer, resorted to sending out 1,500 trucks to haul cement to Benin, Ghana and Chad to sell for dollars.
Nigerians are worse off financially than they've been in more than a decade as their per-capita income slumps. Inflation is running above 17 percent and the jobless rate more than doubled since 2014 to 14 percent. The situation is particularly dire among youth. Of the 40 million citizens aged 15-34 in the labor force, almost half were either unemployed or in roles that didn't pay them enough or use their skills, according to official data.
"The reason the economy went into recession was the inability of companies to procure foreign exchange," said Ayo Teriba, the chief executive officer of Economic Associates Ltd., a Lagos-based consultancy.
For those with jobs, employment terms have deteriorated. Protests erupted in Lagos and the capital, Abuja, this year as state employees complained of going months without pay. In private businesses, many settle for salary cuts and frozen wages, according to interviews with eight people employed in industries including transport, logistics, food, banking and packaging.
"I worry about my job," said Emeka Onwuchekwa, an accountant at a printing and packaging company in Lagos, who was downgraded to a part time contract in 2015 from a permanent one and no longer receives bonuses. "The dollar rate is very high and we can't get money for importing paper. Our production has decreased dramatically."
$32 Extra
With Buhari under pressure to turn the economy around before elections in early 2019, individuals and businesses are hoarding the dollars they can, expecting he'll loosen currency controls to fix the mess.
There are some signals Nigeria is headed in that direction, even if officials insist a free float is out of the question. On April 24, the central bank opened a window to provide cash to foreign bond and stock investors at prices closer to those quoted on the black market. Days later, the government said it was reviewing the banned items list. The economy, meanwhile, is tiptoeing back to growth.
Fabajo, though, won't believe there's a turnaround until she sees a difference in her work schedule. For now, when she's not doing a 7 a.m. to 7 p.m. shift at the biscuit factory, she sews and sells clothes to earn an extra 10,000 naira ($32) a month.
"It would be difficult to get a job somewhere else," Fabajo said. "I pray this year will be better."
Courtesy Bloomberg