Metal
Investors dump weak US dollar, trade in other currencies as copper prices rise
March 4, 2020594 views0 comments
By Kenneth Afor  
After Tuesday's emergency interest rate cut from the US Federal Reserve which saw the dollar weak against other currency rivals, investors in copper on Wednesday on the London Metal Exchange (LME) have dumped the dollar using other currencies to trade.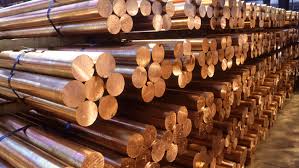 Fed's decision to further lower the interest rate is to cushion the negative effect the coronavirus epidemic will have on the U.S. economy.
The weak dollar for copper traders has automatically become a haven for buyers who are using other currencies.
Three-month copper on the LME rose as much as 1 per cent to $$5,725.25 per tonne, but later retracted to $5,715.00 per tonne, mid-Wednesday.
According to Yu Xiaojian, an analyst at Anglo American, the U.S. emergency response to its currency is a confirmation on the impact the virus is already having on global economy.
"The fact that Fed delivered an emergency rate cut confirmed high downside risk for the global economy. Whether the rate cut can stimulate the economy is still a question.
"In the end, we need demand back, which will take time to recover, and not so soon I believe," said Xiaojian.
Meanwhile, China's services sector has recorded the worst month this February due to the outbreak of the virus which has spread to 80 countries according to the World Health Organisation (WHO).
The European Central Bank (ECB) is looking at the possibility of resuscitating affected economies in the region by providing liquidity to businesses that were hit by the outbreak.
Elsewhere, in other metals, aluminium was almost unchanged at $1,721.50 a tonne and nickel advanced 1.3 per cent to $12,725 a tonne, while LME zinc increased 1.2 per cent to $2,000 a tonne.