By Uche Samuel Osuji
Nigeria's growing population coupled with its increasing urban concentration makes it a primary market for cocoa beverages. Nigeria is also a major player in the production of cocoa globally, although most of the players in this industry depend largely on importation for their raw materials.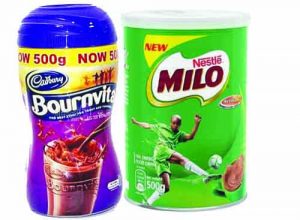 Bournvita and Milo have been positioned strategically as leading market brands over the years however, there are several competitors in this market such as Ovaltine, Horlicks, and Cowbell Choco amongst many other local brands that have smaller market share in this market. Without a doubt, Bournvita from the production line of Cadbury Nigeria Plc, and Milo, manufactured by Nestlé Nigeria Plc are undoubtedly the biggest players in Nigeria's cocoa beverage market.
Here are our research findings on what wholesalers, retailers, and customers who sell and buy the products think of both brands.
• Based on multiple market research, the common variants and prices of Nestlé Milo are Milo Activ-Go™ 1kg (N2,000), Milo Champion Tea 500g (N1,400), Milo Hot Chocolate Refill 500g (N1,000), 200g (N500) and, 20g (N50).
• The popular variants and prices of Cadbury Bournvita include Bournvita Refill 500g pack (N900), Bournvita Refill 200g (N450), and 20g (N50). There are variants packaged in inflatable jars of 500g (N1,300) and 900g (N1,900).
• This shows that Milo is currently slightly higher in price than Bournvita.
• Bournvita and Milo have small sachet packs to drive patronage among middle and low-income earners in the country.
• Bournvita's inflatable PET jars are better secured and safer healthwise than packaging in a tin.
• Both drinks can be enjoyed hot or cold.
• Our research found that MILO Activ-Go™ variant is a favorite amongst many due to its unique taste.
• Bournvita and Milo are both enriched with minerals and vitamins, in addition to cocoa powder and other ingredients. A close look at both products' actually reveals similar ingredients in their product constitution.
• A dealer suggested that Bournvita's constant repackaging from time to time may have adversely affected patronization of the product, unlike Milo which has kept a steady brand image amongst customers.
• More customers like Milo based on its smoothness, and easy dissolvability in hot and cold water. Bournvita on the other hand is loved mainly for its taste.
• Milo has a smooth texture which easily bends in water. This makes it easier and faster to make.  Many said Bournvita grains require smashing into submission in water without which the grains would float on the surface, distorting the composition and taste of the drink.
• Bournvita has a longer expiration lifespan. It expires after 2 years, compared to Milo's 1year 6 months.
• A few customers mentioned that Bournvita is more sugary than Milo. The nutritional information on both products confirms this.
• For your information, Bournvita has a higher fat value in its nutritional makeup than Milo.
• Our weekly online poll reveals, 59% persons voted preference for Milo compared to 41% for Bournvita.
Generally, cocoa beverage is cherished mostly for its chocolaty taste and rich nutritional value. Both Bournvita and Milo seem to offer this. However, this research found that the actual cocoa content in both brands is significantly small in comparison to what is usually obtained ideally in cocoa beverages. This poses a threat to the longevity of the products. Though the two brands are in a struggle for the biggest share in the cocoa beverage market, it is not clear which brand will eventually emerge the king of this market. What is certain, however, is that customers are constantly in search of cocoa beverages that provide all the essential nutrients and vitamins the body requires and, have good enough cocoa content at the right price. Little wonder why this market is ever highly dynamic as newer brands continue to saturate it.