Commodities
Lack of processing facilities inflicts N300bn annual loss on Nigeria's onion market
May 8, 2023298 views0 comments
By Onome Amuge
Nigeria is ranked the third largest onion producing country in Africa with  an estimated production of two million metric tonnes of onions worth N700 billion annually, but over N300 billion worth of the commodity is lost annually due to post-harvest losses, largely attributed to  lack of modern storage facilities and effective processing plants.
Aliyu Maitasamu,the national president of National Onion Producers Processors Marketers Association of Nigeria (NOPPMAN), who stated this recently, said Nigeria still imports onion flakes into the country due to the lack of processing factories which he said was at the detriment of farmers and traders who are only able to process about 40 per cent of total production.
According to Maitasamu, Nigeria has the capacity to produce over two million tonnes of onions annually but poor and inadequate storage facilities continue to limit output potentials. He noted that  onions currently produced in the country annually are not enough to meet the demands of Nigerians, hence the call for increased production to meet the 2.5 metric tonnes required for local consumption.
Onion (Alium cepa)  is one of the most consumed vegetables in the world. In Nigeria, it is grown extensively as a dry season vegetable under irrigation majorly in the Northern parts of the country including  Kano, Kaduna, Sokoto, Jigawa, Plateau, Bauchi and Kebbi due to the favourable climate which supports blossoming of the staple crop.
There are different varieties of onions and the most common found in Nigeria are the red and white onions. The red is the most popular and widely grown one in the country and it is of great commercial value for farmers that cultivate it owing to its ease in cultivation, high quality and acceptance in local markets across the country. It has also proven to be a lucrative venture due to its relatively high demand in the market.
An indispensable kitchen staple, onion serves as one of the most common cooking ingredients and plays a key role in a great number of recipes ranging from stews to several other local and continental delicacies.
The health benefit of the bulb-shaped vegetable is also a factor that cannot be overlooked. According to Healthline.com,a medical information online site, asides being a good source of vitamins C and B6, potassium, manganese and fiberonions, onions contain antioxidants and compounds that fight inflammation, decrease triglycerides and reduce cholesterol levels — all of which may lower heart disease risk.
All these contribute to an incessant demand and most often, scramble for onions in all major markets across the country.
According to analysis by EastFruit,  a leading information and analytics platform in the vegetable and horticulture sectors, onions remain the most sought-after position in the global vegetable trade.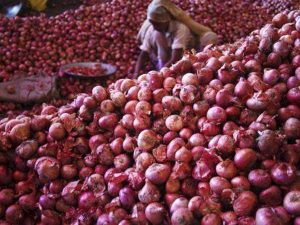 Statistics obtained from the Observatory of Economic Complex (OEC),  the world's leading data visualization tool for international trade data, showed that in 2021, onions had  a total global trade of $7.53 billion. In addition, the exports of onions grew by 0.95%, from $7.46 billion to $7.53 billion between 2020 and 2021, driven by an increased demand for the commodity.
Despite the strong revenue potential of onion for the Nigerian local and export market, Business A.M gathered that poor postharvest practices, especially during transit, gaps in knowledge on how to properly grade bulbs for marketing and how to manage stored produce has accentuated significant losses for Nigerian farmers, traders and other stakeholders in the value chain. Also, poor management practices, lack of information on proper fertilizer formulation, and other gaps in farmers' knowledge have been attributed for reduced onion quality and yield.
Yakubu Usman, an onion farmer from Sokoto, Nigeria's largest onion producing state, highlighted inadequate preservation facilities as a major challenge facing onion farmers in the state.  This, he explained,  is a major reason  farmers and traders struggle to sell off their stock on time thereby creating a scarcity of the produce at some point in time.
Habibu Abdulrahman, an onion trader from Mararaba,Nasarawa State, noted that though onion trading is a lucrative business, the major challenge in the business is wastage as the commodity is highly perishable.
"When the bags of onions are delivered,I have to sort them to remove the spoiled ones and sell the good ones. If they stay a few days longer in the bags and we haven't sold them, they continue to spoil quickly," he said.
On how he handles the preservation challenge, Abdulrahman said the only method available to most of the dealers is to dry the onions in the open air.
According to Abdulrahman the potential in the onion business surpasses being just a food ingredient. He opined that the crop can be processed into a wide variety of products including onion paste, dehydrated onion flakes, onion powder, onion oil, onion vinegar, onion sauce, pickled onion, onion wine, beverages and other ready-to-use applications.
He also noted that rather than allowing a large percentage of onions to go to waste, the establishment and adoption of onion processing facilities in the country would boost Nigeria's share in the global market, considering that onions can also be processed into onion powder, which has a significant value in the export market.
In a bid to  boost the efficient production of onions in the country, the Sokoto State government  recently  commissioned the first indigenous onion and garlic processing plant.
The new plant was commissioned by the state government in collaboration with  Africa -Generic Synergy Farmwith Limited, Chimbilco  Technical Nigeria limited, Sokoto investment and properties Limited, and the  Raw Materials Research and Development Council (RMRDC).
Speaking during the inauguration of the plant, Aliyu Maitasamu,national president of the National Onion Producers Processors Marketers Association of Nigeria (NOPPMAN), pointed out that the processing plant is the first of its kind in Nigeria and is aimed to reduce post harvest loss by onion and garlic farmers in Sokoto and other states of the northwest where the products are cultivated in large quantities.
The NOPPMAN president expressed confidence that farmers especially in Sokoto State and its immediate environment will benefit immensely from the processing plant.
Hussaini Ibrahim, the director-general of Raw Materials Research And Development Council,  said the inauguration of the factory marks an important milestone for the manufacturing industry in Nigeria.
Ibrahim, who was represented by Emmanuel Ilyasu,the director, information and computer department, expressed delight  that the plant was designed and fabricated by Nigerian engineers following the call by the council to reduce the perennial post-harvest wastages associated with onion and garlic.
In his words, "The RMRDC in collaboration with Afri-Generic Synergy Farms Limited, Chimbilco Technical Nigeria Limited and Sokoto State Investment and Properties Company Limited has assiduously worked to see to the objective of processing onion and garlic into flakes on industrial scale following successful R&D by the council's in-house research team.
"We hope that this project will spin up other plants as we continue to develop the process technology, especially in Sokoto State and its environs where onion and garlic are largely produced.
"We hope that this plant will create job opportunities for Nigerians, both in the short and long term. I commend the partners and investors who have made this project a reality. They have shown confidence in the Nigerian can-do spirit and have taken concrete steps to help see our R&D results in onion and garlic processing reach their full potential. I urge other investors to follow their example."
The RMRDC DG commended the effort of the Sokoto State Government, noting that the state has enabled the council to effectively discharge its mandates in the state and has also benefited from its projects.
"I am very optimistic that our continuous collaboration would yield mutually beneficial outcomes," he added.