Frontpage
Nigeria ranks 115 in Forbes best countries for business in 2018 on poor trade freedom, tax burden
December 20, 20172.3K views0 comments
Nigeria, sub-Saharan Africa's largest economy, which relies heavily on oil as its main source of foreign exchange earnings and government revenues, has ranked 115 out of 153 in Forbes' 12th annual survey of the Best Countries for Business.
The rankings, which were based on 15 different factors including property rights, innovation, taxes, technology, corruption, freedom (personal, trade and monetary), red tape and investor protection, saw Britain crowned the best country in the world to do business in 2018 for the first time ever, even in the face of uncertainties around Brexit, according to Forbes' annual ranking.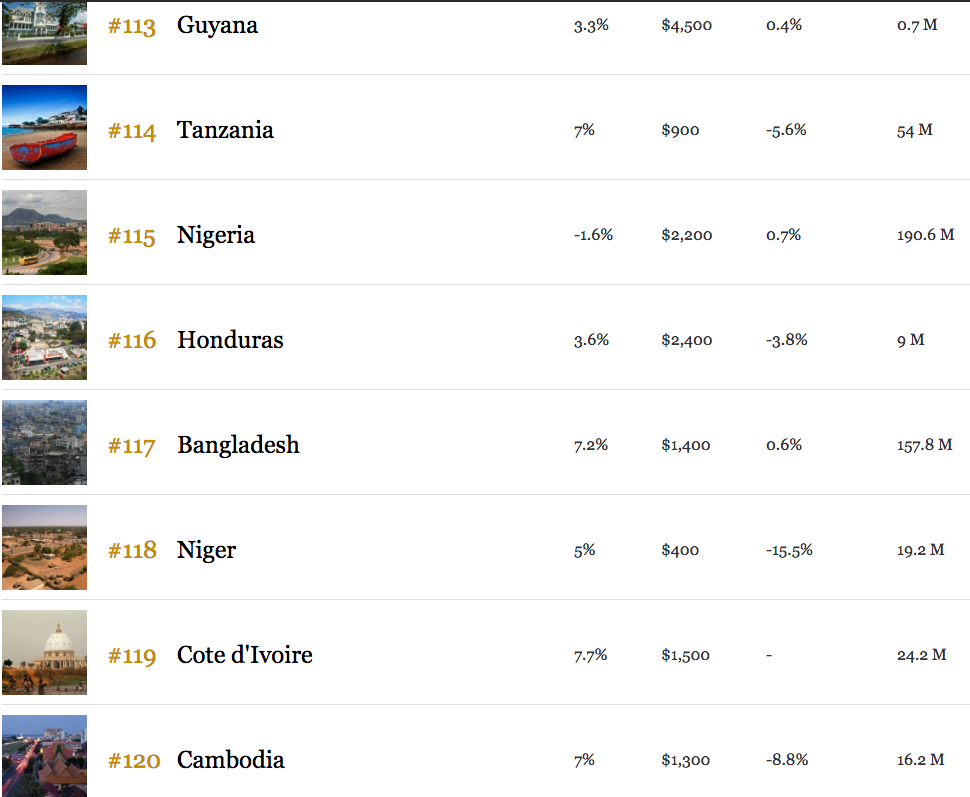 "We determined the Best Countries for Business by rating 153 nations on 15 different factors including property rights, innovation, taxes, technology, corruption, freedom (personal, trade and monetary), red tape and investor protection," Forbes stated, adding that each category was equally weighted.
The rankings indicate that there were no substantial improvements in all the categories used, that there was substantial deterioration in technology in the review period.
Specifically, the country ranked worse in trade freedom (144), followed by tax burden (138) and corruption (122). Other areas where the country remained uncompetitive include monetary freedom (121), property rights (113), innovation (111), technology (111) and red tape (109).
Nigeria, however, fared better in the area of investor protection, ranking 33 out of the 153 countries.
"We tweaked our methodology this year for the first time in a decade after conversations with multiple site-selection experts. Stock market performance is out, and we added workforce, infrastructure, market size, quality of life and political risk to provide a better gauge of how attractive a country is for capital investment.
"The data is based on published reports from Freedom House, Heritage Foundation, Property Rights Alliance, United Nations, Transparency International, World Bank Group, Aon, Marsh & McLennan and World Economic Forum," it added.
Nigeria's 115th spot is behind 15 other African countries: Mauritius (41), South Africa (48), Botswana (76), Ghana (85), Namibia (86), Senegal (89), Cape Verde (90), Kenya (91) and Zambia (95).
Other African countries that best Nigeria are Tunisia (96), Egypt (101), Uganda (105), Benin (106), Burkina Faso (110), and Tanzania (114).
The UK took the top spot out of 153 nations and jumped up from fifth place last year, scoring particularly well on technological readiness (fourth) and the size and education of its workforce (third).
The 10 best countries for business, according to Forbes, are United Kingdom (1), New Zealand (2), Netherlands (3), Sweden (4), Canada (5), Hong Kong (6), Denmark (7), Ireland (8), Singapore (9) and Switzerland (10).
---
---
The US came in at number 12, moving up from number 23 thanks to improvements in technological readiness, innovation and trade freedom. On the flip side, Chad ranked last for the third straight year.
Nigeria's poor performance in the ranking despite its strong fundamentals, according to Forbes may well have to do with inadequate power supply, lack of infrastructure, delays in the passage of legislative reforms, an inefficient property registration system, restrictive trade policies, an inconsistent regulatory environment, a slow and ineffective judicial system, unreliable dispute resolution mechanisms, insecurity, and pervasive corruption.
"Regulatory constraints and security risks have limited new investment in oil and natural gas, and Nigeria's oil production has contracted every year since 2012," Forbes stated, adding that the current administration's reliance on the Central Bank governor has led to overwhelmingly protectionist policies aimed at defending the naira from further devaluation," it said.
Forbes has examined the world's biggest economies for the past 12 years to gauge which ones are the most inviting for capital investment. Europe continues to dominate the upper ranks of the ranking with 12 of the top 20 spots, including the United Kingdom, which ranks first for the first time on the heels of its vote to leave the European Union in 2019.
The European nations score well almost across the board on trade freedom, innovation, infrastructure and low levels of corruption.
On the other hand, African nations populate the majority of the bottom 10 countries as they struggle with innovation, trade freedom and investor protection. Chad ranks last for the third straight year.