Frontpage
Nigeria's 14 states insolvent, can't generate 10% of revenues received from federation account – Report
May 30, 20171.6K views0 comments
Annual State Viability Index: 36 States Generate N801bn of IGR Against N2.6trn from Federation Account Lagos Generates More IGR than 30 States Combined … Economic Viable States: Lagos, Ogun, Rivers, Edo, Kwara and Delta States Poor IGR States: Borno, Ebonyi, Kebbi, Jigawa
The Economic Confidential, an economic intelligence magazine, has released its Annual States Viability Index (ASVI), which shows that
fourteen States are insolvent as their internally generated revenues (IGR) in 2016 were far below 10% of their Federation Account Allocations (FAA) in the review period.
The index indicates that without the monthly disbursement from the Federation Account Allocation Committee (FAAC), the states remain
unviable and could hardly survive without the federally collected revenues.
The IGR are generated by states through Pay-As-You-Earn Tax (PAYE), Direct Assessment, Road Taxes and revenues from Ministries, Departments and Agencies (MDAs).
The states that may not survive without the Federation Account due to poor internal revenue generation include Borno, which realized a meagre N2.6bn compared to a total of N73.8bn it received from the Federation Account in 2016 representing about 4%.
Others are: Ebonyi with IGR of N2.3bn compared to FAA of N46.6bn, representing 5%; Kebbi N3.1bn compared to FAA of N60.88bn, representing 5.14%; Jigawa with N3.5bn compared to N68.52bn of FAA, representing 5.15% and Yobe with IGR of N3.24nn compared to N53.93bn of FAA, representing 6.0% in the period under review.
See the ranking of states by internally generated revenue below, after the cut…
The list also include Gombe, which generated N2.94bn compared to FAA of N46bn, representing 6.26%; Ekiti N2.99bn compared to FAA of N47.56bn representing 6.28%; Katsina N5.54bn compared to FAA of N83bn, representing 6.65% and Sokoto N4.54bn compared to FAA of N65.97bn, representing 6.88%.
Meanwhile Lagos State remained steadfast in its number one position in IGR with a total revenue generation of N302bn compared to FAA of N178bn, which translates to 169% in the twelve months of 2016. It is followed by Ogun State, which generated IGR of N72.98bn compared to FAA of N57bn, representing 127%.
Others with impressive IGR include Rivers with N85bn compared to FAA of N134bn representing 63%; Edo with IGR of N23bn compared to FAA of N59bn representing 38%. Kwara State however with low receipt from the
Federation Account has greatly improved in its IGR of N17bn compared to
FAA of N49bn representing 35% while Delta with IGR of N44bn compared to
FAA of N126bn, representing 6.88%.
The report further indicates that the IGR of Lagos State of N302bn is higher than that of 30 States put together, excluding Lagos, Ogun, Rivers, Edo, Kwara and Delta States whose IGRs are very impressive at more than 30% each. The 30 other states merely generated a total of N258bn in 2016.
The magazine recently published the total allocation received by each state in Nigeria from the Federation Account Allocation (FAA) between January to December 2016. However, the latest report on IGR reveals that only Lagos and Ogun States generated more revenue than their allocations from the Federation Account by 169% and 127% respectively and no any other state has up to 100% of IGR to the federal largesse.
The IGR of the 36 states of the federation totalled N801.95 billion in 2016 as compared to N682.67 billion in 2015, an increase of N119.28 billion. While the report provides shocking discoveries to the effect that 14 states which have less than 10% IGR may not stay afloat outside the Federation Account Allocation due to socio-political crises including insurgency, militancy and herdsmen attacks, others lack foresight in revenue generation drive coupled with arm-chair governance.
The Economic Confidential ASVI further showed that only three states in the entire Northern region have IGR above 20%. They are Kwara, Kano, and Kaduna States.
Meanwhile eight states in the South recorded over 20% IGR in 2016. They are Lagos, Ogun, Rivers, Edo, Delta, Cross River, Enugu, and Oyo States State.
The states with the poorest Internally Generated Revenue of less than 10% in the South are Imo, Bayelsa, Ekiti, and Ebonyi States while in the North we have Niger, Nasarawa, Sokoto, Katsina, Gombe, Yobe, Jigawa, Kebbi and Borno States.
Meanwhile the IGR of the respective states can improve through aggressive diversification of the economy to productive sectors rather
than relying on the monthly Federation Account revenue that largely come from the oil sector. NOTE: Please see the attached table on the Ranking of IGR of States in 2016 compared to their Federation Account Allocations (FAA) between January–December 2016 with the percentages.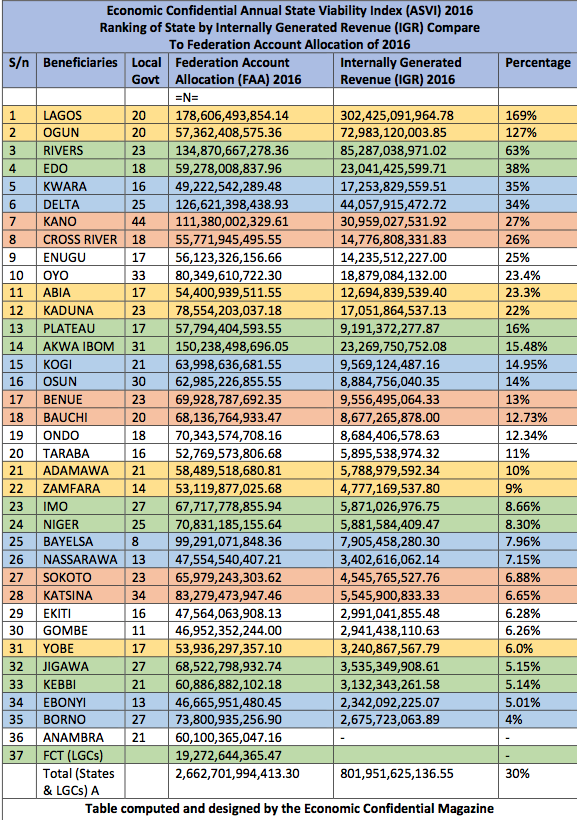 ---
By Business a.m. live staff