Analyst Insight
Nigeria's half-measures on currency are only half-working
June 20, 20171.5K views0 comments
A year after Nigeria scrapped a currency peg that sent foreign investors fleeing, it's still battling to entice them back.
But trying to placate investors by introducing multiple exchange rates isn't going to work, bond funds and Wall Street lenders including Citigroup Inc. say. To end the dollar shortage that has hamstrung West Africa's biggest economy and oil producer, President Muhammadu Buhari and central bank Governor Godwin Emefiele will have to weaken the naira's official rate again, or let it float.
Nigeria has long refused to let markets determine the price of its currency. Although it devalued in June 2016, it backtracked on a promise to fully liberalize the naira, which has traded in a narrow band since September. Alongside the tightly controlled official rate, the central bank this year introduced the so-called Nafex window, an alternative exchange rate for investors, while also selling dollars directly to companies and individuals at varying rates.
"It's a complex currency regime and it's daunting for international investors," said Christian Diclementi, a money manager in New York at AllianceBernstein LP, which oversees $500 billion and is yet to return to Nigeria's local-currency bond market after pulling out during the collapse in oil prices in 2014 to 2015. "If there was just a freely-floating rate, the market would be a lot more efficient. A simpler system would help."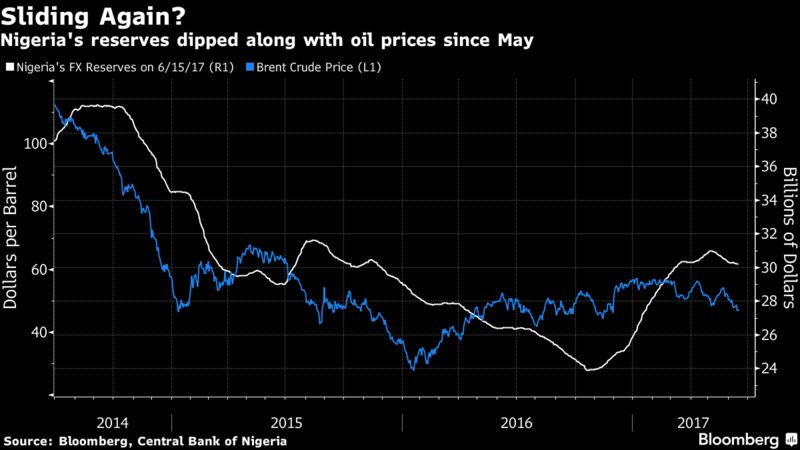 The Nafex window, where the naira has been allowed to drop to near its black-market rate, hasn't been a failure. Dollar inflows are increasing and turnover has reached around $80 million a day, according to Bola Onadele, the head of FMDQ OTC Securities Exchange, the trading platform overseeing it. It's attracted investors such as Cape Town-based Allan Gray Ltd. and helped fuel a world-beating 30 percent rally in Nigerian stocks in the past two months.
It's a different story with global bond investors. While offshore holdings of Nigeria's equities rose 15 percent in May to around $5 billion, they fell 4.4 percent to $5.5 billion for fixed income assets, according to Standard Bank Group Ltd.
The Nafex market is attracting investors specializing in Africa and frontier markets, but it won't be the answer to Nigeria's foreign-currency shortage as long as it's shunned by the larger emerging-market bond funds, according to FBNQuest, the investment banking unit of Nigeria's biggest lender by assets.
It's "a bold experiment, but unlikely to succeed," said Gregory Kronsten and Chinwe Egwim, analysts at Lagos-based FBNQuest. "We doubt that this new window will generate the autonomous inflows to allow the central bank to take a step back" from being the main seller of dollars. Emefiele will probably have to devalue the interbank rate to 370 per dollar by the end of the year, close to where the naira trades on the Nafex and black market, they said. The interbank rate was little changed at 324.75 per dollar on Tuesday.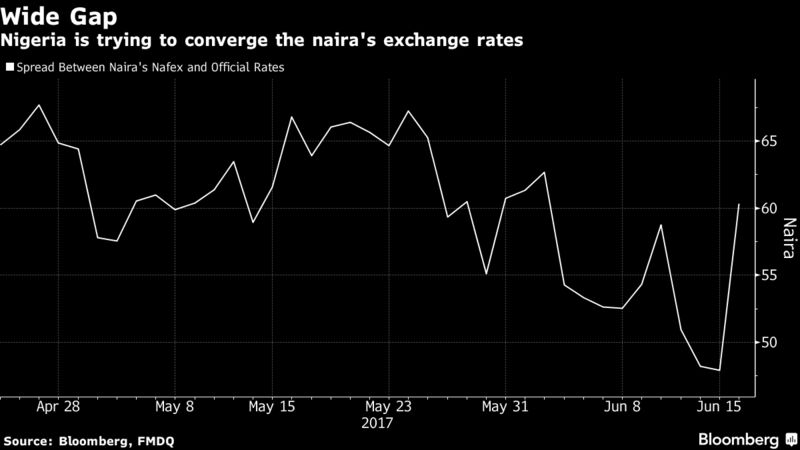 But time is of the essence. The central bank's foreign-exchange reserves fell in May for the first since October and a recovery in the economy this year from its first recession since the 1990s will boost demand for imports, heaping additional pressure on the currency, according to Standard Bank. Oil prices below $50 a barrel aren't helping either.
For now, even average yields of 16 percent, the highest among major emerging economies after Egypt, aren't enough to entice most bond investors.
"Many emerging-market countries, including Russia and Colombia, have liberalized their capital accounts and allowed their exchange rates to drop," said Viktor Szabo, a London-based money manager at Aberdeen Asset Management Plc, which oversees $11 billion of emerging-market assets and is still wary of naira bonds. "We're still waiting for a proper, market-clearing level in Nigeria. You can put whatever system you want behind it, but it's ultimately a question of whether your currency is free and can absorb economic shocks."
The central bank is planning to unify the different exchange rates, FMDQ's Onadele said, without detailing when or how. Buhari's administration remains reluctant to carry out an official devaluation, since it needs a strong rate to maintain a price cap on gasoline, the bulk of which Nigeria imports. The Nafex system may remain in place until the next election in February 2019, according to Renaissance Capital.
"The new market has helped to get some flows back, but it's added more complexity and confusion," said Nema Ramkhelawan-Bhana, an analyst in Johannesburg at Rand Merchant Bank, which changed its year-end naira forecast to 325 from 370, believing monetary authorities will resist a devaluation. "The vastly different naira rates are distorting asset prices. We're holding out for them to be harmonized. But it won't necessarily happen in the next year."
---
Courtesy Bloomberg