Frontpage
Oil and Gas
Nigeria's rising debt signals ailing economy, says analyst
September 22, 2022197 views0 comments
By Chuks Oluigbo
…urges Buhari govt to curb borrowing, begin to wind down
Amid Nigeria's ballooning debt stock, the government of President Muhammadu Buhari has been advised to curb borrowing and rather focus on putting its house in order in preparation for handover to a new administration come May 2023.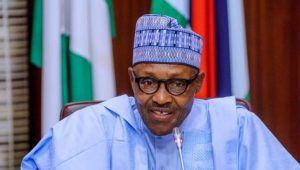 Marcel Okeke, a Lagos-based economist and business strategy and sustainability consultant, gave the counsel on Wednesday during Channels Television's Business Morning programme monitored by Business A.M.
Okeke, a former chief economist at Zenith Bank Plc, said the government's "borrowing spree" is a dangerous journey that not only mortgages the future but also signals to the outside world, including investors, that all is not well with the Nigerian economy.
"A government that has a tenure of eight years and has done seven years plus, remaining a few months to go, why overstretch things like this? You keep borrowing, and so the panic is everywhere. They talk about revenue shortfall and all that, were these things suddenly discovered? In economics, the long term is very important so you don't do things on short-termism basis," he said.
There have been concerns regarding Nigeria's growing debt. Nigeria's total public debt stock reached a record high of N42.84trn ($103.31bn) at the end of June 2022 from N41.60trn ($100.07bn) as of March, according to the Debt Management Office (DMO). While domestic debt rose by N1.24trn in the three-month period to June, external debt remained the same at N16.61trn ($40.06bn) as the Federal Government was unable to secure any foreign loans in the period.
Okeke said there is nothing wrong with the government borrowing if the money so borrowed is used for physical infrastructure development. However, in the case of Nigeria, he said the government borrows to pay subsidy, salaries, and for some other consumables.
"For instance, government can borrow and use it to construct roads and maybe put tolls along those roads so that over time the money is recovered and what is coming in will be able to service the debt and pay up at the end of the day. But this one we are borrowing is for consumption. I mean, it's a journey to nowhere," he said.  
He said Nigeria's humongous debt is to some extent self-imposed.
"You ask yourself, for example, this issue of infrastructure development and all that, who set that target for who? The government decides what infrastructure to build at every point in time, so as a government that has few months to leave, must we be shouting infrastructure and now Nigeria will borrow itself to death?" he said.
Okeke is worried that the government plans to borrow more in 2023. Nigeria's budget deficit for 2022 was N7.35 trillion out of a budget projection of N17.32 trillion. In the first four months of 2022, the government spent more on servicing debts than it earned in the period. In 2023, the government is proposing to spend N19.76 trillion out of which N11.30 trillion would be borrowed. This, he said, implies that running the 2023 budget would cause a lot of distortions in the economy.
"These borrowings mean that much debt is accumulated even for the government that will take over by next year, all things being equal. The government will again be raising over N11trn from this economy or from wherever. It is not going to be easy. It is the future of the country that is already mortgaged. Really, there is cause for worry," he said.
The economist advised the government to step down certain items in the 2023 budget proposal being bandied about so as to reduce borrowing.
"Are they playing to the gallery? Who are they trying to satisfy? If it is the verdict of the people that the government has not been doing well, is it within a few months that they will now perform miracle? I don't know who they are trying to satisfy," Okeke said.
"In the interest of Nigeria today and Nigeria of tomorrow, this government should be winding down. Mentioning those figures and going ahead to begin to raise loans to beat those targets that they set for themselves will be a lot of distortion on the economy. It will displace a lot of people who also are looking for funds to run their businesses," he said.
Speaking further on the implications of government becoming a major player in the market for raising funds, Okeke said in the domestic market, the government crowds out private sector operators who need the funds to grow their business. Raising funds from the global financial market also becomes problematic as well as global lenders price in the risks and lend to the country as higher interest rates.
"In the eyes of the international community, the signal we are sending out the more we borrow is that really all is not well with the economy. And so when government apportions so much of its income to debt servicing, what will be left to run the economy the way it should be run? That is why we are even borrowing now to pay salaries to public servants. It has got that bad. The more we borrow and we are exposed to debt, and the more we apportion resources to service that debt, the more other urgent demands are neglected locally," he said.
He described the economic team set up recently by President Buhari as unnecessary and "a panic measure", especially given that the president himself is going to be the chairman of that committee.
"The president is also the minister of petroleum resources. The president is also the commander-in-chief. Tell me, how is he going to function in all of this? Meaning that all those economic management teams in the past close to eight years have not been functioning well except he takes over as the chairman of the committee that he set up? There is cause to worry, it shows that it's like the government is at its wit's end," he said.
"Let the government focus on winding down. The level of debt and cost of servicing it is already injurious to the economy," he said.