Commodities
Energy
Oil rebounds following 9% New Year drop
January 5, 2023269 views0 comments
By Onome Amuge
Crude oil futures gained on Thursday as markets gradually stabilised following days of consecutive declines  that resulted in the market losing over 9 per cent from crude benchmarks in the first two days of the new year.
Prices were also lifted after Colonial Pipeline Co.,the largest pipeline system for refined oil products in the U.S, suspended operations on a line supplying fuel to the US Northeast, believed to be Line 3 which pipes distillates and gasoline to the New York Harbour market
March ICE Brent futures  jumped to $79.52 per barrel , compared to Wednesday's settle of $77.84 per barrel.
Similarly, West Texas Intermediate (WTI), the gauge that monitors U.S crude, rose to $74.37 per barrel, against the previous day's settlement of $72.84 per barrel.
Prior to the rebound, market data showed that dire warnings, led by the IMF, over a major slowdown in the global economy  had set a negative tone for 2023 trading, with Brent prices losing as much as  $8 per barrel in the first two sessions of January.
As prices continue to rebound from the sharp losses, some analysts have opined that the recessionary warnings are a little bit exaggerated.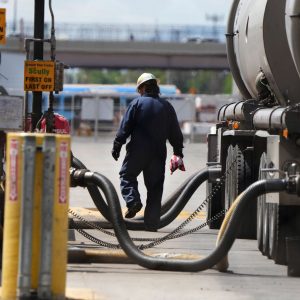 According to Mark Zandi, chief economist at Moody's Analytics, the US economy will hit a rough patch but avoid a recession, thanks in part to the savings Americans have built up since the beginning of the pandemic.
"There is no doubt the economy will struggle in the coming year as the Fed works to rein in the high inflation, but the baseline outlook holds that the Fed will be able to accomplish this without precipitating a recession," Zandi said.
Meanwhile, investment banks, UBS Group and Commerzbank, have predicted a rise in oil prices with a value above $100 per barrel during the coming months.
The projection is based on expectations that China will soon reopen its economy, with  oil demand looking set to exceed 2019 levels and hit a record high in the second half of 2023.
They added that oil demand is expected to be strengthened by emerging Asia, including India, which should return to driving oil demand growth in 2023.