Crude oil
Oil slips after entering bull market on Kurdish export threat
September 26, 20171.1K views0 comments
Oil prices slipped after entering a bull market amid heightened geopolitical tensions in the Middle East, while Trafigura Group and Citigroup Inc. both warned of a looming supply squeeze.
Crude in New York fell 0.7 percent as traders cashed in after yesterday's 3.1 percent surge. The oil market is nearing the end of the "lower-for-longer" era, with a shortage likely in 2019, trading house Trafigura said Tuesday. In Turkey, President Recep Tayyip Erdogan threatened to "close the valves" on oil shipments from Kurdistan after the Iraqi region held a vote on independence.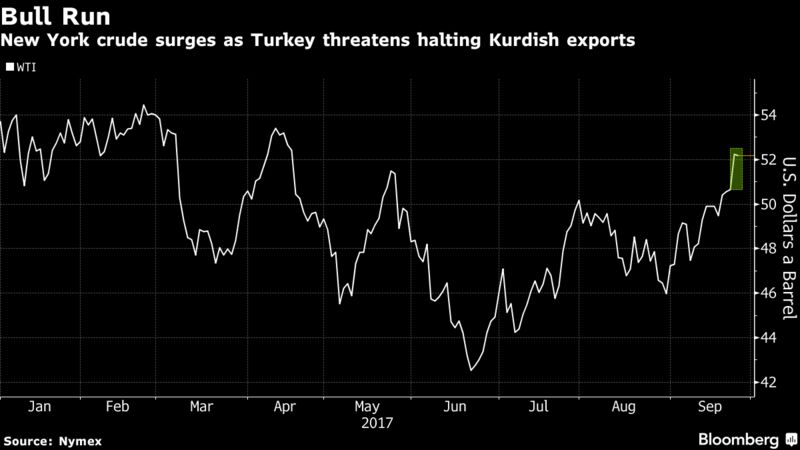 Oil has gained almost 10 percent this month on forecasts for rising consumption and as members of the Organization of Petroleum Exporting Countries maintain output cuts to drain a global glut. The market rebalancing has helped flip the futures curve into backwardation, a structure where immediate deliveries of oil are more expensive than longer-dated ones, signaling strong demand. Brent prices jumped to a two-year high on Monday before retreating Tuesday.
"It's pure profit-taking," Torbjorn Kjus, an oil-market analyst at DNB Bank ASA in Oslo, said by phone. "It's very natural. The most natural thing would be if we lose some more during the day, but so far it's holding up almost unexpectedly well after that very large rally yesterday."
West Texas Intermediate for November delivery was at $51.86 a barrel on the New York Mercantile Exchange, down 36 cents, at 8:46 a.m. local time. Total volume traded was 31 percent above the 100-day average. Prices surged to $52.22 on Monday, more than 20 percent above their most recent low — a definition of a bull market.
Brent for November settlement dropped 75 cents to $58.27 a barrel on the London-based ICE Futures Europe exchange after rising as much as 0.8 percent earlier. Prices advanced $2.16 to $59.02 on Monday, the highest close since July 2015. The global benchmark traded at a premium of $6.41 to WTI on Tuesday.
The effect of OPEC's curbs could be amplified if the vote in the Iraqi enclave of Kurdistan provokes a political crisis, threatening more than 500,000 barrels a day of shipments to global markets. Ankara opposes an independent Kurdish state and has economic leverage because the export pipeline runs through Turkey to the Mediterranean. Oil from fields controlled by the Kurdish Regional Government and the federal Iraqi government's North Oil Co. was flowing normally through the pipeline on Monday, according to two people familiar with the matter, who asked not to be identified discussing confidential information.
---
Report courtesy Bloomberg