America
Payroll gain of 209,000, wage rise show U.S. labour strength
August 4, 20171.3K views0 comments
The U.S. labour market hit its stride in July, as employers added workers at a solid clip, the jobless rate matched a 16-year low and monthly wage growth picked up.
Job gains were broad-based during July, led by the largest jump in leisure and hospitality employment since September 2015, a move driven by gains at restaurants. Hiring also hit five-month highs in manufacturing and education and health services. The drop in the jobless rate reflected a 345,000 rise in employed people in the household survey, while the number of unemployed was little changed.
Stronger household incomes and buoyant consumer confidence are helping to propel demand, while a rebound in global growth has provided more opportunities for American exporters. With job vacancies close to record highs, employers are reluctant to fire workers, keeping jobless-benefit claims near the lowest in four decades.
The acceleration in wages on a monthly basis may show that managers are finally starting to boost pay some more in a bid to keep or attract workers. Even so, the 2.5 percent pace of annual wage growth is little changed over the past two years, owing to factors including weak productivity, as well as people returning to the labor force and accepting lower-skilled work.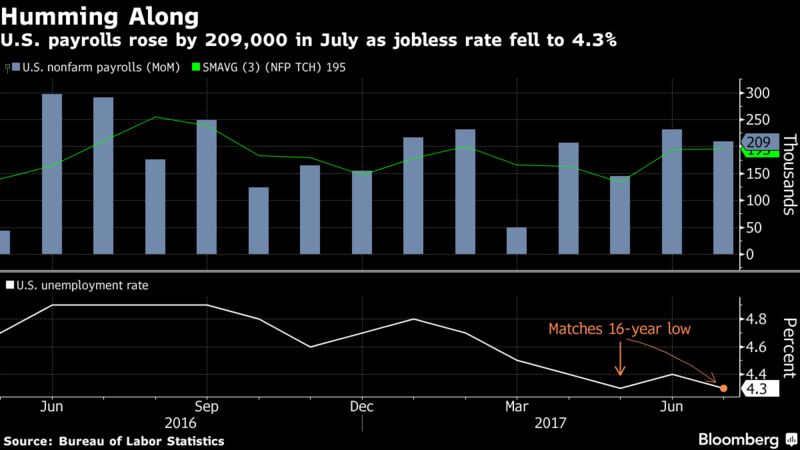 The solid job-market gains should at least keep household spending humming in the third quarter as the economy struggles to break out of a 2 percent growth pattern of the last several years. The July figures may also give a cleaner read on labor-market health after unseasonal weather and fluctuations in end-of-school year hiring muddied the picture over the past few months.
And while tepid broader inflation has been a challenge for Federal Reserve policy makers, the broader thrust of the employment report is likely to keep the central bank on course. Officials have signaled they're ready to move forward with reducing the Fed's $4.5 trillion balance sheet and potentially increasing interest rates once more this year.
While President Donald Trump has been praising the pace of job gains since he took office in January, the average figure of 179,000 over the past six months remains below the typical 187,000 per month in 2016. His goal of adding 25 million jobs over 10 years would require additions of 208,000 a month. "Excellent Jobs Numbers just released – and I have only just begun," the president tweeted about 15 minutes after the report.
Economist Views
"It ticks off all the right boxes," said Tom Porcelli, chief U.S. economist at RBC Capital Markets. The report shows "an unemployment rate that improves, hourly earnings that move in the right direction, and a wage pie which moves in the right direction." For an economy growing at a pace of 2 percent to 2.5 percent, "this report fits that narrative perfectly," he said.
Other Details
Participation rate, or share of working-age people in the labor force, increased to 62.9 percent from 62.8 percent
The U-6, or underemployment rate, was unchanged at 8.6 percent; figure includes part-time workers who'd prefer a full-time position and people who want a job but aren't actively looking
Measure of those working part-time for economic reasons fell by 44,000 to 5.28 million
Private employment increased by 205,000 (est. 180,000) after a 194,000 advance; government payrolls rose by 4,000
Factory jobs rose by 16,000; retailers added 900; leisure and hospitality was up 62,000
Average workweek for all workers unchanged at 34.5 hours, matching estimate
Wages were up across all industry groups; overall wages are rising at 2.3 percent three-month annualized pace
---
Report courtesy Bloomberg