Analyst Insight
Peer-2-Peer lending Growth prospect in Nigerian market where FINT, Kiakia are 'loan' rangers
Adesola Afolabi was a businessamlive reporter and Head of Financial desk.
February 17, 20201.6K views0 comments
Global consumer P2P loans to hit 36.6 million in 3 years
While access to funding and opportunities for making lucrative returns on investment have remained limited in Nigeria's financial market, peer to peer (P2P) lending, a finance innovation, which aims to simultaneously solve both challenges, is fast taking global markets by storm.
According to research, the number of consumer peer-to-peer loans is forecast to hit 36.6 million worldwide, over the next three years.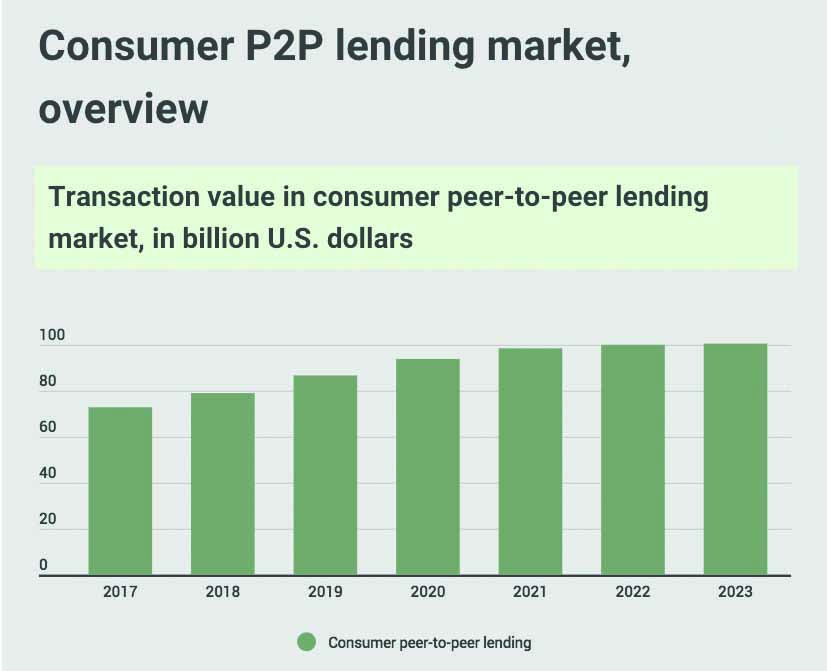 P2P lending lags in Nigeria
An overview of the Nigerian financial market showed there are two platforms which currently offer P2P lending – KiaKia and FINT. They both offer secured investment opportunities that eliminate risks of capital loss for investors and KYC checks to identify borrowers. Further checks by business a.m. revealed FINT to be quite active, displaying the entirety of the business and what borrowers or lenders must do in order to actively participate in P2P lending via its website.
FINT says it offers investment opportunities in 8 different sectors while KiaKia facilitates access to personal and small business loans and  enables savers lend out funds at negotiated interests.
Some of the requirements for loan on FINT, requires that a borrower must live and work in Lagos State as a salary earner, must have a national means of identification, bank account statement for the last 6 months (salary account), employment offer letter, a recent utility bill (not older than the last 3 months). With satisfying the conditions, the borrower can be offered loans from N20,000 to N1,000,000. An 8 percent commitment fee is also required for successfully getting a loan at FINT.
What can facilitate growth of P2P lending services?
Although market sources explain that P2P lending services are more transparent and cheaper when compared to the traditional process, major drivers have been identified as factors that can propel growth of the P2P industry.
For instance, a growing demand from developing economies is pertinent as a result of low market risk and operating cost. High transparency between lender and borrower in P2P lending system due to technical advancement is another major driver for the market.
Additionally, the rising trend in investing and digital technologies and rising awareness of P2P lending across the globe is adding to an overall growth of the market. However, strict government regulation and risk of losing all money and lack of awareness regarding benefits associated with P2P lending are limiting the growth of the market.
How P2P lending works
The way peer-to-peer lending works is different from loans one will get from a bank or credit union. P2P lending is usually facilitated by platforms that use complex algorithms that crunch a mix of data, ranging from credit scores to social media activity, to directly connect borrowers to lenders.
It usually attracts private individuals seeking alternatives to term deposits in Nigeria and individuals seeking alternative to traditional bank loans, which offer quick access to cash at favourable rates.
Experts explain that this type of online lending is primarily focused on borrowers looking to refinance existing debt at a lower rate. But some of the loans are also used to cover large expenses such as medical bills, home repairs, or student debts.
Statista marketplace lending survey data shows that the value of the consumer peer-to-peer lending is set to reach $93.5 billion this year, growing by 8.4 percent compared to 12 months ago. According to the data quoted by Learnbonds, the overall market is expected to reach $100.4 billion value by 2023, a jump of 40 percent compared to 2017.
Benefits of P2P lending
Asides the immediate benefits to users of P2P lending platform, research shows that the overall economy tends to gain from the competition that the emergence of this financial innovation brings.
P2P lending was noted to have provided a new option for retail investors. It also has investment characteristics in terms of liquidity, risk and return that are not easily available to investors elsewhere in the market. Borrowers from the study conducted in the United Kingdom, were also found to report benefits in terms of speed, simplicity and product features.
Furthermore, "P2P platform borrowing rates are competitive; there is no evidence that P2P platforms are consistently offering the best rates, which suggests that they are 'price takers' in a competitive lending market." The researchers noted.
Other benefits indicate that the returns to investors in P2P platforms are broadly consistent with the typical yields of BB and B rated corporate bonds and platforms offer new forms of interaction with users, and have been able to do so relatively efficiently, particularly when considering the large number of small users involved (on both the investor and borrower sides).
China, US, and UK lead global P2P market
As the largest single market in the global fintech industry, China also holds the most significant share of the consumer peer-to-peer lending market. Data estimates that personal peer-to-peer loans in the country are set to reach $64 billion this year, which by comparison is less than three times the size of Chinese business peer-to-peer market.
However, due to the increased government regulation, which exposed a large number of frauds, China is likely to see more peer-to-peer companies shutdown this year. In 2019, the number of peer-to-peer lending platforms fell to 343, or nearly eight times less than the 2016 figures.
China's central Shanxi province shut 26 peer-to-peer platforms last year, while its remaining 15 lenders all failed to meet industry standards and must exit the market before June. Although the country is faced with a peer-to-peer lending crisis, the demand for online loans in China is still huge.
With a $24.7 billion value, the US ranked as the second-largest consumer peer-to-peer lending market in the world.
The UK's consumer peer-to-peer industry is the third-largest in the world, forecast to hit $1.8 billion value this year. Germany and France, as the fourth and fifth market globally, are both expected to reach around $240 market value this year.