By Samson Echenim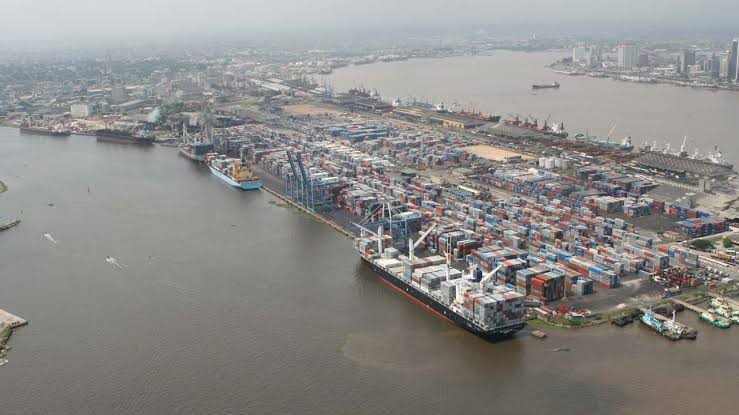 The congestion in Nigerian ports of Lagos, Port-Harcourt and Onne in Rivers State has reached extreme level and ships coming to the ports are currently stranded at anchorages near the ports.
The situation has exposed ships to higher security risks as vessels are commonly attacked at these anchorages which are largely unsecured.
Business a.m. gathered that the congestion at the ports was caused by multiple factors that left the situation with system complications.
The country's land borders which remained closed since August has raised cargo throughput at the seaports, where terminal concenssionaires lack modern and efficient cargo handling equipment.
The country's Customs service has also failed to auction overtime cargoes in the last two years, plus the ports lack scanners for cargo examination, a situation preferred by a corrupt customs system that benefits from 100 percent physical examination of containers, with its epileptic progress and other ills.
The ships are reported to be currently diverting to neighboring ports of Cotonou in Benin Republic and in Lome, Togo.
Confirming the situation, Nigeria's largest body of customs clearing agents, the Association of Nigeria Licensed Customs Agents (ANLCA) on Christmas day, drew the Nigerian  government's attention to the need for ships on Lagos, Port-Harcourt and Onne anchorages, waiting to berth, to be diverted to other ports.
The agents said they observed that many ships were currently waiting to berth at ports in Lagos, Port Harcourt and Onne, thereby attracting trucks and other heavy duty vehicles to the areas, adding the situation required some level of urgency.
 "We hereby call on President Muhammadu Buhari to direct that ships waiting on Lagos and Port Harcourt anchorages be diverted within a period of three months to ports in Warri, Delta State and Calabar, Cross River State "Nigeria bound cargoes are presently being diverted to Duala Port in Cameroun due to the long waiting periods and cargo owners' desire for quick turnaround time for vessels. "Shippers and cargo owners are very conscious about ships turnaround time and will likely embrace opportunities for quicker discharge of cargoes," Tony Iju Nwabunike, national president of ANLCA said in a statement.
"This diversion, in ANLCA's opinion, will not only support the government's Ease of Doing Business objective but will also reduce the number of trucks on some port access roads and allow speedy execution of the ongoing construction along the corridor," he added.